All season has built up to this for NMHU. It felt almost inevitable that the Cowboys' postseason fate would be decided in the season's final weekend. The final weekend is here, and the Cowboys are right in the middle of a four way tie for the seventh seed. Of the four teams tied and battling for one of the final two spots in the tournament, only the Cowboys are at home this weekend, and only the Cowboys will face two of the three teams they are currently tied with this weekend, which means one thing; win and in.
"I mean we've given ourselves a chance," NMHU head coach Mike Dominguez said. "You want to be playing meaningful games now in late February and March and we're doing that, this is basically our playoffs."
If the Cowboys win their last two games there is no scenario that would see them miss the RMAC tournament. They had two chances to help out their cause last weekend at Colorado Mesa and at Westminster, but after two close losses on the road against the no. 3 and no. 6 teams in the RMAC respectively the Cowboys must sweep the weekend to guarantee their spot. 
"We knew going into the Mesa trip that we had four games left and we had to win two," Dominguez said. "Obviously we would have liked to have gotten one on the road so you're not having to win both to get in, but the worst case scenario was we're coming back home and controlling our own destiny."
The worst case scenario was not a bad one for the Cowboys, as they do control their destiny and this weekend's game against Regis and UCCS respectively will be different, but equally difficult challenges.
Less than a month ago the Cowboys made the trip up to Colorado Springs and then Denver to face these two teams and each game was tightly contested. Against UCCS the Cowboys trailed by 20 in the second half, and then the Cowboys played their best basketball of the season in the final 16:45 to erase the deficit entirely and force overtime, where they would emerge victorious 99-94 thanks to a 40 point effort from Dante Moses and 16 points off the bench from Jonathan Ileleji. 
The same script played out against Regis, with the Cowboys trailing by 21 at halftime and by as many as 23 before they stormed back in the second half, and even took a lead with 1:32 left. Down three NMHU's Tyler Rodgers hit a three pointer with six seconds left to tie the game at 76, but a hook shot by Regis' Brayden Carter with 0.5 left on the clock sealed a Ranger victory, and is a big reason why there is a four way tie for the seventh spot in the RMAC going into this weekend. After falling behind big early in their previous contests against these two teams, NMHU would like to see themselves start much faster, given what's at stake.
"I would like to not do that again," Dominguez said. "Nobody ever wants to get down and have to come back from it, but now we know we're capable of doing so if we do get put in that position, we know we can do it, but I hope we're not in that spot."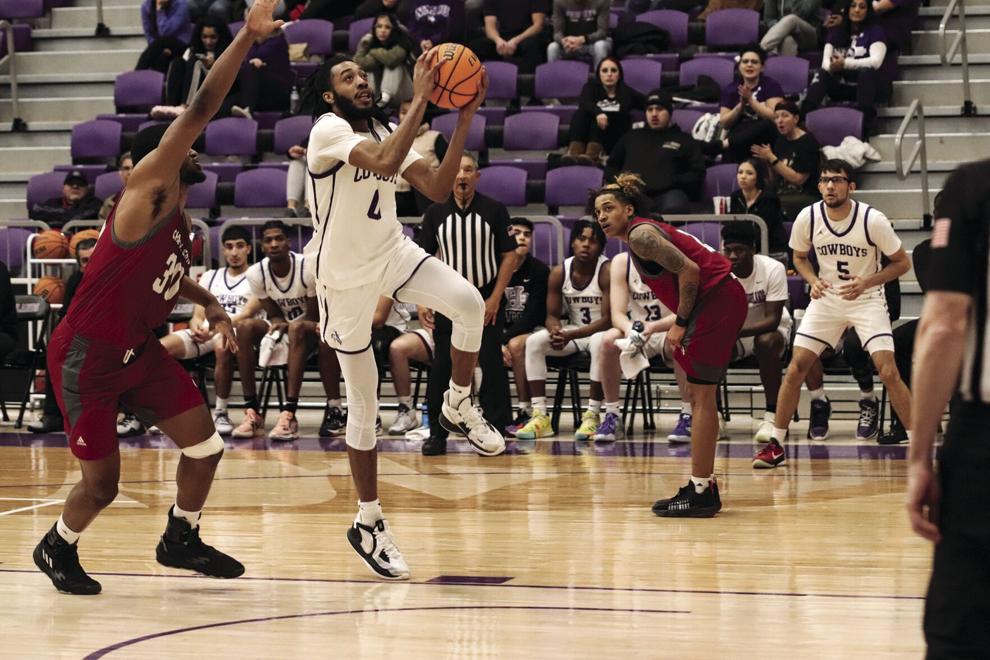 Senior forward Dante Moses is the second leading scorer in the nation, averaging 24.4 points per game. He had only 12 against Regis in their first matchup, but that game saw Tyler Rodgers, Tyrell Coleman and Jalen Munn make big contributions offensively. 12 points was tied for Moses' second lowest output of the season, and the Rangers will likely be throwing the kitchen sink at him again in order to keep one of the nation's top scorers from beating them single handedly. 
"I always think teams are going to try to do something different," Dominguez said. "Whether it's double teaming him or really loading up to him like crazy or deny him, so we're just prepared for it all."
As good as Moses has been this season, the Cowboys' postseason fate will likely be determined by how well the other four players on the floor play. When players like Rodgers, Munn and TJ Sanchez get going offensively around Moses the Cowboys become incredibly difficult to guard. The interior presence of Eric Sonnenberg and Ezichi Kalu will also play a big role this weekend, as Regis' center Brayden Carter gave the Cowboys fits inside during their matchup four weeks ago and UCCS forward Mac Stodart's ability to shoot from behind the arc presents a unique challenge for the Cowboys.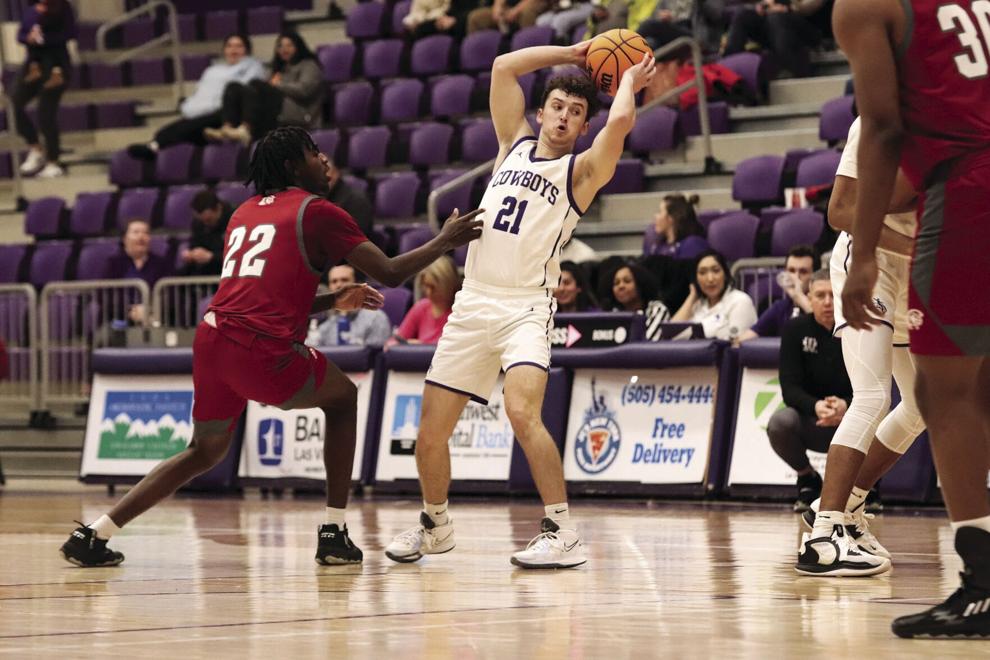 "I don't think it's one certain guy's just going to lead to victory," Dominguez said. "But the more guys that can give us something obviously the better we're going to be, but it all starts with guys knocking down shots and then getting stops defensively."
Regis and UCCS will provide two difficult games for the Cowboys this weekend, but amidst all the tiebreakers and all of the possible scenarios that are in play this weekend the message is simple. A 2-0 weekend means that NMHU will be playing postseason basketball next week. It's win and in.