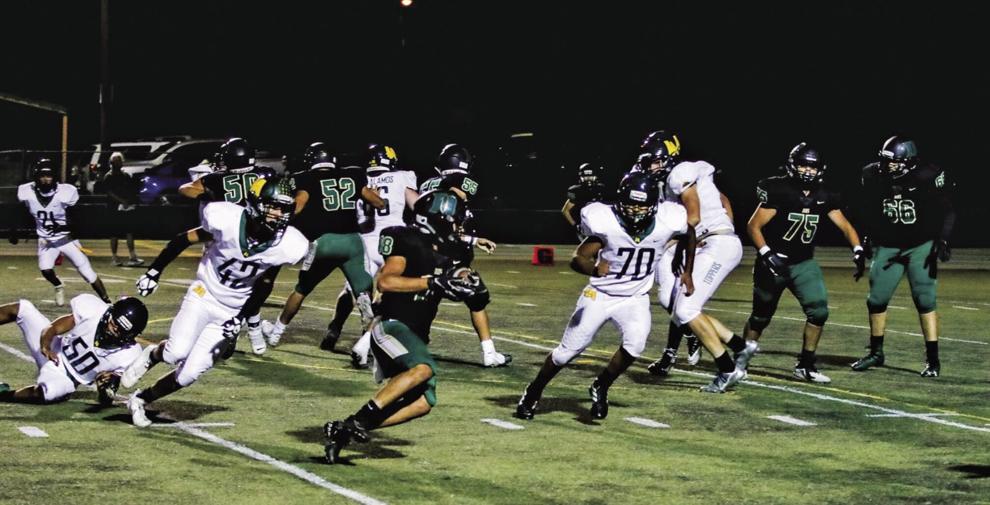 The West Las Vegas Dons football team tasted defeat for the first time this season on Friday night in a 14-7 loss to 3A No. 2 Raton.
Up until Friday night, the Dons' offense had appeared unstoppable for the most part, scoring at least 34 points in each of their first five games and averaging over 52 points per game in that span.
It appears that they met their match in Raton's defense, who's given up more than 14 points just once this season, and their big, athletic defense led by senior linebacker Matthew Quartieri shut down the Dons offense for basically the entire evening.
"Any loss is tough, but you can learn a lot from a loss," head coach Adrian Gonzales said. "We need to learn how to lose just as much as we need to learn how to win, but we'll bounce back and this will test our resiliency."
The backfield duo of senior running back Damian Gallegos and freshman quarterback CJ Perea has powered the Dons offense this season, but on Friday night both were shut down. It was clear that the Tigers game plan was to key in on Gallegos and not let the star tailback beat them. One way they did this was by having Quartieri shadow him all over the field. At 6-foot-3, 215 pounds with good speed Quartieri caused a ton of problems for the Dons, and outside of one 18-yard touchdown run never allowed Gallegos to get going on the ground. 
Even when the Dons attempted to get the ball to Gallegos in the passing game, something that has worked really well in previous games, Quartieri made sure that nothing came out of it. He was a pure game wrecker on defense.
"We needed other guys to step up tonight," Gonzales said. "We were just a little gun shy on things, but it comes with the territory, hats off to them. They played good, but we'll be back."
Perhaps the biggest story of this game was that for the first time this season freshman quarterback CJ Perea looked like a freshman. Perea had thrown for at least two touchdowns in each of the first five games this season and had 11 touchdown passes in his last three games, but Raton's defense appeared to shake him off his game, as the decision making was not as crisp as it has been in past games.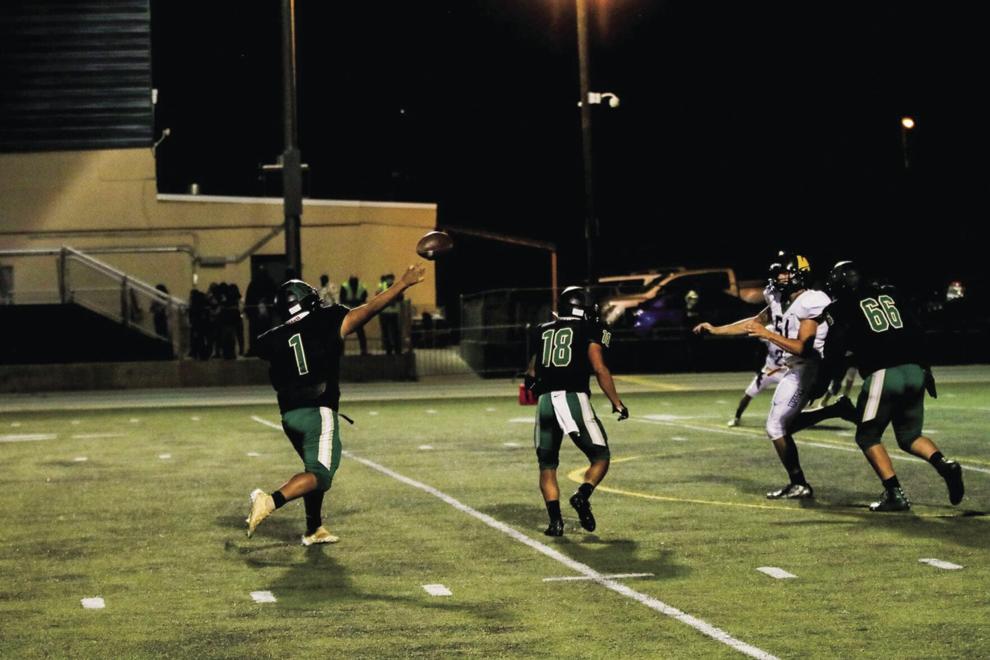 "What they gave us is what we expected," Gonzales said, "We just didn't execute offensively, we played a good game defensively… but it's something we can learn from and bounce back."
Gonzales emphasized that there is a lot that his team can learn from this game. The biggest thing they can take away is that now they have been in one of these back-and-forth games, they now know what this is like. The Dons had won their first five games by an average of over 30 points per game, and while no player or coach is going to complain about dominant performances like that, they do not necessarily prepare you for life in a tough District 2-3A. This may have been their first back-and-forth contest of the season, but it will not be their last, as top 10 foes Dexter, St. Michaels and Robertson still remain on the schedule. 
"Being in a dogfight like this where you get punched and you have to throw punches back and stuff like that only helps you get better." Gonzales said. "All the greats in any sport have taken losses and bounced back, it puts your fortitude, your character and your mental toughness to the test, we'll be fine."
The Dons will jump right back into the fire this week as they travel to No. 8 Dexter on Friday in their final non-district contest of the regular season.