The high school football teams in Las Vegas open district play this week after successful non-district campaigns for both programs. For the Dons of West Las Vegas High School, they have seen week-to-week improvement throughout the first five games, and the team on the field now has one of the best offenses in 3A football, and it was on full display last week, scoring 72 points against Los Alamos. For the Robertson Cardinals they turned a week one loss into a lesson and have quickly turned into one of the best defenses in 3A, allowing just 20 points total in their last five games. The Dons offense and Cardinals defense have them confident heading into District 2-3A play this week, and they will need their dominant units to play up to their potential if they want to achieve a district title with top-ranked St. Michael's and another top-five team in Raton standing in their way.
"Our district gets us ready for the playoffs," Robertson head coach Leroy Gonzalez said. "It gets us ready to play those tough games… Hopefully that helps all our teams going forward."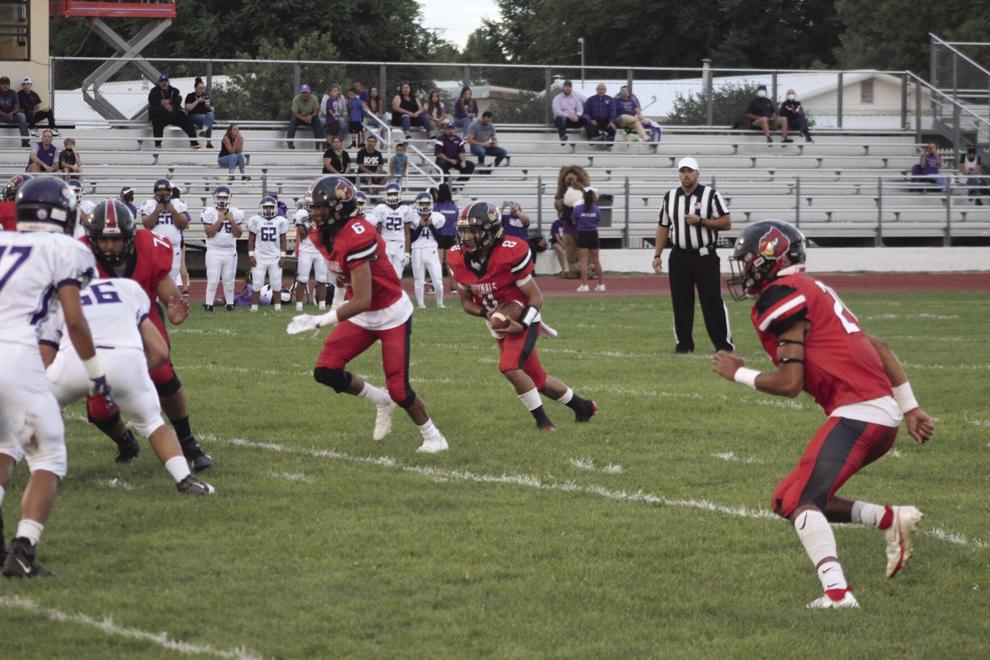 District 2 is the class of 3A football, with four teams ranked in the top-five in the most recent coaches' poll. For both the Dons and the Cardinals it likely means that the blowouts wins are largely over. Blowout victories have been common for both teams over the last month, as the Dons have won games by an average of 28.2 points this season, and since their week one defeat, the Cardinals have outscored their opponents 210-20, an average margin of victory of 38, including two 50-point mercy rules. That level of play will need to be improved upon for either team to bring home a district title, and both coaches know it.
"If we are the same team in week one as we are in week ten then we as coaches aren't doing something right," West Las Vegas head coach Adrian Gonzales said. "We preach that we have to improve every week."
Despite the success both teams have had they could not be more different. The Dons offense is what powers them, and with senior running back Damian Gallegos there has been no stopping them so far this season. Gallegos has scored 26 touchdowns in just five games, rushing for over 100 yards in every game this season. No team has had an answer for him thus far, and the Dons hope it stays that way as he makes their offense go. Even with Gallegos' outstanding play he is not the only option out there. Freshman quarterback CJ Perea has been one of the most productive passers in 3A, throwing for 1,127 yards and 15 touchdowns. Perea's ability to throw the ball along with his emerging receiving core led by junior wide receiver Jaydin Vigil gives the Dons balance they need on offense. Against Los Alamos on Thursday night Vigil was the breakout star, tallying seven catches for 143 yards and two touchdowns. If the Dons continue to get that level of production from people not named Damian Gallegos then their offense goes from tough, to just about impossible to stop.
While the Dons are powered by offense the Cardinals are powered by their elite defense. The Cardinals are not inept on offense, they have scored at least 42 points in four of their last five games, but they have allowed just four points per game in their last five games, including two shutouts. A physical team with great play at the line of scrimmage and with the ability to run the ball is the identity that coach Gonzalez wants to cultivate, and so far it has worked. For the Cardinals, though, their approach to district play is different from the Dons. They know that challenge that lies ahead, but they see this as an opportunity to cut their teeth ahead of postseason play, which begins in November. That perspective comes from 2013 playoffs when the Cardinals entered as a No. 9 seed and won the state title. For them, it's just about getting into the tournament and making sure they're playing their best football at the right time. The reality about playing in this district is that for the Cardinals to achieve their ultimate goal of a blue trophy, they will likely need to see multiple teams in this district multiple times.
"I think we're making the strides that we want to," coach Gonzalez said. "You know they pick 12 teams, I think we've solidified at least a playoff spot already, so when you take so many teams with only 21 total teams you just want to get in, I mean we won it as a nine seed… District does mean something, but our main goal is the playoffs."