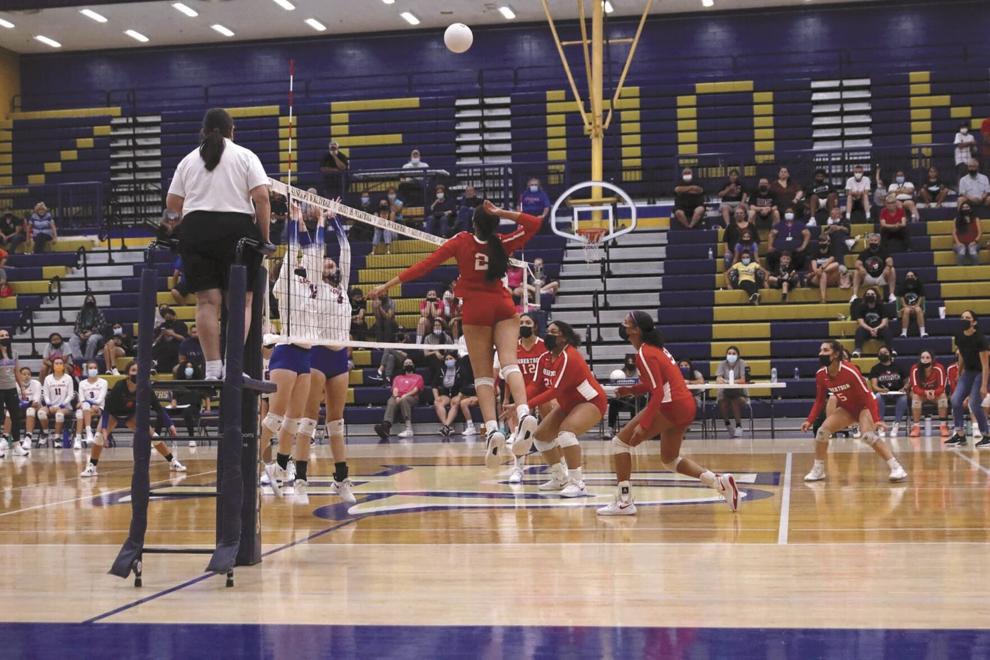 The Robertson Lady Cardinal volleyball season could not be starting off much better. They were the top ranked 3A team in the inaugural coaches' poll last week, and showed why that is the case by winning the Santa Fe High tournament on Saturday, including a straight sets victory over Los Lunas in the championship game to improve to 6-0 on the season. After going to five sets for the first time this season in a semifinal victory over Gallup, the Lady Cardinals flexed their muscles by beating 5A Los Lunas 25-22, 25-22 and 26-24 in straight sets to claim the tournament crown, which coincidentally was a blue trophy, and not the last one this group is aiming to win this season.
"Today was a total team effort for sure," head coach Vanessa Gonzales said. "I've been saying all along we're two or three deep at every spot, and that doesn't mean we're looking to take each other's spot, that means that we have each other's back."
That philosophy was evident in the tournament championship when senior outside hitter Stella Garcia was out with an ankle injury that was suffered in the semifinals, forcing the rest of the team to step up in her absence. Junior Mistidawn Roybal and senior Pasepa Tuineau had noticeably larger roles in the championship match and were productive with increased playing time. One thing the Lady Cardinals do not lack is talent across their front line, and they were able to show some of the quality depth that they have in a big spot against a ranked 5A opponent.
It was not just Los Lunas, all three teams the Lady Cardinals beat on Saturday were ranked in a higher classification in the volleyball coaches poll. Santa Fe Capital was ranked seventh in 5A, Los Lunas was ranked eighth and Gallup came in at ninth at the 4A level. A big reason these tournaments are important to Robertson is because they want to play the highest level of competition they can. They're not going to get to play against too many 4A and 5A schools over the course of the season, but Saturday they got to see three of them and fared extremely well.
"This was a tournament of champions and these girls are champions and they proved why tonight," coach Gonzales said. "We're after that big win at the end of the season, but it starts by going game-by-game and this was a big tournament so we're excited to come out on top."
In the tournament something the Lady Cardinals got to exhibit was their ability to battle through adversity, both in the five-set victory over Gallup, and even in the straight set victory against Los Lunas. Against Los Lunas Robertson was down 15-10 midway through the third set, and it appeared that they were heading towards a fourth set. The Lady Cardinals responded by going on a 16-9 run to close out the set and the match. 
"The team did a great job when faced with adversity like that of just staying strong and sticking to what we do best." coach Gonzales said.
One of the members of the all-tournament team was junior outside hitter Jaylee Gonzales, who has been dominant all season thus far, and was once again in the tournament. In the championship match it seemed that every time the Lady Cardinals needed a point, the ball was going to number two and there was not much the opponent could do. When the ball was set in her direction it felt like the point was inevitable, whether she would spike the ball with all her power behind it, or just softly place the ball in between the opposing players. She even had a crucial block to close out the second set, regardless of what the Lady Cardinals needed, Gonzales was there waiting to deliver.
"She did a great job, I'm so proud of her," coach Gonzales said. "This was a big tournament for her, going up against these big schools and I'm proud of the way she stepped up and just being the player she knows how to be, being relaxed out there and making big plays."  
After being ranked number one in the first volleyball poll of the season late last week the Lady Cardinals proved why they were put there over the weekend. Next week they will face perennial contender Sandia Prep twice as they attempt to continue rounding into form before district play begins in two weeks.