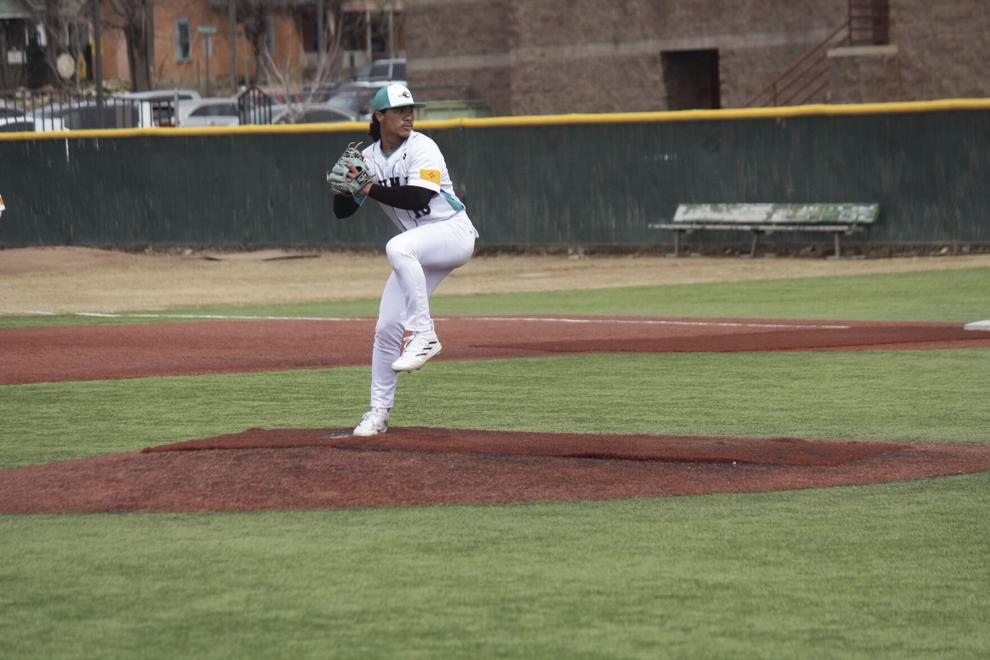 Coming into this season Luna's first year head coach Harry Estep made it a point to want to make the 2023 Rough Riders a 'new Luna.' As we approach the business end of the season it appears the Rough Riders are just that, as they sit in second place in the South division of Region IX and have already won as many games this season than they had in any of the previous six seasons.
"We're sitting on 13 wins right now, and in the six years I've been here this ties us for the most we've ever had," Estep said. "I like where we're at and we're only going to get better as we continue to get that experience."
Luna's success on the diamond this season has been in large part due to their offensive output at the plate. The Rough Riders want to be an aggressive team at the plate and on the base paths. What they have also gotten this season is an influx of power, and in freshman first baseman Jose Villalobos they have one of the top power bats in all of junior college baseball, as he is currently tied atop the NJCAA leaderboard with 16 home runs this season, following three home runs in a double header at Adams State on March 29. Villalobos has been named the Region IX player of the week twice this season, and has powerful bat has been the engine that powers the Luna offense this season.
"It was there with him, it was there," Estep said. "It's not only good for him but it's good for us as a team, it's good for recruiting and there's so many facets of his success that help a lot of people."
The Rough Riders have shown that they have an ability to hit, which in this part of the country is necessary with the high elevation. Now with the last month of the season approaching Estep wants to see his team get better at closing out games as they make a run for the regional playoffs. 
"We've shown we can hit, that's not really a question for us, we grind pitchers down," Estep said. "I think just going forward we really need to close games out, we need to shut games down and get it over with and get it done."
With the last month of the season on the horizon the Rough Riders have a chance to make a move towards the top of the South of Region IX. As things currently stand the Rough Riders are 2.5 games behind Trinidad State for the top spot in the division. The Trojans won two out of three against Luna earlier this season in Trinidad, but they will come to Las Vegas to face the Rough Riders for three games on April 14 and 15. Those are three of the 12 games that the Rough Riders have against the South division in April. After an early season slate that featured some of the best teams in the country, Estep is confident in his team's ability to navigate the season's final stretch.
"We're in it and right now I think we're just a step away," Estep said. "I think we're coming into our own but I can't even begin to think of how much it's helped to play some of those tough teams in non-conference."
Estep is a pitching guy himself and senses that his young staff is beginning to turn a corner. In this last portion of the season Estep wants to see Luna put teams away, and that falls directly on the pitching staff. The Rough Riders did fail to put away two late leads against McCook last weekend, but did receive strong starts from Marcus Sanchez and Diego Quinonez as they two combined to throw 11 innings of two run baseball with each starter exiting the game with a lead. With their most important games of the season still in front of them lessons learned from the first portion of the season could prove to be crucial down the stretch of this pitching staff that is learning how to win.
"These guys are developing, that's the best part, we've had our ups and downs because we played a really tough non conference schedule," Estep said. "We've gone head to head against some of the best offenses that Division I junior college baseball can produce, we took our lumps, but it's starting to come now."
The Rough Riders are on the road at Northeastern this weekend in their final games outside of the South division this season. Following four games in Sterling, CO the Rough Riders will have 12 consecutive games against the Region IX South Division as they chase a division crown and postseason spot in the season's final month.