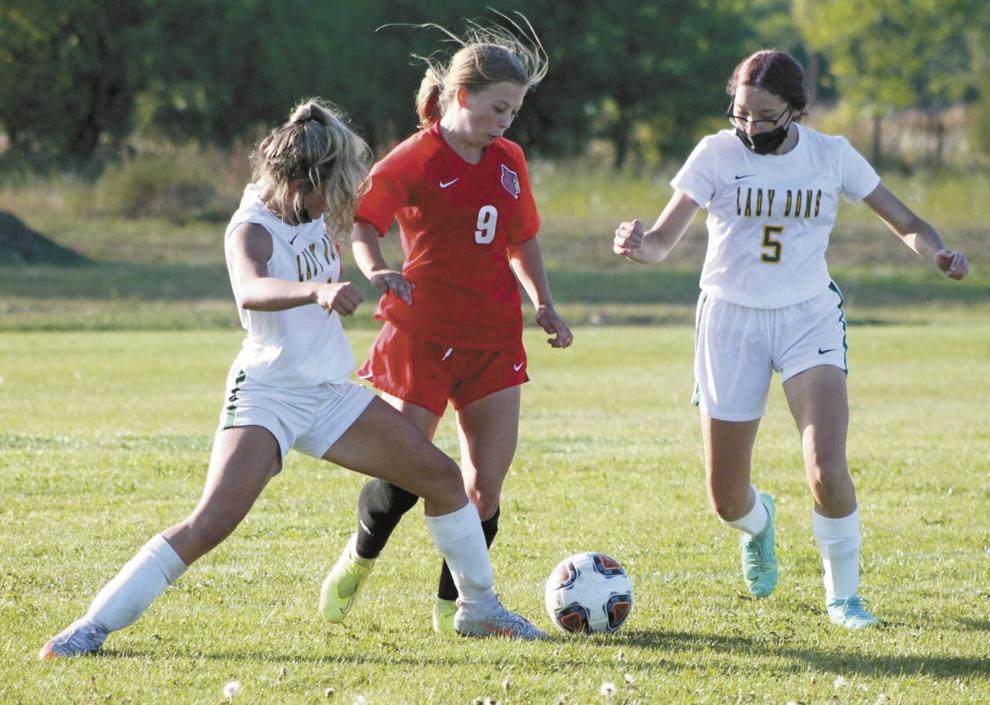 History was made Monday in Las Vegas. For the first time, Robertson and West Las Vegas played a girls varsity soccer game. For coaches and players alike, it was a big moment that was a long time coming, and perhaps even a little overdue. There was no season in 2020, which ruined any chance of a game last year, and prior to that the Lady Dons did not have a varsity soccer program. When they did get a team going in 2017, they were an independent team, so varsity competition was not happening, even with their city rivals. This year, though, they have been able to get on the field and they've had the numbers to compete at the varsity level, winning three games this season, including one in district play.
"I've been lucky, it's been a great experience here," WLV head coach Dennis Marquez said. "We were able to build a program in the years before COVID, we competed as an independent program. Two years ago we had a pretty successful season, finishing 6-3, so it's nice to see the years we put in pay off, and see the program now compete at the varsity level."
Robertson is the more established program in Las Vegas and has been highly successful in recent years. In each of the last nine seasons the team has competed, dating back to 2011, the Lady Cardinals have made the playoffs, and were able to win at least one playoff game in seven of those seasons. The Lady Cardinals have been as strong as ever this season, with a record of 7-4-2, with their only loss in district play being to defending state champion St. Michael's. Along the way the Lady Cardinals have picked up victories over teams in higher classifications such as Taos and Pojoaque Valley. 
The Lady Cardinals entered Monday's contest coming off back-to-back shutout victories and continued that trend with a 3-0 win over the Lady Dons. It does not mean that their performance was without flaws, though. Coach Jeff Houdek believes that his team got caught up in the magnitude of the game in the first half, which ended in the Lady Cardinals not registering a shot on goal in the first 40 minutes of play. 
"The first half we were not playing our brand, we were not playing the way we were all year," Houdek said. "I love that we won for sure, especially this game, but it was such a learning moment because struggling that first half and not doing the things that you know you should do, but to be able to gather yourself, correct it and right the ship on the fly… so I loved that the girls were able to right the ship and get back to their brand out there."
Ultimately, the team did begin to find their groove. The goal coming out of halftime was to have four shots on goal in the first ten minutes of the second half. They got that done and it led to two goals almost immediately after the break, giving all the momentum to the Lady Cardinals. The star of the second half was junior striker Amber Doss, who netted two of the team's three goals in the rivalry game victory, the first of what will certainly be many to come.
"The game feels like it's been such a long time coming," coach Houdek said. "Most of our girls know all of the girls over there, they played youth sports together… Everybody has been really anticipating it, the girls were really excited to play, it definitely felt like more than just a regular game."
This game was about far more than the individual game for the two teams. It was the dawn of a new day for soccer in Las Vegas. A lot of time and energy has been put into youth soccer in Las Vegas, and WLV coach Marquez is an example of that. He spent a lot of time coaching many of the girls from both teams in their younger days, so this day was a big one for him. A culmination of a lot of hard work.
"It was really special for me to be a part of it," Marquez said. "I started out coaching soccer at the youth level, so there were a lot of girls from both teams that I coached in some capacity… It was nice to see them coming from the youth level to the high school level, to see them compete… It was a special day for us."
Coming up, the Lady Dons and Lady Cardinals both enter the final stretch of the season, as there are just over two weeks remaining before playoffs. The Lady Cardinals will have seven games in that span while the Lady Dons will play five. The two teams do match up again on Oct. 20 at West Las Vegas, so that's one that both teams will be circling on the calendar, but Monday's game was about much more than one game. It was a win for soccer in Las Vegas.