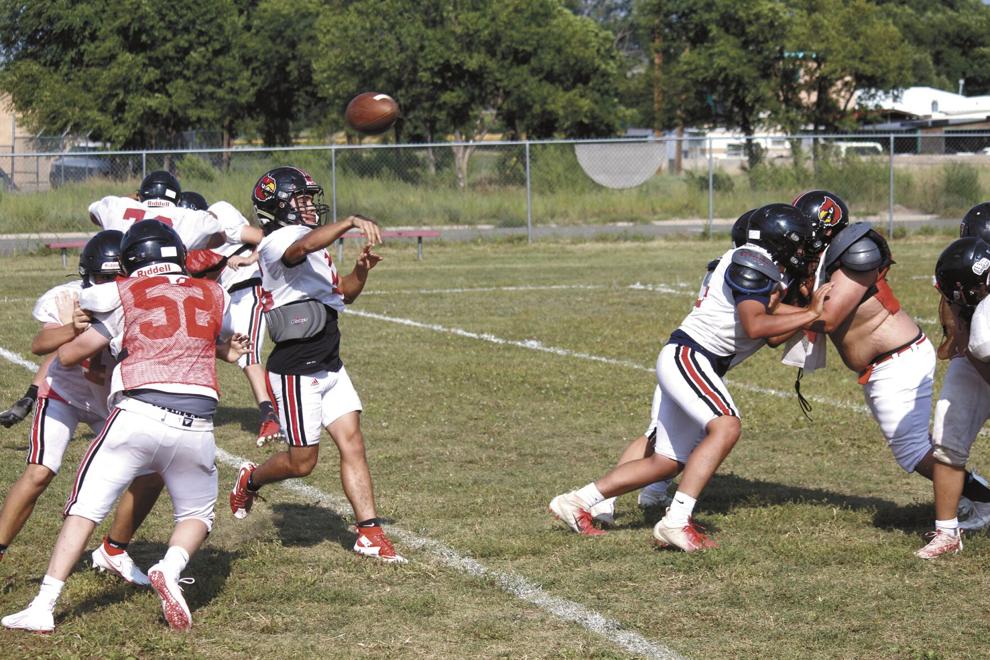 Nov. 23, 2019. That is the last time the Robertson Cardinals football team stepped on to the field; a state semifinal loss to Hope Christian would be the last game the Cardinals have played in almost two full years. Now entering 2021 there is a lot to learn about this Cardinals team. Usually by this point we're thinking about how this team can repeat or build upon success of the previous season. In each of the last five seasons that the Cardinals have played, they have reached at least the state semifinals, that's the standard for this program, and despite entering 2021 with a lot of new faces that have yet to take the varsity gridiron, that standard does not change.
"It's obvious that we are a pretty young team, we don't come in with a lot of experience," offensive coordinator Lucas Sanchez said. 
One familiar face that the team does have is senior quarterback Mathew Gonzales. As a sophomore in 2019, Gonzales had just over 2,000 yards combined passing and rushing, leading the team in both categories, and found the end zone 26 times, 18 through the air and 8 on the ground. In that 2019 season, Gonzales was surrounded by a lot of senior skill position players, but now that team's second leading rusher and third leading and top three receivers are graduated. In 2021 it's now Gonzales who is the elder statesman of a largely young group of skill position players. Even the few players who did play in 2019 played pretty minor roles in the offense, now they will be forced to take expanded responsibilities when the Cardinals do take the field.
"It's absolutely huge to have (Gonzales) back," Sanchez said. "Whatever I see he sees, he knows exactly what I want, he knows what everybody is doing on the field at all times, so when we get in the game situation he takes care of all of the small things so we can just go out and play."
Defensively the Cardinals are going to be young as well. The top four tacklers from 2019's defense were seniors, so now it's going to be a lot of new faces all across the defense. Gonzales returns to his starting safety role and junior linebacker Ace Gonzalez will be crucial to the Cardinals' success on that side of the ball. It's no secret that the Cardinals pride themselves on defense and physicality. In 2019 the Cardinals held six of their 12 opponents to single digits, including four shutouts. Head coach Leroy Gonzalez is a defensive guy and even though they will be breaking in a lot of new starters the expectations remain high for this unit internally. 
"We pride ourselves on our defense, you know hard hitting, being physical," Sanchez said, "We don't do as much scheming or anything like that, it's more of that hard hitting and getting after the football, that's the identity we're working towards right now."
There will be a lot of new faces on the field when the Cardinals are in action beginning Friday. There's going to be some names that we haven't seen on the field before making some plays. One player to watch out for is sophomore Mateo Contreras. The 6'2 wide receiver showed how athletic he his last season as a freshman on the basketball court and the track. Now taking the football field for this first time Contreras has coach Sanchez salivating at the opportunity to utilize that athleticism to put points on the board. If you go to practice chances are you will see Contreras making a leaping catch deep down the field, using his speed, height and leaping ability to overwhelm any defender trying to make a play on the football. Defensively Contreras will be lining up at outside linebacker, helping Ace Gonzalez patrol the second level of the defense.
"I'm going to be using him (Contreras) all over the place, he's just an absolute athlete," Sanchez said.
Another name to watch out for is junior wide receiver and corner Kenneth Montoya. Montoya did play two games of varsity football in 2019 as a freshman, but now appears to be one of Gonzales' most trusted targets on the outside. Freshman wide receiver and younger brother of Mathew, Nathaniel Gonzales was making plays in the passing game this week in practice. He appeared to have really good chemistry with his brother and was consistently beating man to man coverage and finding gaps in the defense. While they are young, the talent does appear to be there for the 2021 Cardinals.
"The younger brothers of Mathew, the little Gonzales twins are up and coming for us," Sanchez said. "Kenneth Montoya, he's been all over the place, he's been the quarterback before, he's got great feet and great hands, and he sees the field just like Mathew does."
2021 will not be without adversity for the red white. To start the season they will be missing head coach Leroy Gonzales for at least the first game due to a medical issue. Gonzales had taken more of a hands-off approach this season compared to previous years, but not having your head coach for any amount of time is no small thing. The Cardinals will also be without Contreras for at least the first game as well, as he is dealing with a minor knee issue that won't cost him any significant amount of time but barring a drastic change he will not be out there in the team's opener against Santa Fe High School. There is no easing into this season either, as the Demons from Santa Fe High School, a 5A program are one of the tougher teams in the state. They looked very impressive last weekend in a scrimmage that featured West Las Vegas, Santa Fe St. Michael's and Santa Fe Capitol. While it is a non-district game, and likely won't mean much in terms of playoff positioning, it is a game that the Cardinals want to win and will be forced to do so without two key components to the team.
The Cardinals are young and talented, and early on in the season there could be some growing pains given the youthful nature of the roster. Once the Cardinals figure it out, though, this could be a team that is right there with the best of 3A at the end. The district is no cakewalk, as St. Michael's appears to have a strong team and crosstown rival West Las Vegas is never an easy challenge. Getting the young players up to speed will be necessary, but the ingredients are there for a strong season in 2021.