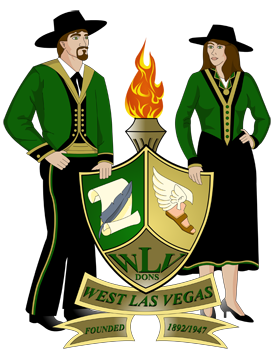 Last month I wrote an editorial regarding West Las Vegas moving on from former head football coach Adrian Gonzales. In that piece I voiced my disagreement with WLV's decision to move on from Gonzales. This week the district announced the hiring of their new head football coach Patrick Rodriguez who will be taking over the program immediately. I made it clear my stance on Gonzales in my previous editorial, and now I think it's only fair that I comment on the hiring of Rodriguez. I believe he is a really good hire and will do a great job for the Dons moving forward. 
At the very end of my last piece I wrote that I hope whoever the Dons hire will lead them to great success, and I meant that. Only time will tell if Rodriguez is able to do that, but I view Rodriguez as a really good coach and with his experience he's highly qualified for the position. 
There are those who believe that I would be rooting against the success of the Dons football program moving forward, but I can assure you that the opposite is true, I want to see WLV football be successful, in the same manner that I want to see every team I cover succeed and compete for district and state championships. Winning teams are simply more enjoyable to cover than teams that don't win, and with high school football being as popular as it is in this community, I want to see WLV do well on the field. I believe Rodriguez will do everything in his power to make that happen.
Rodriguez coached at NMHU in 2022 under Ron Hudson, who speaks glowingly of him. There are very few people who are more familiar with WLV and the football program than Rodriguez, it makes him well equipped for the job. Rodriguez knows the game of football really well, the WLV football program is lucky to have someone who has experience coaching at the college level, I don't think that can be understated. What Rodriguez also brings is a commitment to the kids away from the football field, he's going to do everything that he can to help develop the kids that enter his program into young men, which as a high school coach is far more important than what the results are on the field. 
From what I can see most people in the WLV community are excited about Rodriguez's hire, and they should be. Rodriguez is an active member of the community and is someone who cares about his players first and foremost. I'm excited to see coach Rodriguez get to work and I'm a little bummed that high school football season is still eight months away. 
What I hope that everybody realizes is that changing the head coach does not fix everything. The Dons are still contending in a very tough district which features two of AAA's semi finalists from last season in St. Michael's and Raton, as well as Robertson who went undefeated in district play and are currently experiencing their most successful run in program history. It's possible that Rodriguez is the guy to turn all of that around quickly and shift the balance of power in AAA football, but I don't think that should be the expectation, certainly not right away. 
At the beginning of this article I said that Rodriguez is a really good hire, that was an understatement, I believe that he is a home run hire for the Dons. Rodriguez knows the game of football very well, he's played and coached collegiately, he has previous high school head coaching experience and he knows this group of kids as well as just about anyone. On the non football side of things, every parent who has their son play football for the Dons football program can be confident that Rodriguez will be doing right by their child on the field and off. 
I do not know what the results for the Dons football program will be in the years to come, but as things stand today I think the hire of Rodriguez is a step in the right direction. I know a lot of the players are going to be excited to play for Rodriguez and his value system centered around hard work and respect is necessary in high school sports. I wish coach Rodriguez and the Dons nothing but success in 2023 and in the years to come.