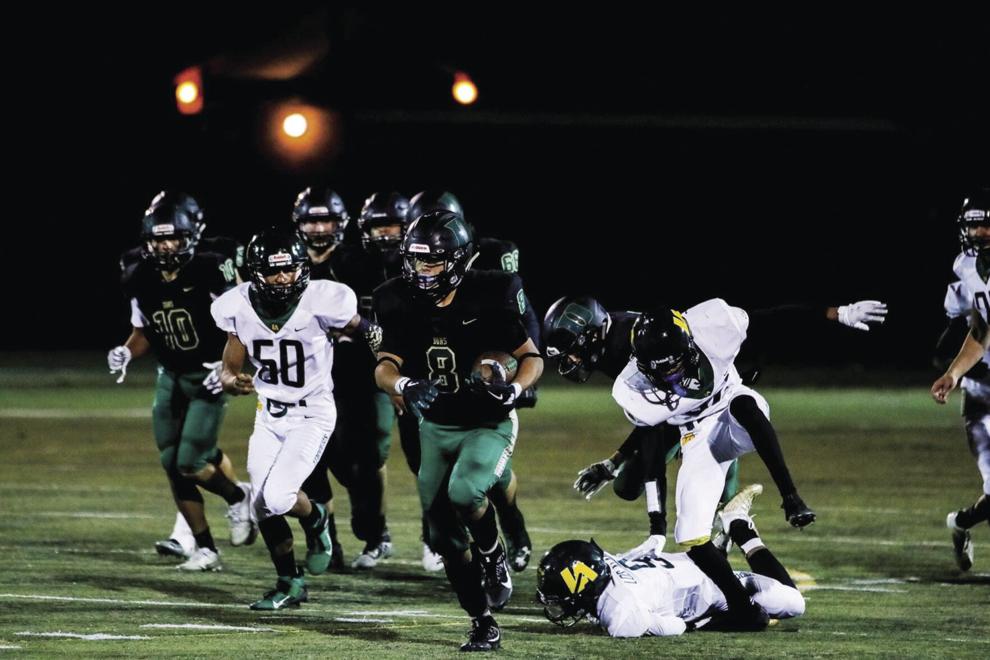 For the West Las Vegas Dons football team, Friday night at Dexter was about one thing: getting back on track. After suffering their first loss of the season against Raton on Oct. 1, the Dons had to fight through some adversity this week. They had to learn how to bounce back from a loss. You never know how a team is going to respond to defeat, especially when it's their first defeat of the season, but the Dons responded the way head coach Adrian Gonzales hoped they would, with a resounding 39-27 victory on the road against No. 8 Dexter. 
"It was a good bounce back win for us," Gonzales said. "Anytime you lose a big game like that the week before, you always want to fix your mistakes and stuff like that and bounce back the next week and we were able to do that against a tough team."
For the Dons, this game was a return of the offense after scoring just seven points in a loss to Raton. The Dons were able to find their offensive rhythm once again and put up numbers that they are used to. It starts with senior running back Damian Gallegos, who was back to the spectacular form he's displayed for the most part this season. Gallegos finished the game with 250 yards from scrimmage and five touchdowns. That included 101 receiving yards, as that was one of the adjustments the Dons made, to get him the ball more in the passing game and let him create in space. That worked, as he racked up 16.8 yards per catch and scored three touchdowns as a receiver. 
Throwing the ball to him was freshman quarterback CJ Perea, who had a nice bounceback game of his own, completing 20 of 23 passes for 242 yards and three touchdowns. What makes this performance perhaps more impressive for Perea is that he was without his usual top target Jaydin Vigil, who missed the game with an injury. Gallegos picked up a lot of that slack as a receiver, but other pass catchers, such as senior receiver Josh Gonzales, who had 74 yards on six catches, and sophomore tight end Pablo Montano, who had five catches for 42 yards, proved to be viable options in the passing game and could help get the job done. This all bodes well for the Dons going forward, as they proved that even without one of the most productive wide receivers in 3A football, their passing attack can still be potent against quality competition.
"I thought we executed much better offensively," Gonzales said. "Guys were where they were supposed to be and weren't making mistakes, a lot of guys corrected some things… and we were able to get the job done and put up a better performance."
Outside of one game this season, the offense has been outstanding, but the defense has been making steady strides since week one and is now playing like a unit as they approach the heart of district play. They were able to keep a Dexter offense, which has quite a bit of speed, from scoring with their offense, helping give the team a cushion early, so they had control of the game in the second half. The Demons came into the game averaging 417 yards per game on offense, the Dons defense was able to hold them to 317 yards, exactly 100 below their season average. 
"Our defense has played well these last couple of weeks," Gonzales said. "We need them to do that because sometimes they have to bail out the offense, and it takes all three phases of the game, but I think we're turning the corner and getting all three of them on par with each other which is where we want to be towards the end of the season."
While they did allow a couple of big runs for 62 and 55 yards, the Dons were able to contain the Dexter offense for most of the night, and with the offense back on track it gave the Dons the all-around rebound victory they were hoping for.