When anyone thinks of rivalries in Las Vegas the first one that always comes to mind is West Las Vegas and Robertson, and rightfully so. However, on the gridiron over the last several years, the rivalry that has come to fruition between No. 4 Robertson and No. 2 St. Michael's might be just as fierce. On Friday night the Cardinals and the Horsemen will renew their rivalry with some very high stakes, as both teams are still very much in the running for a playoff bye, and potentially a district championship. 
"They're kind of like one of those Tom Brady Patriots teams that does just enough to win," RHS Head Coach Leroy Gonzalez said. "That makes it hard for us coming in, trying to figure out what they want to do."
If any game for the Horsemen personified doing just enough to win, it was last week against West Las Vegas. They were not able to do much offensively, they could not sustain drives or string together first downs. What the Horsemen were able to do was make two big plays to score touchdowns, and have their defense hold on for a 13-12 victory. Finding ways to win games is a skill, and it's one that Gonzalez believes the Horsemen have, and that makes them dangerous for any opponent.
"I'm thinking that we're going to have another knock down drag out Robertson-St. Mike's game," Gonzalez said. "The way we usually do."
The Cardinals come into this week rested off their bye. The last time they were on the field they lost a heartbreaker 28-26 against No. 1 Raton. The coaching staff and players are still salty about that one, knowing how close they were to knocking off No.1 and putting themselves in the driver's seat for the district title. Regardless, the Cardinals still have all their goals in front of them, with the main goal being a blue trophy. A win over the Horsemen not only gives them the inside track at a first round bye in the playoffs, but also confidence that they can defeat a fellow state championship contender.
"We're coming off our bye and a stinging loss two weeks ago," Gonzalez said. "Hopefully we have that fire to come out and play… I think this is one of those games that you just get up for regardless."
Robertson is known for defense and running the football. That has been the identity under Gonzalez. This season, part of what makes Robertson hard to defend is their passing game. They can throw the ball and put points on the board quickly if necessary, something that most Cardinal fans are not used to. Sophomore wide receiver Mateo Contreras broke out in the Raton game for eight catches and 131 yards. His dynamic presence on the outside makes the Cardinals as tough to defend as any team in the state.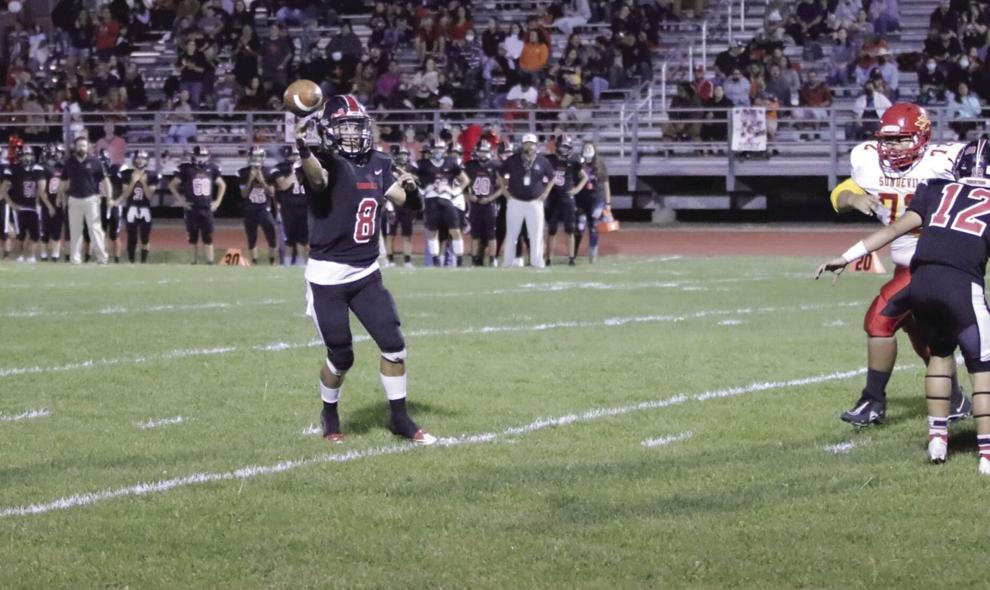 With the passing game, it is important to mention senior quarterback Mathew Gonzales. He has a strong and accurate arm, but what makes him one of the most dangerous offensive weapons in the state is his ability to improvise and just make things happen. No game is better evidence of that than the Raton contest, when he threw for 208 yards, but ran for 100 yards and four touchdowns. His ability to make plays outside of the pocket, and outside of structure is a headache for defenses. 
"What I tell Mat is that if they're going to play man to man defense, you know how much green grass is in front of you?" Gonzalez said. "So I tell him, 'If you have green grass then go.'"
Even with the team's offensive firepower, defense wins the day for the Cardinals. They know that they cannot allow the big plays to the Horsemen, which won them the game last week. Limiting senior wide receiver Devin Flores, who scored on a 35-yard reception and a 63-yard punt return last week, is crucial to their success. If the Cardinals can take away the big plays and force the Horsemen to go down the field methodically to score points, they like their chances.
At 7 p.m. Friday, the Cardinals and Horsemen will renew their rivalry here in Las Vegas. A win for the Cardinals means they likely control their own destiny for a first round bye in the postseason. Earlier this week it was announced that the Horsemen will be without 10 players for the game because of COVID-19 protocols. It is unclear who those players are, but losing that many athletes will be a big loss.