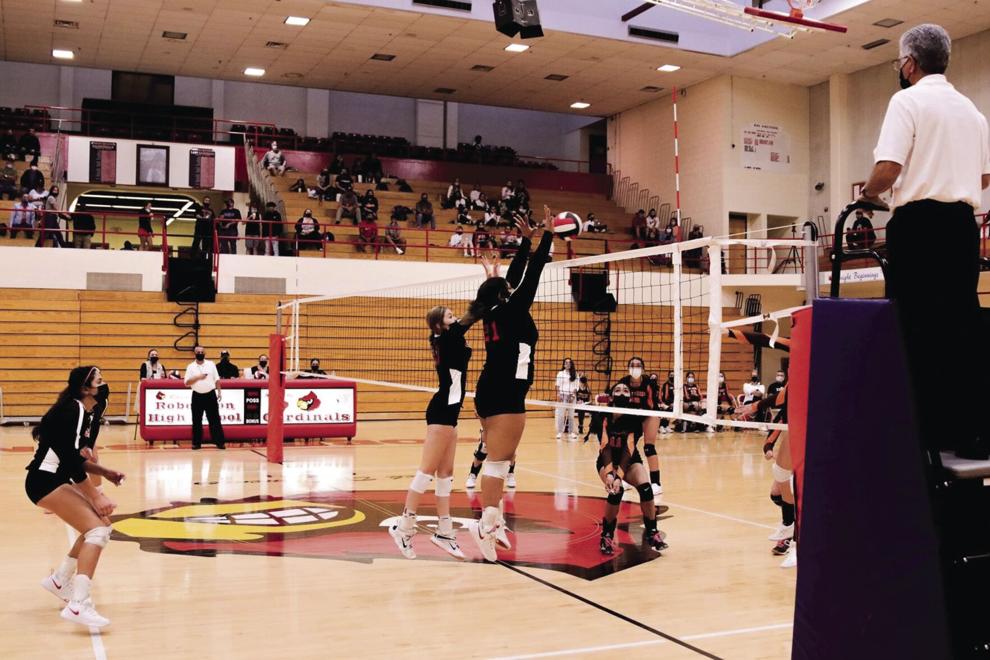 Some games in sports just mean more, that's a fact. Coaches and players can say that a big game is just another game, but the reality is that sometimes, one game on the schedule just means a lot more to a player or team than all the others. For Robertson's junior outside hitter Jaylee Gonzales, that game was Saturday when her former school Hope Christian, came to Las Vegas to take on the Lady Cardinals.
"Hope was the first game I saw on the schedule when I took the job," head coach Vanessa Gonzales said. "We've been waiting for this game to happen given our connection to the school, so it was really exciting… Jaylee was a key player for them, and I'm sure it was nerve racking of them to see her on the opposite side of the court."
It was not just a big game for Jaylee, it was a big game for the team. Robertson is the top-ranked team in 3A this season, they have not lost a game, and so far, they have only lost four sets this season. Saturday against Hope was the first time, perhaps all season, that the Cardinals went into the game knowing that this was one they could lose. Hope Christian is the top-ranked team in 4A, the defending state champs and had lost just one game so far this season. They are one of the best teams in the state, regardless of classification. It was a measuring stick for this Lady Cardinals team and they more than measured up in a straight set victory.
"There was a lot of anticipation leading up to the game with us being ranked No. 1 in 3A and them No. 1 in 4A," Gonzales said. "There was more determination to win and pressure leading up to the game… the team did have that extra edge."
The Lady Cardinals have gotten to look at many of the top teams in the state, four who are currently ranked in the top eight, and have been dominant in just about every set. On Thursday they will travel to Santa Fe to take on 3A No. 2 St. Michael's for the first time this season. The Lady Horsemen are the only other team to have received a first-place vote in the volleyball coaches poll at all this season. Thursday is the first of two regular season meetings between the two teams, but a win in Santa Fe will send a message that they are the overwhelming favorite in 3A, and they are viewed by plenty as that already.
"I'm well aware that we're viewed that way," Gonzales said. "But I stay completely focused until each game says 25 at the end, and I remind the girls every day that we can't let up and we have to continue to improve and stay focused, but that is the end goal and that's where we expect to be."
Being a favorite to win the state championship for a high school team is not something that coaches like to think about, or even acknowledge, for the most part. The Lady Cardinals do realize how they are perceived, they know it ultimately does not mean anything when they step on the court, they still must perform and win the games once the whistle is blown, but they have been by far the most impressive team in 3A and maybe the best team in the state. They are highly talented, especially on the front line with Gonzales, senior outside hitter Jayden Jenkins and senior outside hitter Stella Garcia. All three of those players would be the top attacking option for just about anyone in 3A, and they're all on the same team. Even the depth they have behind those top three, with seniors Pasepa Tuineau and Lainey Baca along with junior Mistidawn Roybal, are starters on probably any other team in 3A. The attack is ferocious and it's hard to envision a team putting a stop to it given all the talent that the Lady Cardinals have.
They do have a massive game against St. Michael's on Thursday, but right now the Lady Cardinals are the favorites to be lifting up the blue trophy in about one month's time. Saturday's contest against Hope Christian was a big one, as they showed that they are as good as anybody in any class, but that was their last non-3A game of the season. Now it's about showing their class that they are the most dominant team, and up to this point they have done just that.