For the New Mexico Highlands Cowgirls, there is one goal on the top of their minds, and that is making the RMAC conference tournament. It's something that has not happened at NMHU since 2005, during Duke's first tenure as Cowgirls head coach, but it's something that is very much within their grasp as they enter the final stretch of the regular season. Just one game separates them from a top-eight position needed to qualify. 
"That's our standard and that's been our goal since the beginning of the year," NMHU head coach Tom Duke said. "I've told our girls, though, "let's not be frustrated, we have eight matches left and if we win half of them we have a good chance of being in the playoffs, so what more do we want?'"
This weekend is an opportunity to get closer to that top eight, with games at home on Friday and Saturday evening highlighting the program's Breast Cancer Awareness weekend. Friday night they play Colorado Christian, one of the many teams they are battling with for a top-eight spot. A win over the Cougars would bring the Cowgirls right to the cusp of the top eight and give them a head-to-head tiebreaker over the Cougars, something that could really matter in the next couple of weeks. On Saturday the Cowgirls welcome the No. 1 team in the country, Metropolitan State. The Roadrunners have not lost a match since Sept. 4, and for the Cowgirls it's an opportunity to test themselves against the very best in America, and an opportunity to really turn some heads.
"It's going to be some really high-quality volleyball," Duke said. "I've never beaten Metro, I was up on them 2-0 once in this gym, but I lost the next three so it's a coaching dream to take them down one day."
One defining trait of the Cowgirls this year is their grit. Of the 20 matches they have played so far this season, nine of them have gone to five sets. This season has been one about battling. The unfortunate thing for the Cowgirls is that they are just 3-6 in those five set contests, with three of those losses coming in conference play. In all those contests, just one or two points would have been the difference, and with two tough and consequential games coming up this weekend the Cowgirls will likely find themselves in at least one more tough five-set contest.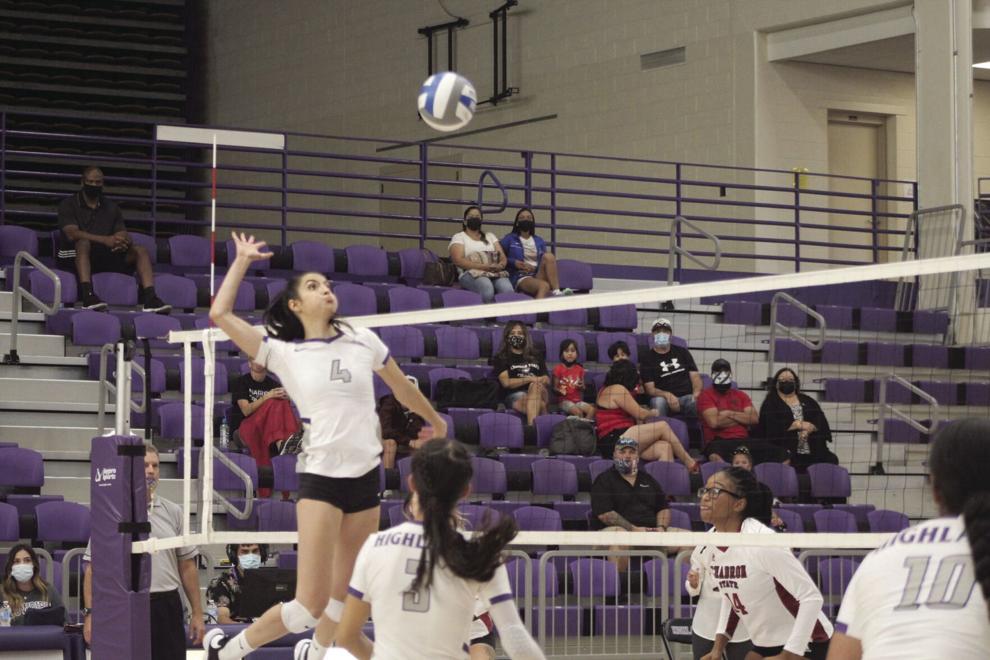 "We're a really scrappy team, and it shows if you just look at the scores of the games we've lost," Duke said. "Almost every game this year we're right in it, we're scrappy as hell and we still have a chance to make the RMAC playoffs."
This season the Cowgirls have relied on a balanced attack. There may not be a true go-to hitter, but they have multiple players at the front of the net who are capable of getting the job done. Senior middle blocker Stacy Johnson is seventh in the RMAC in kill percentage at 32.2 percent. Junior outside hitter Lisi Langi leads the team in kills with 211, one of five Cowgirls with over 120 kills so far this season. The attack is powered by junior setter Soleil Gandara, who is fourth in the conference in assists per set with 10, and her stats may not even tell the whole story, as she has been the ideal distributor and decision maker for the attack.
"She's really setting well this year," Duke said. "We changed her footwork, we changed her delivery, we changed everything, and it's worked out really well for us."
As it currently stands, there are six teams separated by just two games for the last three spots in the conference tournament. The Cowgirls and the Cougars are both in that logjam, which makes Friday night's contest that much more important. That match is also important from a momentum and confidence perspective with the No.1 team in the country coming into town the next day. With the race for the conference tournament being as close as it is, the Cowgirls need a win this weekend to put themselves in a good position going forward. With four of their last eight opponents being against teams they are battling with, they control their own destiny for their first RMAC tournament berth since 2005.