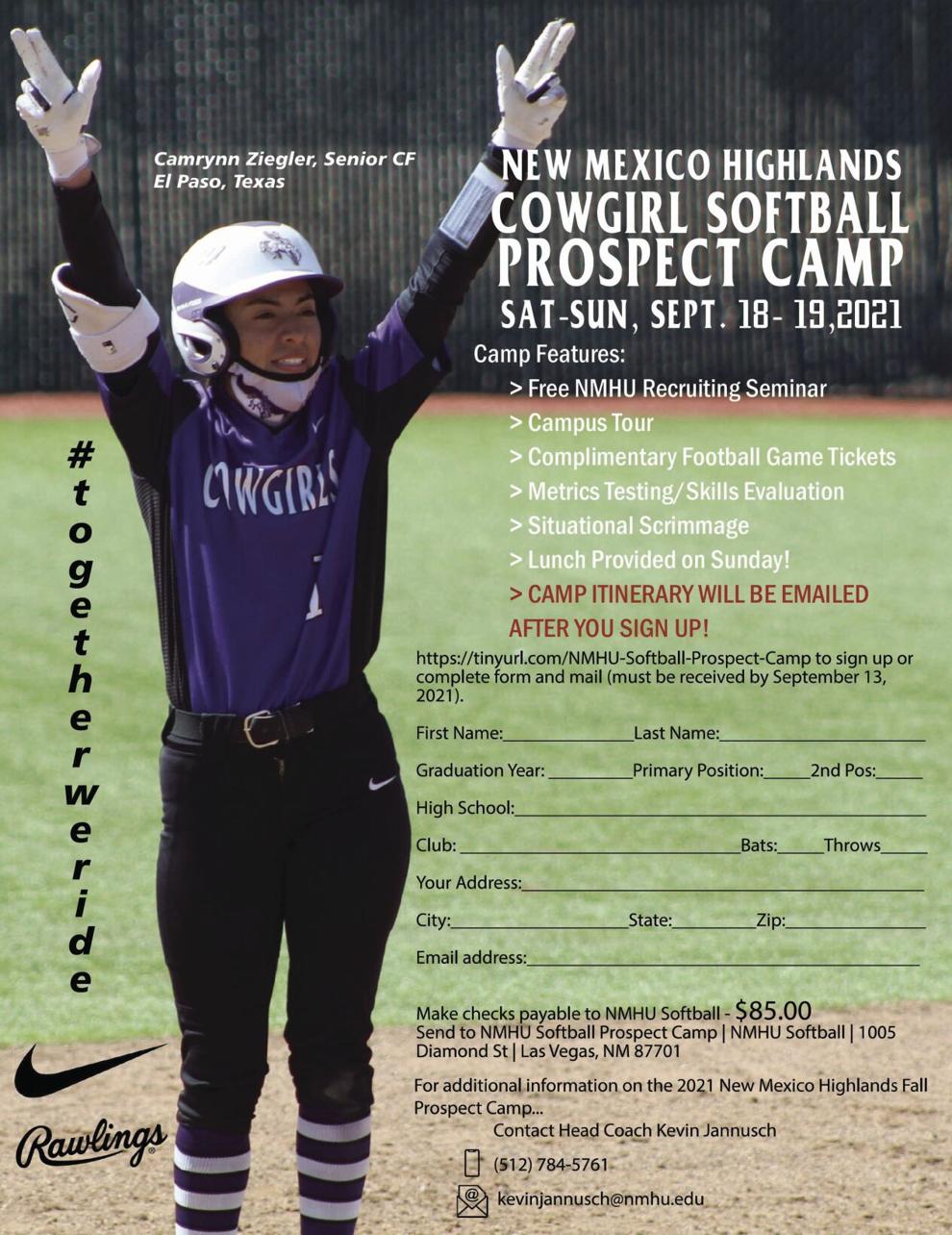 Perhaps no sport in Las Vegas is played at a higher level locally than softball. Last season Robertson and West Las Vegas were the second and third seeds in the state tournament and met in the state semifinals. In 2019, the Lady Dons and Lady Cardinals also met in the playoffs as the No. 1 and No. 4 seeds. There's no shortage of talent in Las Vegas for softball, and NMHU softball coach Kevin Jannusch is trying to take advantage of that. 
"Softball in Las Vegas is really good now, probably better than it's ever been thanks to the rec league, the club teams and the high school coaches," Jannusch said. "I have little doubt that in the classes that are between seventh grade and 12th grade there aren't eight, 10 or even 12 players that should be on our roster to help us win the RMAC."
In the 2021 recruiting cycle he was able to get former Robertson infielder McKayla Encinias to commit to play for the Cowgirls, and Jannusch believes that she will play a big role in the team's success. Jannusch does not want Encinias to be the only Las Vegas native on the team, though.
"If we could win the RMAC with an all-Las Vegas roster it would be best for us," Jannusch said. "On every front, on the pride factor, on the crowd factor, I mean the local kids are going to be the proudest of their local team if we're doing good, and we want them to be a part of that."
While fielding a roster of entirely players from Las Vegas may be a little unrealistic, Jannusch does want to have more local talent on his roster. One way of helping start that trend is by having middle and high school-aged prospects on campus to get a look at them. That's where next weekend's prospect camp comes into play. Sept. 18-19, Jannusch and NMHU softball will be hosting a prospect camp for the players looking to play at the next level.
"We've been out to a lot of the high school games, but we just don't know the kids well enough to be able to even call them by name," Jannusch said. "That's partly what this is for, so we can see their skills up close, we can find out if they're going to be coachable, they get to know us, we get to know them and then ultimately there's a more natural transition."
The program's ultimate goal is to be RMAC champions, and to do so in a timely manner, so that the kids that are currently on campus get to be a part of that success. There is no doubt in Jannusch's mind that there are multiple players in town that can help him achieve that goal, so he wants to make the local players and this community a big part of that success. Local involvement is something that in the past the program may not have been great at, but that's something he's actively trying to change.
"I don't think that in the past softball at Highlands has done a good job of focusing on who can help them right here in town," Jannusch said. "We know some kids are going to want to go to bigger schools or further away from home and that's fine, but it needs to be an option for them to come here if they want to."
Jannusch believes that both RHS and WLV have players capable of making it to the college level, and he wants them here in town if they're good enough to play for the Cowgirls.