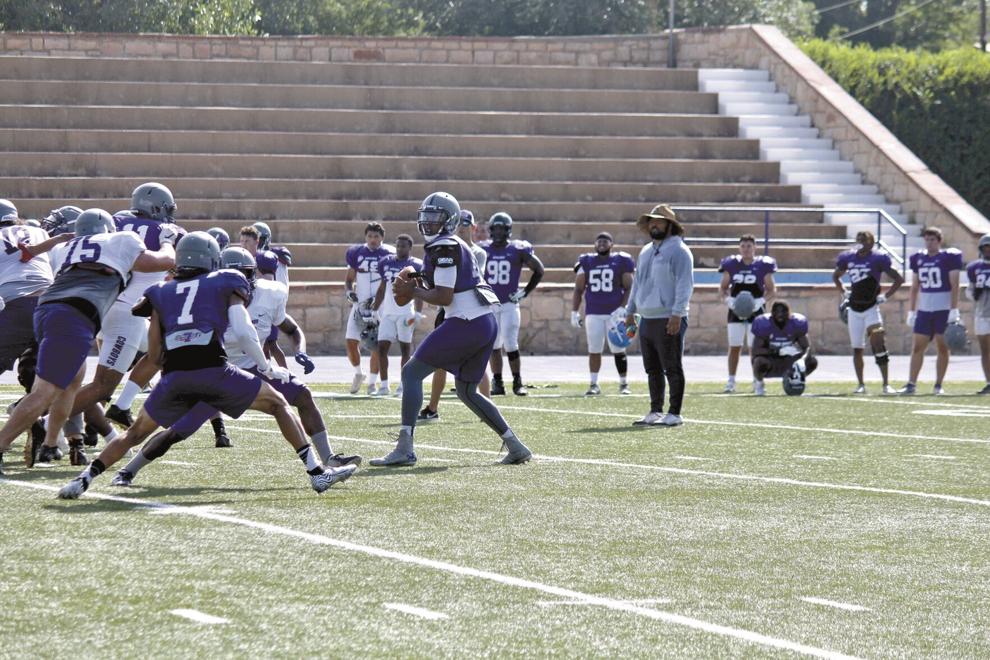 651 days, that is how long it has been since New Mexico Highlands football has taken the field in a game that counted in the record books. That was Nov. 23, 2019, when Western New Mexico University came to Las Vegas and beat the Cowboys 23-17. On that day current Cowboys head coach Josh Kirkland was still the assistant head coach at University of Incarnate Word in San Antonio, Texas, NMHU athletic director Andrew Ehling had not yet been hired by the school, and few, if any, people knew what COVID-19 was. It was a different time. Now, in 2021, the first season with Kirkland at the helm, he plans for this to be a different time for Cowboy football. It's not exactly a secret that Kirkland is bullish on his team this season, he believes the talent is there, and they just need to show it on the field when it counts.
"I think we are extremely talented on both sides of the ball," coach Kirkland said. "We just have to put in the time and the work to get us where we want to be."
You will not be able to talk about the talent that the Cowboys possess this season without talking about their wide receiving group. The speed and playmaking ability with the ball in their hands stands out. Leading the group is junior CJ Sims, a transfer from Butler Community College. Sims was one of the stars of the team's spring game against Fort Lewis College in April, and his elite speed will make him a key contributor as soon as the ball is kicked off Saturday.
"I don't think a Jakeem Grant or a Tyreek Hill is a far-off comparison for what he (Sims) can do." Kirkland said.
Sims is far from the only talented player in the room, as juniors Israel Watson and Ronald Jamison, along with sophomores Cortlandt Brooks and Quavon Beckford help round out an extremely talented receiver room that Kirkland will help make life easier for senior quarterback Ramone Atkins.
"The wideouts are good, the struggle we're going to have is spreading it around to them," Kirkland said, "Making sure everybody gets their touches and we're going to be game planning for these kids to get a certain amount of touches and they are extremely talented and we're fortunate to have those kids here."
Atkins is one of the few returning players from 2019. The Cowboys coaching staff has brought in plenty of new talent via the transfer portal, through the community college ranks and in the high school recruiting cycle. Atkins' presence as the starting quarterback is one thing that has not changed. The way he bought in to the offense has given the coaching staff confidence that he was the right man to lead the team. Atkins will not only lead the passing attack from the pocket but will also play a big role in the team's running game as well, something we saw in the Spring game against Fort Lewis.
"Atkins at (QB) has done a phenomenal job even since the Spring of getting out there and throwing these guys the football," Kirkland said, "We joke, we tell him all the time that he's already in midseason form already. We're excited about being able to throw the football."
Another one of the strongest position groups for the Cowboys is their offensive line. All of their starting lineman stand at least 6'3 and have the physical presence that you typically see from a Division I team's offensive line. Jacob Gamble at center is someone that Kirkland believes could play in the NFL one day. Starting guards Julio Castillo and King James Taylor played at FBS schools University of Central Florida and University of Hawaii, respectively. At the tackle spots Josh Cooper and converted tight end Andrew Herring give Kirkland plenty of confidence in protecting Atkins.
The defensive front is not short on talent either. One of the standouts from the Spring game and Fall camp is senior defensive end Victor Villarreal who at 6'4 also has a 39' vertical leap while weighing over 250 pounds. Defensive tackle Rashaun Williams is another player to keep an eye on as the season begins, as Kirkland believes that Williams would be the player that would cause him the most problems as an offensive coach due to how much destruction he causes on the interior of the defensive line. Also, on the interior is sophomore defensive tackle Brandon Artis who had a great Spring game performance. Junior Raymond Wingate will likely bookend Villareal and is another player who causes problems for the offense up front.
"Our front seven I would put up against anybody in the country," Kirkland said. "They are really, really talented kids, run stoppers, aggressive guys. Vic Villareal is maybe one of the most impressive guys… I mean it's unbelievable."
The back end of the defense is headlined by junior cornerback Lebarron Jones. Jones is a former wide receiver and was a very good one for the Cowboys when he first arrived on campus, catching two touchdowns in the game against Fort Lewis. Due to the depth of talent at receiver and Jones' experience playing defensive back both in high school and junior college, Kirkland felt comfortable putting him on defense and it has paid dividends in practice and in their scrimmage. 
"He's done a great job for us, when we went in to camp, we were trying to find another boundary corner," Kirkland said, "And he had been asking us, telling us he wanted to play corner, he wanted to give it a try. He really wanted to play both sides, but I'm not letting him do that."
Senior defensive backs Terrance Jackson and Willie Morris, two players who were here before Kirkland arrived, are players that the coaching staff believes will also play big roles for the Cowboys in the secondary this Fall.
This year's Cowboys are talented and have high expectations. They were not able to practice much in the later weeks of Fall camp so they will likely be battling some sloppiness as they head to Durango, Colorado to take on Fort Lewis in their season opener Saturday. The early season will be filled with tests as they take on the top-ranked team in the RMAC preseason poll Colorado School of Mines in week two, fourth-ranked Colorado Mesa University in week three and third-ranked Chadron State in week five. If the Cowboys can navigate the first half of their schedule, then the back end sets up very favorably in theory, going against some of the lower ranked teams in the preseason poll. This year's team is going to look different on the field compared to previous years with the pace that Kirkland has implemented in the offense. With all of the changes that have been made to both the roster and the playbook since Kirkland's arrival, he hopes that the results will begin to change as well when the Cowboys kick their season off Saturday at noon.