The Cowboys basketball team enters the season loaded with new faces after four starters from the 2021-22 team walked the graduation stage in May. The new faces on the floor this season will also be joined by some familiar ones, as the Cowboys have multiple players like Jalen Munn and Jaylen Domino-Lovato who have been in the program for multiple years now, but have not been on the floor in nearly three years due to COVID-19 and injuries. The Cowboys have a lot of pieces that head coach Mike Dominguez hopes to blend into a formidable unit this season.
"We have a lot of new guys, but this is a good group," Dominguez said. "We have a lot of guys that are bought in and guys that want to be here, and that's usually the first hurdle, the second one is getting them to play together and trust each other."
There is a lot of unknown with the Cowboys this season because of the different players that will be seeing action, but there are three familiar faces in Mario Archuleta, Eric Sonnenberg and Tyler Rodgers that will surely be contributing to the Cowboys once again this season. Last season Archuleta was relied upon heavily on the defensive end of the floor, while Sonnenberg and Rodgers were used exclusively off the bench. This season the three of them will almost certainly be playing much larger roles, with Sonnenberg and Rodgers playing more minutes in more crucial situations, while Archuelta will likely be expected to contribute more offensively this season while maintaining his high level defense.
There are several new faces in this group, but one that immediately stands out is Angelo State transfer Dante Moses. Moses averaged 12.6 points and 5.3 rebounds on a very good Angelo State team that reached the national tournament last season, and will be a key cog in the Cowboys team this season. Moses is one of five transfers who Dominguez believes will play a part in the Cowboys' success this season. Tyrell Coleman, a junior college transfer from Bakersfield will be a big part of what the Cowboys do this season, Chris Freeman, a 6'6 transfer from Jackson State brings the Cowboys some length and athleticism needed to execute their high pressure defense. 6'11 Ezichi Kalu from Cook Community College will be a big part of their frontcourt rotation, while Otero transfer Rodney Mason figures to be part of their backcourt rotation.
One thing that the Cowboys appear to have this season is depth, which is necessary in order to play the style of basketball Dominguez wants to display. In 2021-22 the Cowboys ended their season on a hot streak, winning nine of their last 11 games to qualify for the RMAC tournament. That team though was decimated by injuries and lacked the necessary depth to play the kind of chaotic defensive style that they're accustomed to. This season, they appear to have many players capable of giving them quality minutes and should be better suited to speed up their opponents defensively and turn every game into an incredibly high paced contest.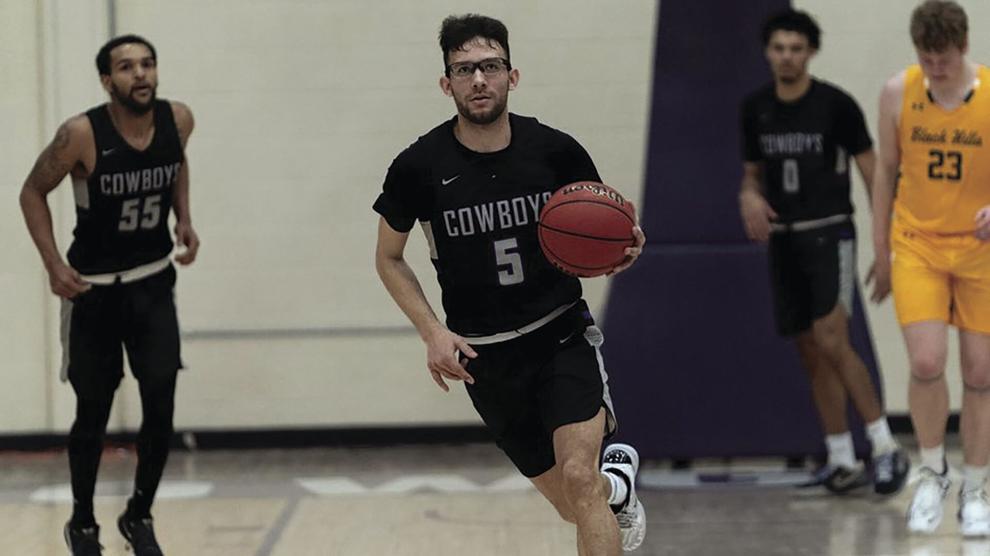 "Once we get everybody full go it's going to be nice to press and play a real up and down style and be able to go to 9 or 10 different guys," Dominguez said. "More than anything it makes these guys compete with one another, they know nothing is given, they're going to have to earn their paying time and it's going to drive them to be better players."
This year's Cowboy team is filled with length and athleticism, and that's something that Dominguez expects everybody to notice about them right away. Having recruited a lot of tall, long athletes to play his brand of uptempo basketball. It could take a while for this group to build consistency given how new they are, but once they find what lineup combinations work and settle in on a consistent rotation they figure to be one of the biggest, most athletic and physically imposing teams in the RMAC.
"Being able to impose our length and identity on other teams is what I hope our identity is going to be," Dominguez said. "To do that we need to play hard all of the time and getting our guys to play hard on a consistent basis is what we're striving to do."
The Cowboys open their regular season this weekend at home in the RMAC/Lonestar Challenge with games at the Wilson Complex against Angelo State on Nov. 11 and Eastern New Mexico on Nov. 12. The Cowboys will play more non conference games over the course of November before they open up RMAC play on the road against Colorado Christian on Dec. 2 where they hope to reach the RMAC tournament for the fourth consecutive season.