Dominant, if there is one word to describe the Cardinals' 2021 season it would be that. They were one of the most dominant teams not just in Robertson history, but maybe in the history of the state last season. Now, in 2022 the Cardinals will be replacing nine seniors, including four of six starters from last year's team, but they are confident that the girls they have coming back are more than up to the challenge, and now in year two under head coach Vanessa Gonzales, she feels that this group is even more secure in their identity now, than they were at this time last year.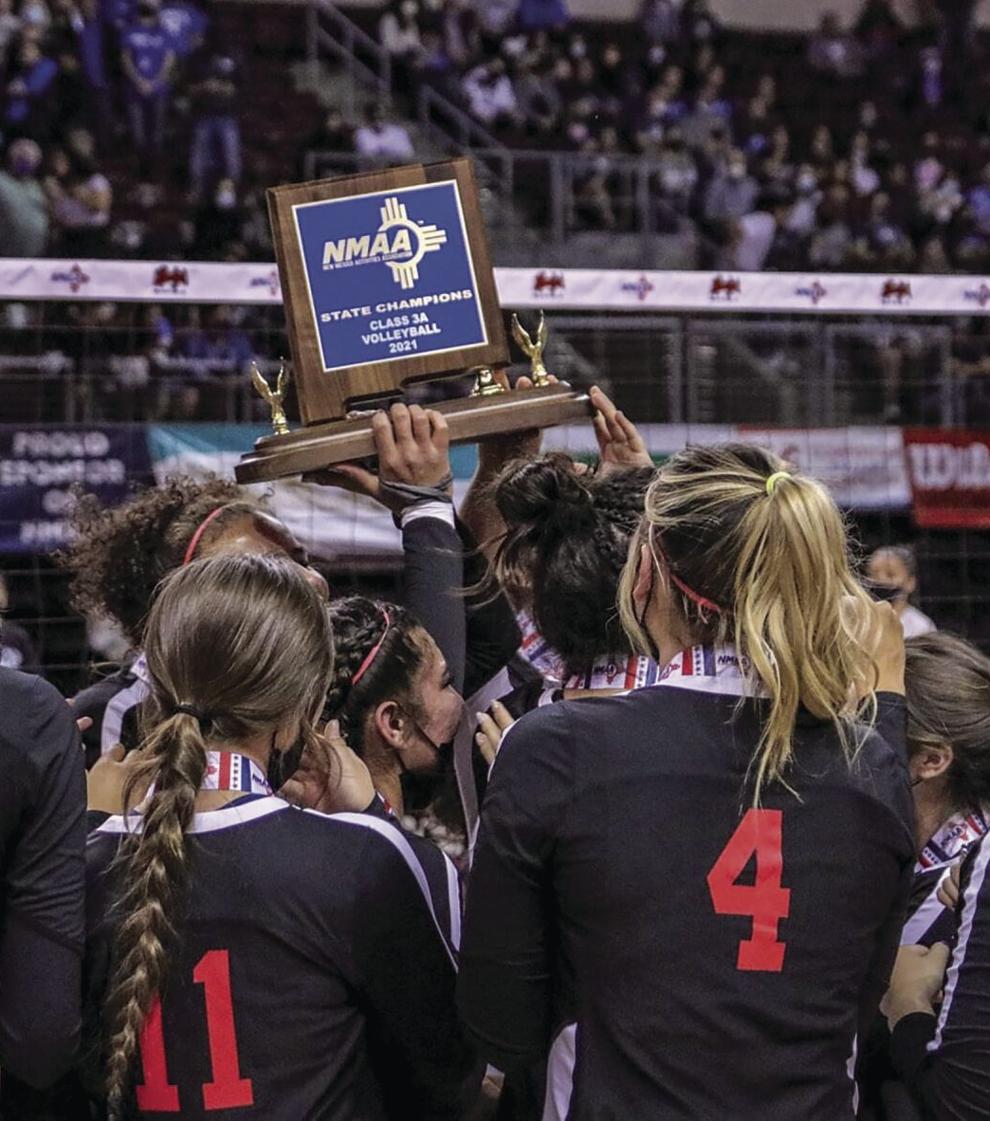 "These girls know what to expect coming in and it's something that is totally different from last season," Vanessa Gonzales said. "It's something that's totally different from last year, although we won every game, it took a while to adapt to my style to know what the expectations are, but they knew that coming into the Summer program on day one."
Any conversation about the Cardinals, and about AAA volleyball must start with senior outside hitter Jaylee Gonzales. The 5'10, precise and powerful hitter is the best player not just in AAA, but perhaps in the entire state. Last season she led an attack that overwhelmed every opponent, this season she's back to lead a front line that will have some new faces, but feels like they can be just as intimidating. 
"This year I think a lot of people are thinking we lost nine seniors, but we have six players returning," Gonzales said. "But we have another really talented team coming up with so many players who are going to be really good for us."
While Gonzales led what was a dominant front line last season, she was surrounded by four high level senior hitters who are now graduated. This season Gonzales will be the senior leader for a less experienced, albeit talented group of hitters. The Cardinals do bring back seniors Mistidawn Roybal and Rhea Flores this season, along with sophomore middle blocker Alyxa King-Greenwalt. The Cardinals are also excited about senior hitter Cadey Estrada joining the team, as they think she will be be an impact player this season. Last season the Cardinals went two or three players deep at each spot in the front row, this season we'll get a chance to see how talented those players are.
"Jaylee is obviously a very special player, so having her on our team and having other teams have to see her on the other side of the court is one thing," Vanessa Gonzales said. "But we have these other attacks coming in on different sides, and it's something that I think a lot of people won't expect."
While Jaylee Gonzales will be leading the attack from the front, it will be senior Azlyn Padilla who will lead them from the back row. Padilla was an all state player herself last season, and was surrounded by other seniors in the back row. This season it will be a younger group defensively, but one that Padilla, her teammates and the coaching staff are excited about.
"We have some really good players everywhere," Padilla said. "It's my job since I have experience to let these girls know what they need to do and help them with whatever they need."
If there's anybody on the back row that the team is especially excited about it's sophomore Alexis Pacheco. Pacheco is a defensive specialist that dating back to last season coach Gonzales was excited to have in the program. She played sparingly last season behind a couple of senior starters, but this year she will be the focal point of their defense, and the team believes that defensively they can be even better than they were last season. They also added sophomores Emaya Smith and Taylor Quintana to the back row, players who Gonzales believes will contribute immediately to their improved defense.
"We have a quick defense that is very scrappy and at the same time is very skilled," Vanessa Gonzales said. "(Pacheco) is one of those players that you look at and she just looks so natural out there with the way she reads the ball and her reflexes and how quick she is it looks like she plays at a club level with how natural it comes to her."
With the return of Gonzales and Padilla, the Cardinals will once again be considered one of the favorites to take home the blue in November. In order to get to that point there is one word the Cardinals are focusing on, work. Coach Gonzales, Jaylee Gonzales and Padilla all expressed the same sentiment of having to work in order to accomplish their goals in 2022. They recognize that they are the defending state champions, and that the Cardinal program has won 31 consecutive games dating back to 2019, but they also know that a title will not be handed to them in 2022. The Cardinals will face no shortage of challenges in 2022, with perennial contenders St. Michael's in their district along with fellow AAA contender Sandia Prep in their non-district slate. The Cardinals will also see some higher level competition in non-district play, with Cibola, Kirtland Central and Taos all on the schedule. All 21 teams currently on the schedule would love to be the ones to end Robertson's remarkable run.
It's easy to look at the Robertson Cardinals and think that they lost nine seniors from 2021 so this must be a down year, but those in and around the program don't see it that way. The Cardinals are confident in the pieces that they have reloaded with and are excited to see what they can do in 2022. In 2021 they were dominant and Gonzales had very little time with the team prior to the season and did not get to run a Summer program. This season they got to have a full Summer, they played against some high level competition and feel great about where they are. The Cardinals are confident, and are ready to defend their crown.