It's always special to be the first to do something. Robertson senior Liana Fernandez will always be the first girl's high school wrestling state champion to come out of Las Vegas. The 138lb wrestler was dominant throughout the season, finishing with a record of 31-2 and on Saturday night at the Rio Rancho Events Center, secured a pin over April Archibeque from Farmington to win the first state championship for any women's wrestler from Las Vegas.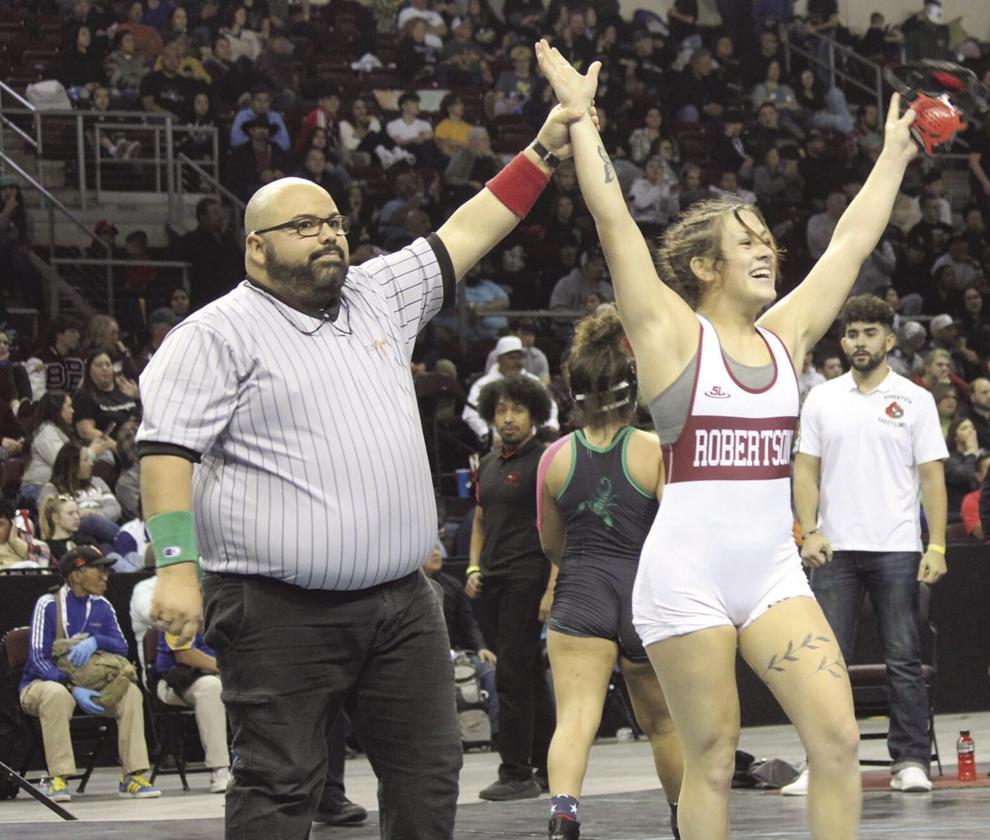 "It's literally a dream come true for me," Fernandez said. "I've been working for this for two years and sadly I didn't get to make it to state last year, and winning this year, it's just an indescribable feeling."
Liana Fernandez's story is not of someone who has pursued wrestling their entire lives to eventually make it to the mountaintop. Fernandez was for a lot of her life an all around athlete. If you watched Robertson athletics in recent years chances are you saw Fernandez competing. Fernandez in her high school career has competed in cross country, soccer, basketball and track and field. Fernandez competed in everything, but in the last couple of years she has found her athletic passion on the wrestling mat. 
"The team I had around me, my coaches and just the love I got from the sport," Fernandez said. "The adrenaline rush I get from winning and all the feelings that I get from wrestling is unmatched."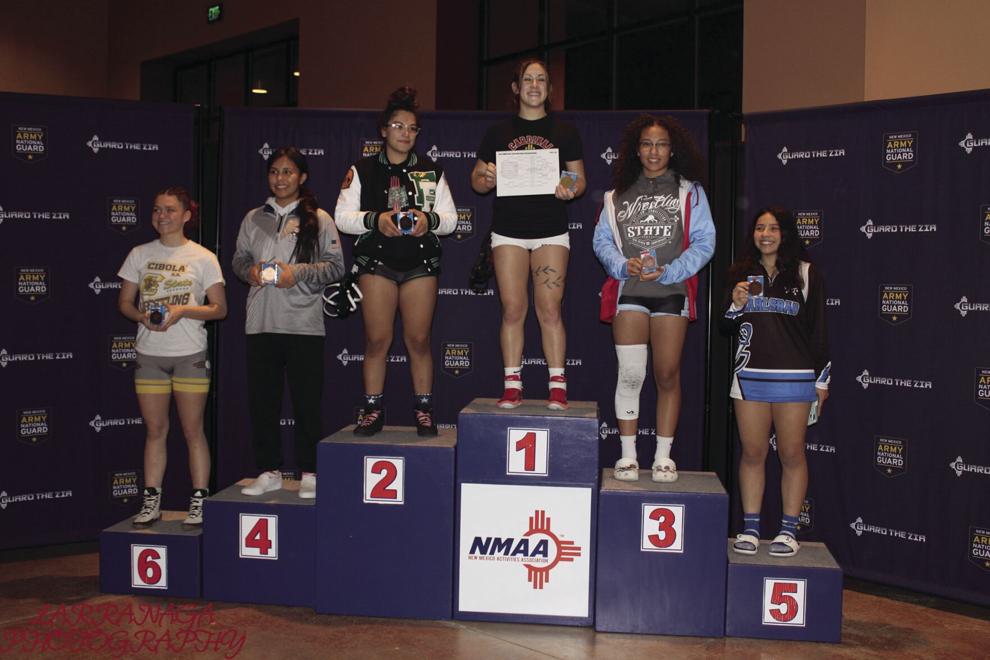 Fernandez is one of the best athletes in this city, she's athletic enough to make an impact in a variety of sports, but her commitment to wrestling has allowed her to leverage that athleticism into being the best 138lb wrestler in New Mexico. Throughout the season it was clear that Fernandez possessed strength, speed and quickness advantages over most of her opponents, that combined with her increasing technical ability on the mat made a state champion caliber wrestler.
That was not the case from the moment Fernandez stepped onto the wrestling mat. Fernandez is a naturally gifted athlete, but technique and match IQ is far more important to a wrestler than raw athleticism. Fernandez got a taste of that last season, as she was still green in the sport, and while her goals were high, she was unable to qualify for the state tournament. Having a full season of matches and a full season of training under her belt this season Fernandez came back a different and far more polished wrestler.
"One year can do everything for someone, just learning the base of this sport," Fernandez said. "Learning how to win, learning how to lose, learning how to keep up in practice with the other kids that are in there scrapping and trying to get the same thing that you are."
Fernandez's increased skill set was on full display in the state tournament. In four matches Fernandez pinned three of her four opponents, with the fourth being a 9-0 victory in the quarterfinals that Fernandez dominated from start to finish. Being a rather aggressive wrestler, Fernandez was able to dispatch her first round and semi final opponents quickly, finishing each of them in the first period with little resistance. Her toughest match was undoubtedly the championship, where she would be up against Archibeque, who had given her one of her toughest matches of the season in the regional semifinals, a match Fernandez won 7-6. 
"I knew that I couldn't take anything for granted," Fernandez said. "I knew that she was going to be coming for blood, coming back for everything, we were both in that match for the same exact reason so I knew it was going to be a scrap and that she wanted it just as much as I did."
The championship match could not have been any closer from the start. In the first period Fernandez dropped her first and ultimately only point of the tournament when she was called for a violation. She began the second period down 1-0 and on the bottom; Fernandez quickly escaped to her feet once the second period began and the two championship wrestlers were in a standstill for almost the entirety of the round. That was until the last 10 seconds when Fernandez found an opening, and with less than five seconds left in the round was able to secure a takedown and enter the final period up 3-1 and beginning on top. 
"That takedown was very important, I felt like it was make or break," Fernandez said. "We all have our flaws, so two points in a match like that can be everything."
That takedown and those two points did turn out to be everything. Fernandez had the upper hand going into the third period and was able to grind out Archibeque to start the period before finding an opening for a pin and taking full advantage and winning the state championship at 138lb. 
"I told myself just to be patient and trust that what I was doing was going to work and that an opportunity would open itself up so I could win." Fernandez said. "She opened up an opportunity for me to put her in a pic and as soon as I got it I knew I had to hold as much as I could."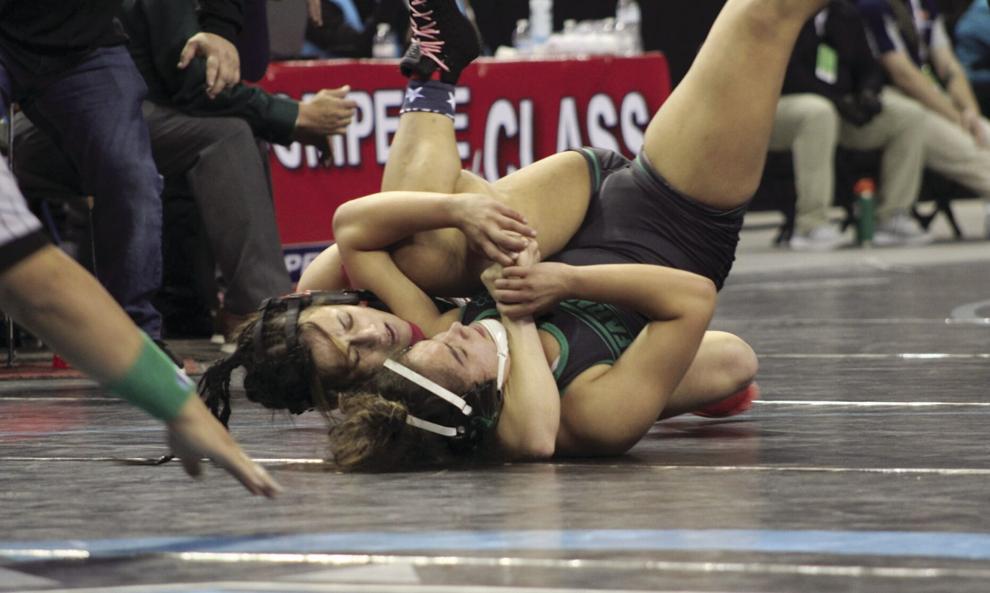 In the championship all of the lesson's that Fernandez has learned seem to come together. She fell behind early against a tough opponent but did not panic. She worked herself back into the match and when there were openings she capitalized on them. Once ahead she kept her foot on the gas pedal and finished the job, state champion, the first for a girls wrestler in Las Vegas.
While Fernandez's high school wrestling career has come to a close, her wrestling career is just getting started. The sport that she fell in love with has opened doors for her collegiately and has her excited for the next chapter in her wrestling story. Fernandez does not know where she will be going yet, but knows that she will be wrestling somewhere next season. Even with her success Fernandez is still new to the sport, having only competed for two seasons, something that has her and prospective coaches excited about her development, knowing that she is far from a finished product on the mat.
"It's exciting, I can't wait to see the things that I accomplish, and I think the best part is that I started late," Fernandez said. "I wish I would have started early of course, but a lot of people have been doing this since they were five or six years old and are burnt out. I'm loving this, I'm loving every second of it and I just want to do it all the time."
Fernandez will move on to bigger things next season and as girls high school wrestling continues to grow more athletes will come through the wrestling rooms here in town and more state champions could follow. One thing that will always be the case is that Liana Fernandez is the first to wear the crown of girls wrestling in Las Vegas.