The Super Bowl is not just the pinnacle of football in America, but it is also the pinnacle of television production. Countless hours go into orchestrating how the Super Bowl will be broadcasted worldwide, and there are thousands of people involved in the leadup and in the game itself. Two of those people involved in the production of this year's Super Bowl were Paul Gonzales and Felipe Peña, hailing from Las Vegas.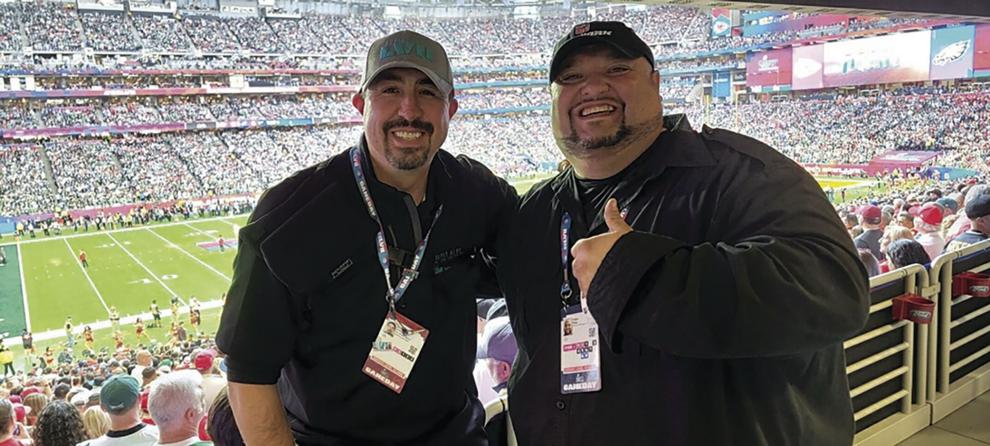 Gonzales and Peña both from Las Vegas, graduating from Robertson high school before pursuing their careers in television and film production. Gonzales has been more focused on the television side and has spent the last 19 years as an in house camera operator for the Arizona Cardinals, and as a part of his career with the Cardinals Gonzales has gotten to work three Super Bowl's.
"The Super Bowl is a whole different animal, the energy, the build up and everything building up to it," Gonzales said. "We have a week's worth of rehearsals just to make sure we all have our role and we all know what our part is."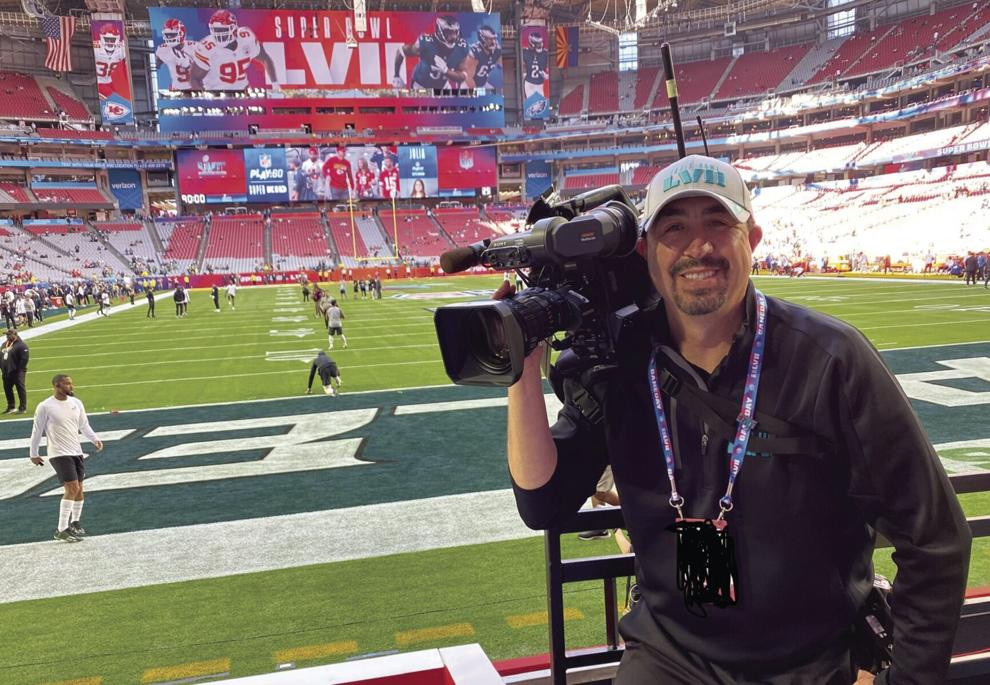 Gonzales' career has been much more a part of live events while Peña has spent the bulk of his career working in the film industry. Peña does a lot of work on short films and promotions, and in the past has been part of Super Bowl Production in the form of Super Bowl commercials. Super Bowl 57 was the first time Peña worked on the live event itself, playing a big role in the NFL Network's coverage, where he worked with some of the network's biggest names like Rich Eisen and former NFL head coach Steve Marriucci.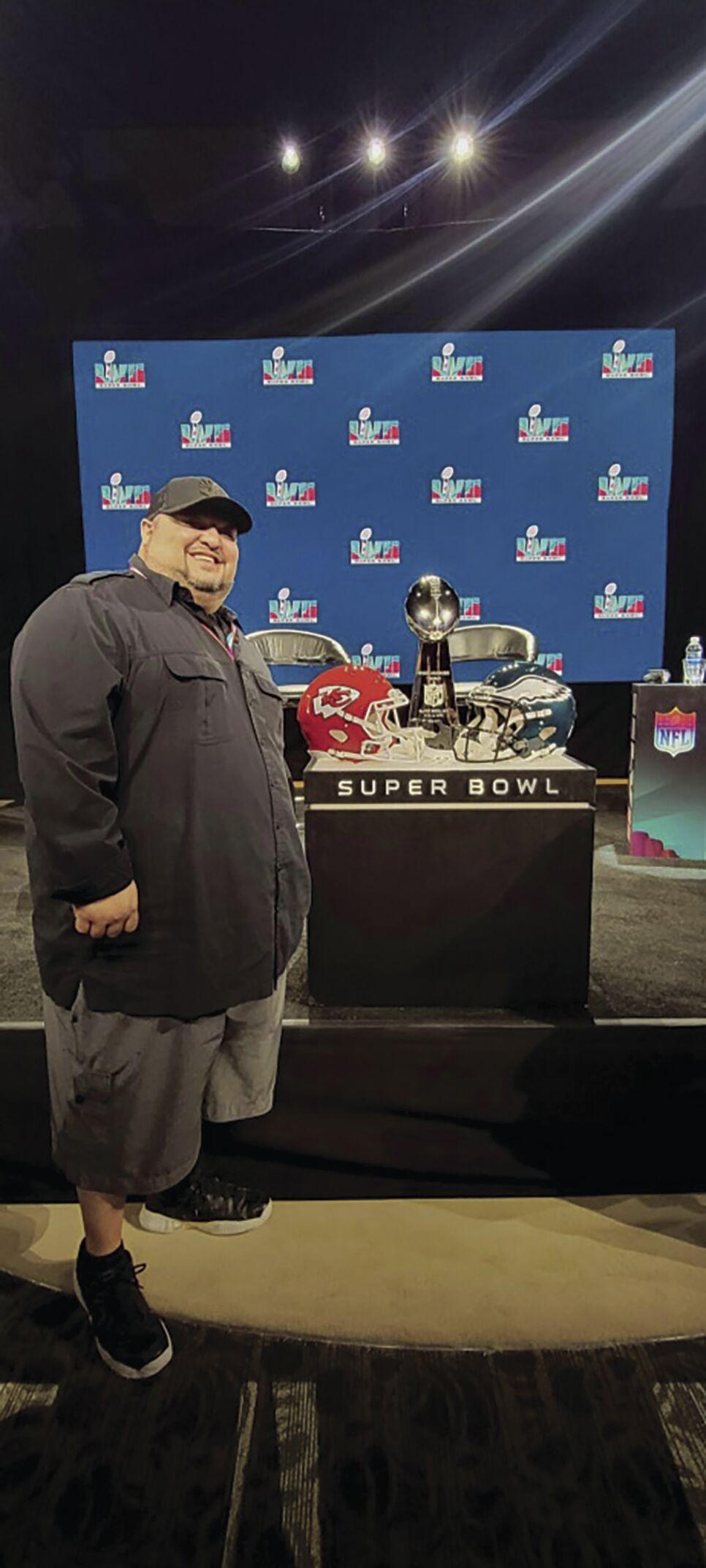 "We had our set on the field and it was so cool because a lot of the people working on the show do a lot of Super Bowl's and Thursday night football with the network," Peña said. "They were all from New Jersey or New York and I was just sitting there kind of enjoying the moment, thinking like just starting from a small town in Vegas, just watching Super Bowls as a kid… and to work it has been insanely incredible."
Gonzales has worked three Super Bowl's in his life, and he's been one of the luckiest production workers in the world to work three of the greatest Super Bowls ever. Gonzales worked Super Bowl 49, which famously ended on an interception in the endzone by Malcolm Butler, Gonzales was standing behind that endzone when the play happened. He also worked Super Bowl 42 when the Giants defeated the previously unbeaten New England Patriots. 
People pay tens or in some cases hundreds of thousands of dollars to attend the Super Bowl every year. Gonzales and Peña had the privilege of getting paid to be at the Super Bowl and played a role in broadcasting the game to over 100 million people nationwide. It's something that prior to kickoff Gonzales' team said to relish as they get ready to endure the long, hard day of work ahead. The privilege of working the Super Bowl is not something that is lost on either Peña or Gonzales.
"We had our big production meeting that morning, and one of the things our producer said to us, just to take a moment and soak this in," Gonzales said. "We're all professionals and we all do what we do, but it is a special moment and you have to take that time to understand it."
"You sit there and you take in the moments of just seeing all of the players and their families and the camaraderie," Peña said. "You get to see all of their emotions and it's something cool that you don't always get on camera."
While Gonzales' work was more focused during the game itself, a lot of Peña's work was in the pregame and postgame coverage. Peña not only assisted in the coverage on Super Bowl Sunday, but he was with the NFL Network crew throughout the week and had the opportunity to interact with the numerous guests that came across the NFL Network guests over the course of Super Bowl week. 
"I get to be up close and personal with each celebrity as they come through, and you conversate with them like any normal person," Peña said. "Especially about sports, it's just a small little chat before they have to jump on a segment but it's those little moments that you feel blessed to work on shows because there's so many people that want to talk to them and whatnot but you're behind those gates."
There is a lot that goes into the Super Bowl, mentally, physically and emotionally for all involved, including the production staff. Peña began work at 2:30am local time on Super Bowl Sunday to make sure that everything was running smoothly ahead of their broadcast which began at 7am and lasted eight hours for America's biggest sporting event. As great as the day is, Peña is exhausted and relieved when his job is finally done.
"By the time the game was over it's just like please hurry up, I just want to wrap my cables and go," Peña said. "You're relieved, but you're so tired, it was a great show, and you feel that and all of the emotion that went into that, we just put on a huge show, but then it's like all right, 'we're done.'"
Gonzales has worked three Super Bowls now and this time was able to take in much more of the game and moments than he has in year's past. His responsibility was covering the lower bowl and getting shots of fans and all of the celebrities that make their presence known at the event. Gonzales still lives in Las Vegas and makes the trip to Phoenix for every Arizona Cardinals game and for various sporting events at the stadium throughout the year. The Super Bowl signals the end of his season. Gonzales acknowledges that this year's Super Bowl could be the last one he gets to work on, and made sure to take in the game, the atmosphere and the moments that make the game so special. When it's all over though, there is a relief that comes with it, after everything that went into it.
"When it's finally over it really is emotionally draining because you get so psyched up, you're in the middle of it all and of course it was an epic football game," Gonzales said. "You go back to your hotel and you're just like wow that was an amazing experience, hopefully I get to do another one, but if I don't that's kind of the way to go out, it was everything you'd hope for."