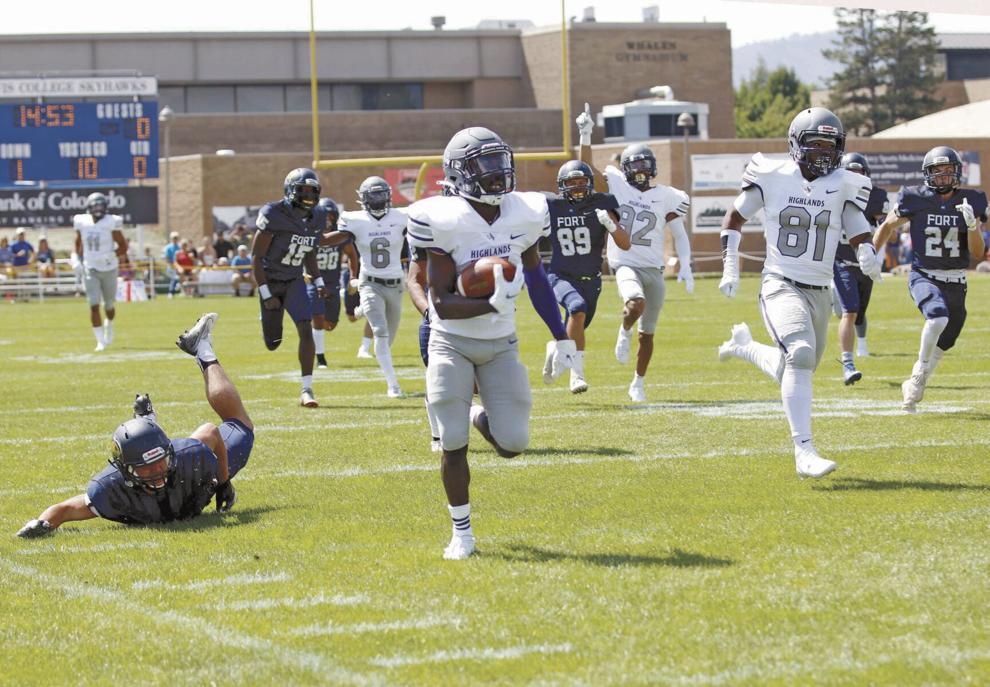 All three football teams in Las Vegas were in action this week, with New Mexico Highlands University returning to the gridiron in Durango, Colorado against Fort Lewis College, Robertson High School at home against Santa Rosa High School and West Las Vegas on the road against Portales High School. 
It was the first time all three teams played on the same weekend wince Nov. 16, 2019, when the Dons and Cardinals matched up in the playoffs and NMHU was on the road against Colorado Mesa University. This weekend was the first time all three teams won on the same week since Sep. 15-16, 2017, when the Cowboys, Dons and Cardinals won on Thursday, Friday and Saturday night, respectively. This week it was the Cardinals winning in dominant fashion at home against Santa Rosa, the Dons winning a close one in Portales and the Cowboys running away from Fort Lewis. 
For the Cowboys it was the debut of head coach Josh Kirkland. Kirkland promised a lot of speed not only in the personnel, but in the style of offense he would choose to run. Both of those things were evident right from the opening kick as junior wide receiver CJ Sims took the opening kickoff 93 for a touchdown. The Cowboys would go on to score three more touchdowns in the first quarter on their way to a 27-0 lead at the end of the period, before ultimately winning 44-7. Only one Cowboys touchdown drive lasted more than 2:37, showing off the pace Kirkland and his staff want to run. For as much talk as there is about the passing game, Kirkland believes championships are won by running the ball and stopping the run. On Saturday the Cowboys were able to do both, rushing for 302 yards on 5.4 yards per carry, while holding Fort Lewis to just 55 yards on 1.9 yards per carry. 
"They did a great job, Kamari Mosby and Cam Hyde both stepped in there and did a great job," coach Kirkland said. "They did a really good job of pounding it when we needed it and our offensive line is naturally really good along with our tight end."
The Cowboys finished the day with 653 total yards against Fort Lewis' 188 and gained 34 first downs compared to the Skyhawks 9. While the performance was not without its flaws, four turnovers and over 100 yards in penalties, it was a dominant one for the Cowboys. 
"It was a great game to start with, to be able to jump on them like that," Kirkland said. "It's also great in a sense that we made those mistakes now, and they're very addressable." 
The 37-point difference was the program's largest margin of victory since Nov. 10, 2012, when they defeated Western New Mexico University 58-0. What makes the performance even more impressive is that it was not the best game the Cowboys could have played. Between the penalties and the turnovers there were some points left on the board for this team, and if those mistakes get cleaned up quickly then there is no telling just how good this new look team can be. Kirkland also does believe that the layoff the team faced at the end of training camp due to COVID-19 played a role in their conditioning for the first game and slowed them down a bit. The positive that he is taking away is that many of the team's mistakes were correctable in nature, and expects them to be cleaned up rather quickly.
The other Las Vegas school that went on the road was the West Las Vegas Dons. The unbeaten Dons faced their toughest test of the season against the defending 4A state champion Portales Rams. The game did not get off to the best of starts for the Dons, as they immediately fell behind 13-0. The deficit did not last for long, though, as the Dons were able to take a 21-20 lead into halftime. It's no secret for the Dons that senior running back Damian Gallegos needed to play well for them in order to have a chance in this contest, and he did, running for 130 yards on 24 carries to go along with 97 yards receiving on three catches on his way to four total touchdowns on the night. Perhaps the story of the game, though, was freshman quarterback CJ Perea, who played the best game of his young career on Friday. Perea completed 16 of his 18 passes for 330 yards and four touchdowns. 
"We had some scheme stuff to help him out because we knew that they were going to come after him," WLV head coach Adrian Gonzales said. "We wanted to make his job a little bit easier, we don't want all that pressure in his face."
A key that Gonzales expressed before the game was spreading the ball around to their playmakers and not being so dependent on Gallegos. The Dons were able to accomplish that through the air on Friday night, with the top receiving option being junior receiver Jaydin Vigil, who finished the game with six catches for 136 yards and two touchdowns. The biggest takeaway from the game in the eyes of coach Gonzales was the fact that his team overcame early adversity. On the road, down 13-0 early on, to come back and win the game was a big deal for the Dons.
"From a team in general it's always good to show character that way," Gonzales said. "It would've been easy to fold and just roll over, but it shows a lot of character and mental toughness to scratch, claw and fight their way back."
The Dons are a very young team, so to battle back after digging themselves a bit of a hole shows what kind of character they possess, and this experience is one that will only help them going forward. 
The one team at home over the weekend was the Cardinals, who faced Santa Rosa. For the Cardinals, it was a dominant outing from start finish in the 42-7 victory. It was a typical Cardinal performance with a dominant defense and running game. The only points they allowed were on a short drive after an onside kick, and they were able to run the ball for 279 yards on 7.2 yards per carry. For head coach Leroy Gonzalez, the game was about his offensive line play, which he believes is becoming a strength for his team after having a tough week one at Santa Fe high school.
"We're really moving people up front," Gonzalez said. "We weren't just going and shielding, we were driving people to the ground, and that's something they really take pride in, burying guys."
The line play allowed freshman running back Jesse James Gonzales to have the best game of his young career, racking up 164 yards on 21 carries, which is exactly what Gonzalez wants to see. Gonzales, along with sophomore wide receiver Mateo Contreras, who finished the game with two touchdown receptions, lead a young group of skill position players who are getting drastically better as the season progresses. Coach Gonzales believes that his team might even be a little bit ahead of schedule as far as their development goes. Not that there aren't still things to work on, because there always are, but considering how rough week one was, to see how much the team has improved over the course of the last two weeks gives Gonzalez confidence in his guys going forward. 
"I think we were trying to set a plan for jelling and doing what we were supposed to do starting with district," coach Gonzales said. "We're a couple games ahead of schedule in that regard."
It was a great football weekend in Las Vegas, and with the ongoing turnaround at NMHU to go along with the success of RHS and WLV as high school programs, it may not be the last time we see all three teams win on the same weekend this season. The Cardinals will be facing a tough road contest in Ruidoso this week, the Dons will welcome Española Valley to Las Vegas for their homecoming game and the Cowboys will head to Golden to take on nationally-ranked Colorado School of Mines.