It's taken a season to get back to this point and now they are here. Last season, in the playoffs the Robertson Cardinals entered undefeated and almost unchallenged. They were one of the best teams in 3A and appeared poised to make a state title run until they weren't. A shocking 6-4 loss to West Las Vegas in the semifinals ended their dreams of a first state championship in program history. This season the Cardinals are back, they are the No. 1 seed, returning every key player from last year's team and now they have singular focus, a blue trophy.
"The mindset is on the goal, trying to get that blue trophy," head coach David Ulibarri said. "The girls are pumped up and they're ready to go, their minds are on that blue trophy this week."
The fire has affected Robertson, they were not able to spend any time together for about a week and a half, but a weekend doubleheader against Raton helped get the team back into a groove. It also helped ease any concerns that Ulibarri may have had about their time off.
"This group of girls the whole year has been very resilient,"Ulibarri said, "They're also so talented so they were able to get right back into it, they were a little rusty but not much, I think it was more about their minds being tired… but we're back together again and these girls are supporting one another and it's been really good to see."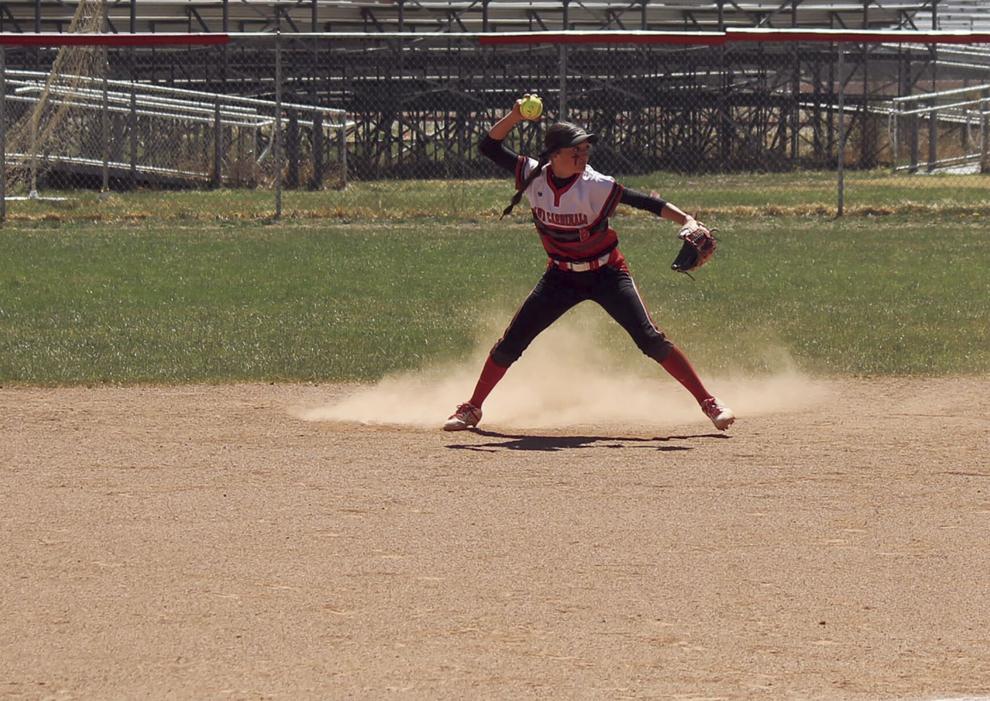 There are many things that the Cardinals have going for them this year, one of them is the NMAA's return to the double elimination format this season. Last year one bad game meant the end of your season, this year the Cardinals would have to lose twice in order to not walk away with the blue trophy. This year the Cardinals have only lost four times total, and only once to a fellow 3A opponent, and that was in their first game of the season, with much of their starting lineup having only practiced for less than a week prior to the game. Within the class the Cardinals have been dominant, it's a familiar situation they find themselves in, but this year they feel well equipped to deal with the challenges that the state tournament brings along.
One of the other things Robertson has going for them is their lineup. They are one of, if not the, best hitting teams in 3A, and that starts right at the top of the order. Three of their top four hitters in the batting order, freshman shortstop Alexis Pacheco, freshman second baseman Taylor Quintana and sophomore first baseman Leigha Lucero can be found in the top four of their batting order and are almost always doing damage. Lucero is hitting an astounding .667 and has hit nine home runs and has 45 runs batted in during the team's 25 games. 
"Leigha has really worked hard, and she's always been a player who's been in there day in and day out," Ulibarri said. "She has really turned it up this year, she's only a sophomore and she has a really bright future in front of her, but she's really turned it up and she's been unbelievable."
Those numbers almost make Pacheco and Quintana look pedestrian, but they are not, the young duo of middle infielders have hit .539 and .551 respectively, they have combined for 91 hits, 59 runs batted in and 83 runs scored hitting in the top two spots in the order. Those three hitters set the tone for a lineup that is perhaps the toughest in 3A. Lucero, Pacheco and Quintana would be the best hitters on most teams, on this team together they are all but impossible to keep down.
The Cardinals' state tournament run begins Wednesday at 3 p.m. against the winner of Zuni and Tucumcari, which will be played Wednesday morning. They are the No.1 seed in the tournament and have earned their status as favorites to win it. There are still games to be played, though, this team knows they have to take care of business on the field. Last season they walked off the field in the final game disappointed, this season there is a determination to win the blue, and exit the field celebrating following the final game.