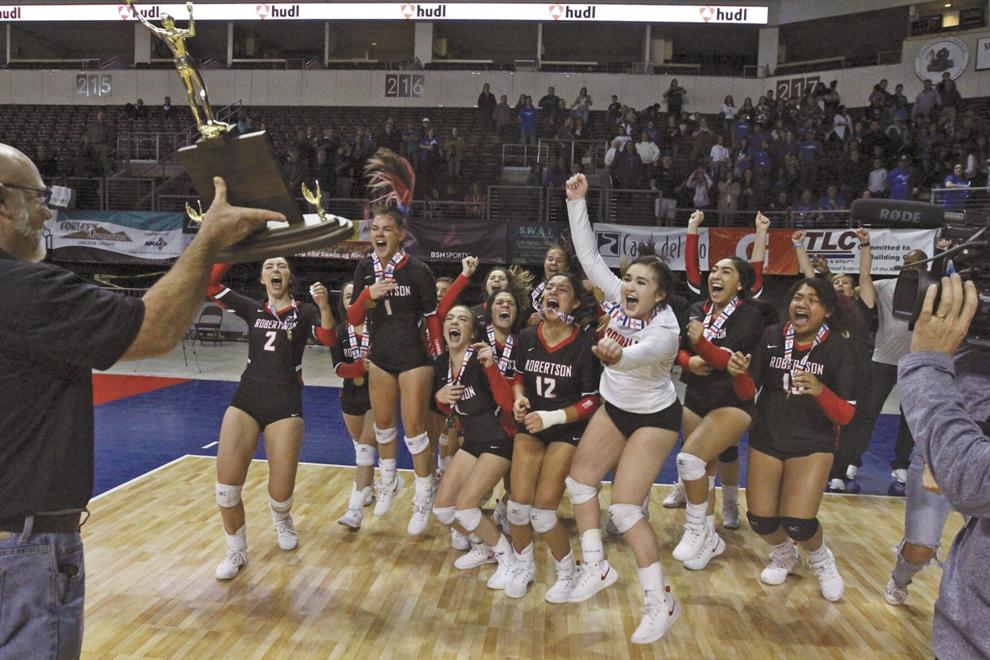 The goal of any team in any sport is to win the last game of the season. In 2019 the Robertson Lady Cardinals volleyball team accomplished just that, winning the state championship. In 2020 the Lady Cardinals had no season, no chance for the potential eight returners to defend their state championship. For 2021 though, there are still several players remaining from the 2019 championship squad. There is also some talented new blood in the locker room, plus a new coach in Vanessa Gonzales that will be pursuing a second blue trophy in as many seasons for Robertson. 
The first thing that will stand out about the Lady Cardinals is their size. They will have an advantage at the front of the net in most, if not all, of their games in 2021. With no less than five girls standing at least 5'10, the Lady Cardinals will be tough to deal with up front for any opponent this season. That size is not without merit either, as senior Jayden Jenkins and junior Jaylee Gonzales have made a combined three all-state teams. Jenkins, who was just a sophomore on the state championship team in 2019 is now a senior and the leader of this year's team. 
"Jayden has been such a leader on this team," Gonzales said. "She's something really special and she's helped us really bond… The first day she was at practice I immediately saw that leadership in her."
It's not just Jenkins and Jaylee Gonzales that will be starring up front for the Lady Cardinals. Senior Stella Garcia is another player who brings height and talent to the front line, and coach Gonzales describes her as a powerful hitter. Senior setter Mikaella Sena will be a crucial player on this team, as she will be tasked with distributing the ball across that talented front line, and junior libero Azlyn Padilla will bring plenty of energy along the back line. Gonzales believes this is a team that goes two, and in some cases, three deep at every spot on the floor, so there will be plenty of names that get a chance to shine this season.
"One thing that's special about this team is the variability and what they can do," Gonzales said. "We go deep, we have a deep bench, our girls are taller than most teams, but our athleticism is what carries us."
The depth of talent has led to some great competition on the practice floor since coach Gonzales' arrival in July. Gonzales sees it as a blessing that in her first year of coaching at the high school varsity level that she gets to walk in to such a deep, athletic, big and talented team that is used to winning. Now, as the season begins, she is trying to keep that winning tradition going. The Lady Cardinals will be on a shortlist of teams to watch when it comes to winning the blue trophy, it is no secret that this group is talented and has all the pieces to go back to back. For coach Gonzales, though, she's more concerned about doing whatever is necessary to continue playing. These girls did not get a high school volleyball season last year, so just making sure they take advantage of the opportunity to play, and doing everything in their power to continue playing this season and complete the year is what Gonzales views as most important in 2021.