The Robertson Lady Cardinals basketball team is in a unique position heading into the 2021-22 season. In 2021, they reached the state championship game. Most teams who reach that point usually have a mass exodus at the end of the season, but the Lady Cardinals did not. Last year's team did not have a single senior on the roster, meaning they return everyone going into this season. They not only return everyone, but they even added talent, with senior post Stella Garcia rejoining the team after not playing last season and Pecos transfer Mistidawn Roybal, a key member of the Lady Panthers state championship team last season. It's a talented group that has Robertson with one thing on its mind, a state championship.
"Our goal this year is to win state," senior forward Jayden Jenkins said.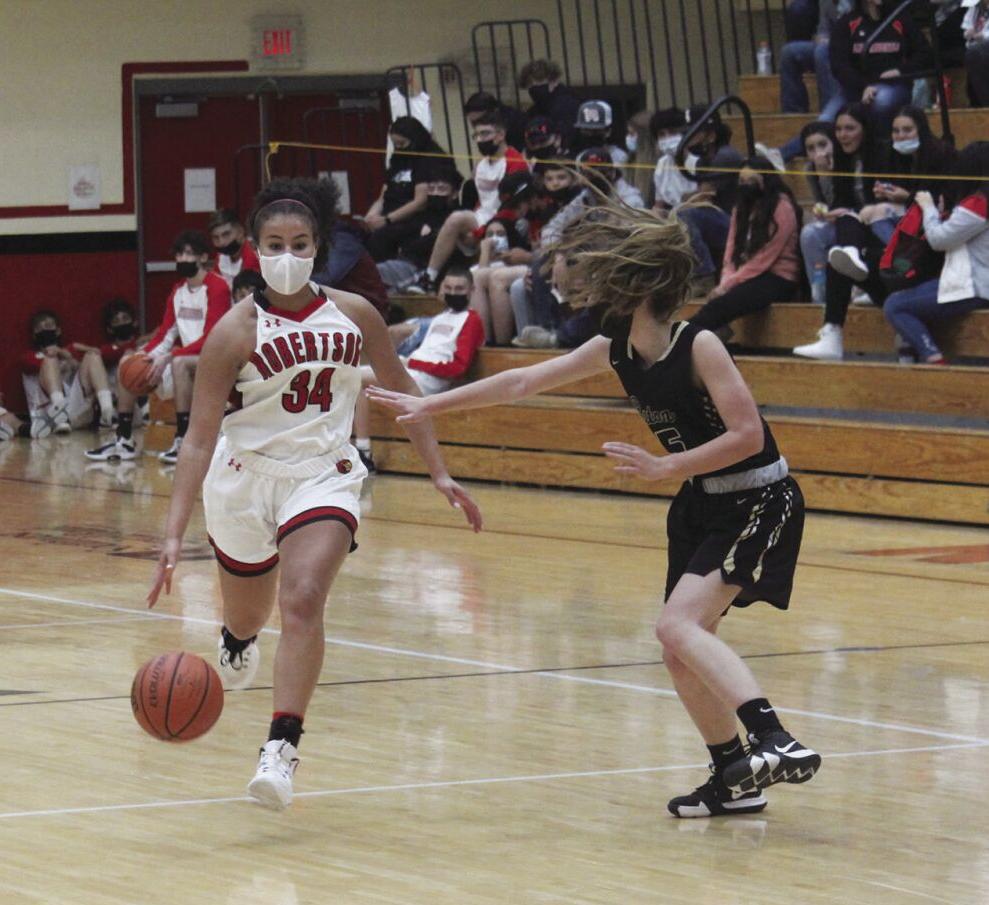 For a lot of these girls, they have already tasted a state championship this year, with 10 of their players having played volleyball in the Fall. It's a winning attitude that head coach Jose Medina hopes to build upon as their season begins. 
"We're going to feed off that momentum from volleyball," Medina said. "We're going to feed off that momentum, off that winning tradition and we're going to bring that into our program and we're going to build from there."
Last season Robertson entered the year with few players having any varsity experience, with one of the only ones being Jenkins. Now Jenkins is still the key cog to the Lady Cardinal attack, but with plenty of talent and experience around her. Jenkins and freshman guard Alexis Pacheco were first team all-state players last year. Last year's team had some growing pains early in the season. This year they have the experience, and they are plenty talented.
"The word is confident," Medina said. "From the last year to this year you can see the confidence in their demeanor and body language, they play with confidence and they stop on the floor with confidence."
The other notable difference for the Cardinals, aside from experience, is their size. Last year Robertson had Jenkins and not much else in that department. This season they have loads of size, but it's more than them being tall, these girls are an athletic bunch. Toward the end of last season Robertson made their run to the state championship game by deciding to go small and play at a fast pace. This year, they will have the best of both with their tallest players being athletic enough to press and play up tempo the way coach Medina wants them to. That has coach Medina excited about what his team can do this season. 
"We have plenty of size inside, but they're athletic and can move as well," Medina said. "They're all posts that can press that can move and can get after it, so it makes it a lot easier for our defense and our fastbreak and the way we want to play."
There is quite a bit of depth on this Robertson team, and a real challenge for Medina is going to be finding minutes for everybody. That's something that most people will tell you is a good problem to have, and in reality it is, but it is something that Robertson will need to work through, especially in non-district play. Finding the right combination of girls will be paramount for Robertson, and it's probably the key in a potential state championship run.
The Lady Cardinals have high expectations for this season, and they should. With the success of last year's postseason and the talent this team will feature it's natural to think big. While this team is thinking about the state championship, given how close they were last season it is a long season. First the Cardinals would like to win district, something they haven't done since 2019 when they did ultimately take home the blue trophy. But this is a good team with high expectations, and if they can figure things out early in the season, they will be incredibly dangerous late in the season.
It will not be an easy non-district slate for the Lady Cardinals, with plenty of 4A and even some 5A competition on the schedule, with Belen at home on Dec. 8, away against Taos on Dec. 14 and even defending 2A state champion Pecos on Dec. 16. Rival West Las Vegas is the two-time defending district champions, and the Cardinals will be looking to wrestle that title away in matchups on Jan. 26 and Feb. 18 to close out the regular season.