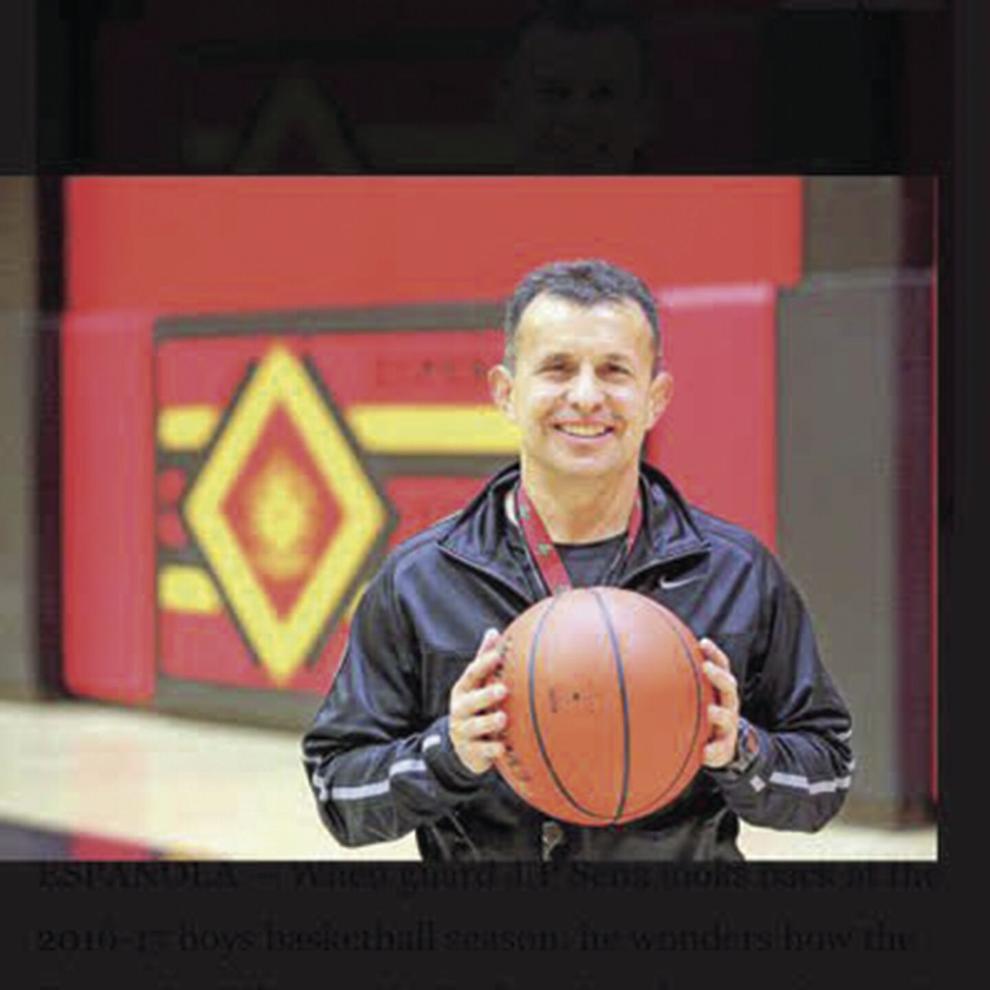 Over the last few years, the Robertson boys basketball team has come excruciatingly close to a state championship. We can look back at last season, when the Cardinals went undefeated in the regular season before losing in the state semifinals. In 2020 and 2019, the Cardinals season ended in the quarterfinals. In each of the last three years the Cardinals have been one of the last eight teams standing, but in all three years a shot at the blue trophy has eluded them. Late last week it was announced that the program would have a new leader in James Branch. A former state champion at Questa High School in 1994, Branch was most recently the Española Valley head coach in 2018.
"For me this is kind of a homecoming," Branch said. "I graduated from Highlands and I played ball at Highlands. I'm from Mora, and I've always considered Las Vegas home because of my time at the university… I've wanted to coach in Las Vegas at least once before I call it a career."
Branch brings a great deal of experience to the program, with a career record of 341-241; the 341 victories is a mark he's very proud of, being a part of the 300-win club in New Mexico. In Branch's last stop at Española Valley, he went 45-12 over a two-year span, including one 28-2 season in 2017-18 which saw the Sundevils lose in the state championship game, ending Branch's last best chance at another blue trophy. Now, Branch will get a chance to chase the blue trophy once again with Robertson, a team that will return seven players from last season's roster, which won a district championship.
"We have some good players this year and coming up through the ranks," Branch said. "With the class that we're in I think that every season we're going to have enough to compete for the blue trophy, so that's exciting."
Branch is excited for the chance to compete at a high level with the Cardinals, something they have been doing in each of the last three seasons. Under Branch, though, the Cardinals will look different than they have in previous seasons. Over the last few years the Cardinals have been one of the more methodical teams in the district. Slowing the game down and focusing on executing their half-court offense while running in transition when the opportunity presented itself. Branch wants to make the Cardinals a high paced team on both ends of the floor with pressure defense ideally leading to easy fast break chances on offense.
"We want to be relentless, relentless with a great deal of intensity on the defensive end," Branch said. "I consider myself a defensive-minded coach, I'm up-tempo, I'm relentless, I want to attack on offense and I want to attack on defense, I want to score off my pressure, I want to get transition baskets, I want us to get every 50/50 ball, I just thrive on that pressure and getting the kids to play with that same passion."
Branch does have a state championship ring, but it's clear that he wants more than just the one title he won with Questa in 1994. He can recall multiple teams that he feels should have won a championship, but fell just short for one reason or another. A loss in the semifinals while he was at Taos in 2000 and the 2018 state championship loss at Española Valley are the two that immediately come to mind for him, but Branch is confident he has some of his best coaching still in him, and that he can get over that hump with Robertson. He's grateful for the opportunity to be a head coach once again and he's thankful to the people who gave him that opportunity at Robertson.
"I'm thankful to coach (Juan Carlos) Fulgenzi and Ms. (Larryssa) Archuleta for putting their trust in me," Branch said. "I don't want to let them down, and I told the guys yesterday that my vision is to win a blue trophy while I'm here… I really appreciate superintendent Archuleta and coach Fulgenzi for the opportunity to be the head coach here and trusting me with the program."
After getting hired late last week Branch was eager to get started, already having his team in the gym while he can for two weeks this month before fall sports begin. He's excited for the chance to compete for the blue trophy, and Robertson is a team that figures to be right in the mix for it in year one under coach Branch.