'Building a program,' if you talk to NMHU head football coach Ron Hudson in any context, those words are all but guaranteed to come out of his mouth at some point in the conversation. Coaches in all sports at virtually all levels across the country will speak about building program and what must be done to do that, but what Hudson is doing at NMHU right now is something that Cowboy football has needed for quite some time. Hudson is giving the Cowboys a vision and direction for where they want to go, he's targeting young men that fit his ideal mold for what Cowboy football players should be and is attempting to instill a culture that will foster the growth of these young men off the field, and a cohesive football team on it.
"When I interviewed for this job and I talked to the president and talked to the Athletic Director, I talked about building a program," Hudson said. "I believe that there are certain things that go with building a program, and number one is that you don't sacrifice a program or a season for a win or a game, you have to understand that you're going to do things in a certain manner and you're going to hold young men accountable."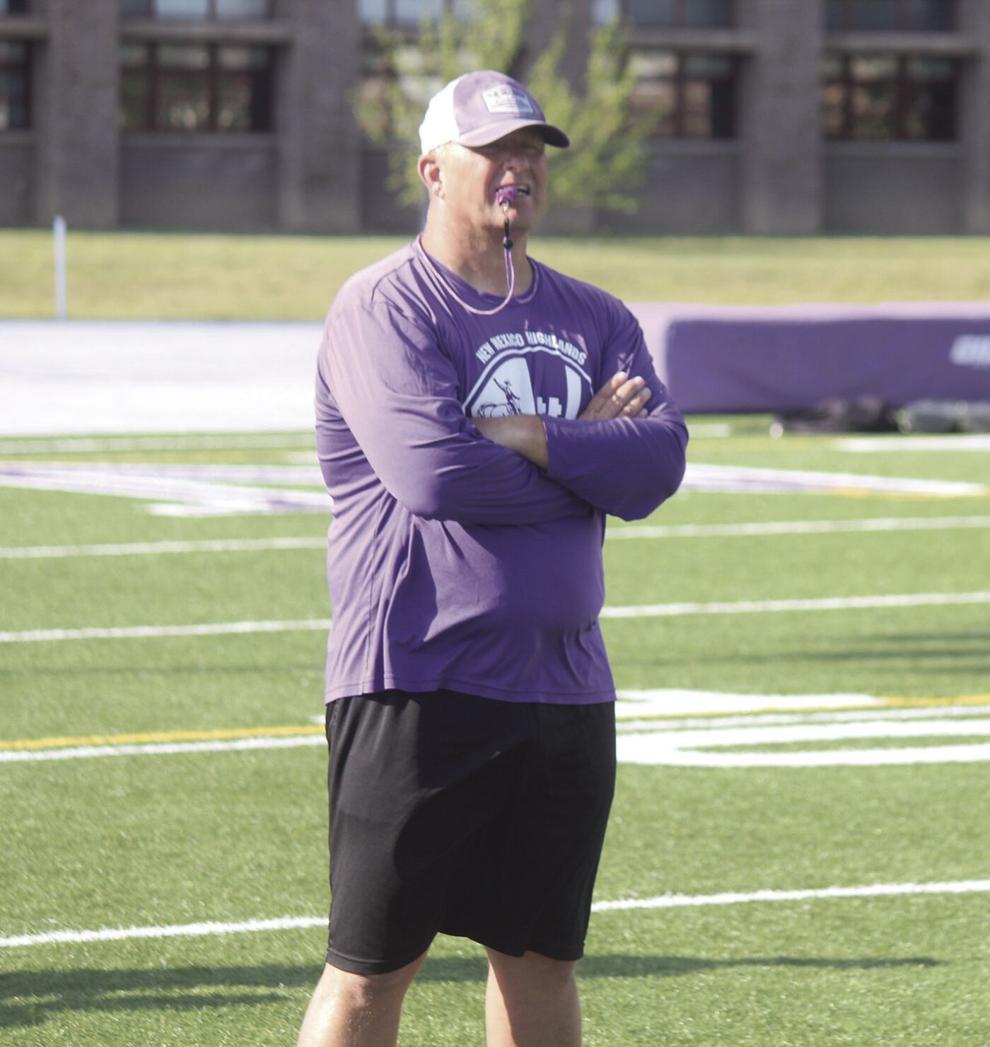 In the spirit of growing the young men that enter the program there is one specific thing that Hudson wants in his players. Hudson wants football players who want to get a college degree, that is important to him. Hudson was the first person in his family to graduate from college. Hudson believes that when he graduated from college it changed not only his life, but the trajectory of his entire family. Hudson has been a football coach for 35 years and his experience the men that are serious about getting a college degree are also serious about life, and those are the people Hudson wants to build his program around.
"Being a college graduate means something, it's important, it's that individual reaching a goal," Hudson said. "But it's also the culmination of that family raising that child and helping that child get to college and get that opportunity… so when we're talking to young men, I want them to know that that's how I think."
Two of the key words in Hudson's program are love and accountability, and Hudson believes those two go hand in hand. In Hudson's mind, holding his players accountable is a way of showing them that he loves them. Hard coaching and high expectations is a form of love because it's a way to get the best out of the young men in the program. The word love is one Hudson is going to use a lot. 
"I want us using the word love a lot," Hudson said. "I know some people say it's overused, but I don't think it is, especially when you're talking seriously and you're talking about love being an action word, caring about each other and then showing that you care by your actions."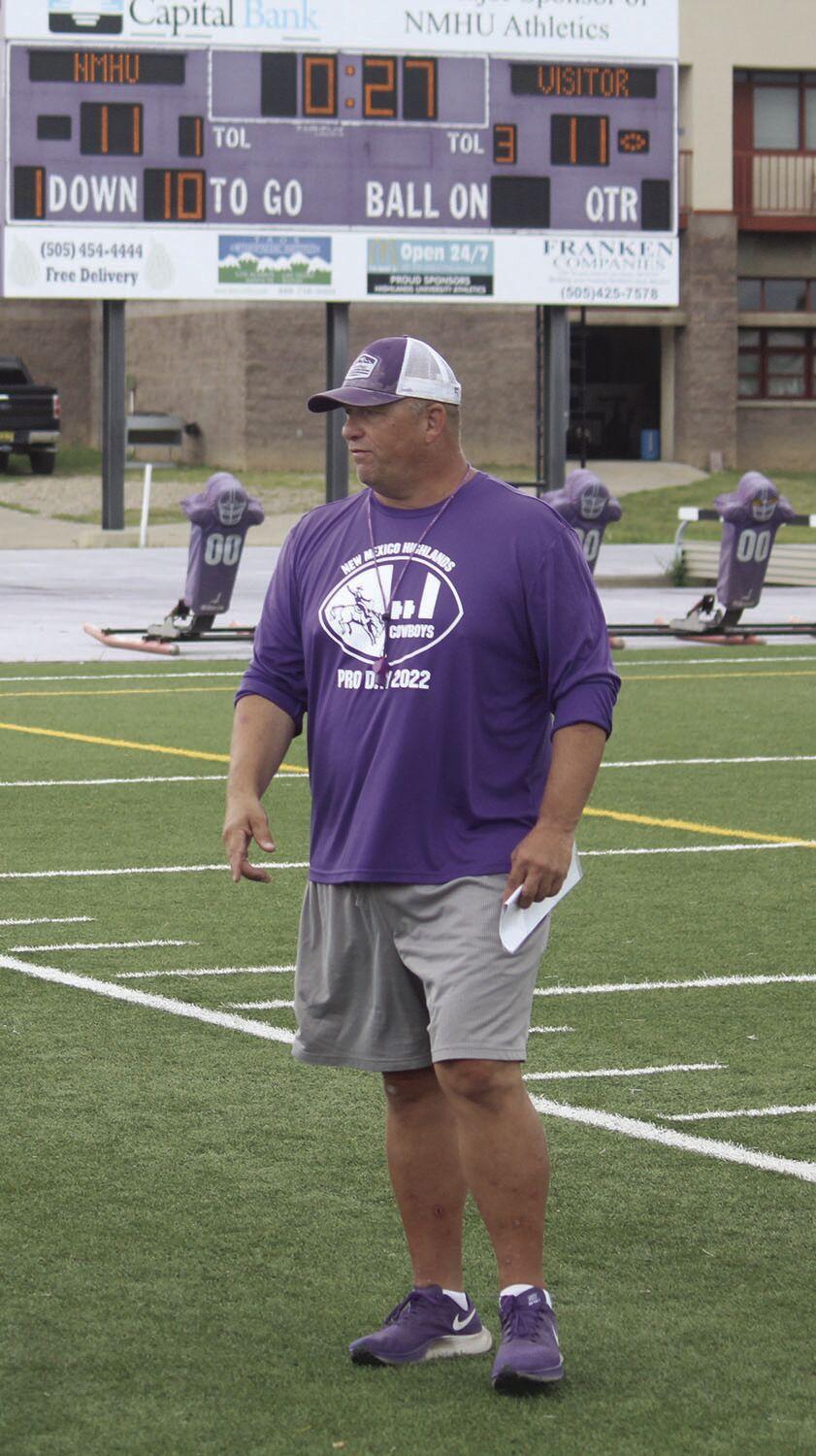 Hudson has been coaching for 35 years, and in 2022 with NMHU he is getting his first chance to build a program, and it's not something that he is going to let go to waste. When Hudson first arrived in Las Vegas a little over a year ago to be the special teams coordinator for the Cowboys last season he told Athletic Director Andrew Ehling that if the head coaching job ever came open that he wanted to be considered. Hudson spent some of his time in high school at Highland High School in Albuquerque. As a kid he fell in love with New Mexico and even spent some time on the University of New Mexico staff as the offensive line coach in 2011. Now, Hudson has a head coaching job in a place he holds dear, and plans to take full advantage of the opportunity.
"I love this place, I love everything about New Mexico. I got a chance to come back here a year ago and I jumped all over it," Hudson said. "I think bringing people in here from other parts of the country is one of the neat things I get to do, because I get to expose kids and parents to this place, this culture and this lifestyle, and I truly believe that they're lucky to come here and be part of this."
For Hudson, the building of this program and his culture is already under construction. He's confident in the young men that he has brought into the program and likes the direction that they are headed in. One thing Hudson does not talk about is wins and losses. It's not due to a lack of confidence in the team, but because of the belief that winning is a byproduct of a strong culture within the program. As Hudson and the coaching staff continue to build the culture, and have a program that for Hudson, is 35 years in the making.