The Robertson high school volleyball team is undefeated through eight games this season. The team has only lost three sets this season, none in nearly two weeks. That record of dominance has the Lady Cardinals currently sitting in the top spot of the 3A coaches' poll. 
This start to the season is not entirely unexpected. The Lady Cardinals won the state championship in 2019, and still have several key contributors from that group on this year's team. There were some changes to the team, though, one of them being head coach Vanessa Gonzales, who brought more to the team than just her knowledge of the game. Her daughter, junior Jaylee Gonzales, a two-time all-state player during her time at Hope Christian Academy in Albuquerque, came to Las Vegas with her.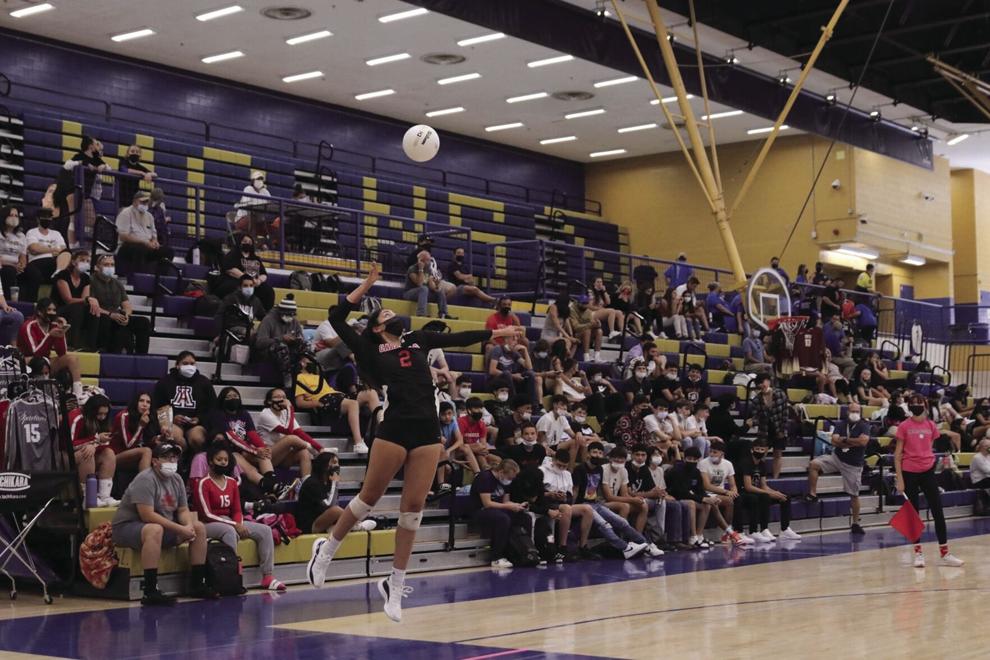 For coach Gonzales the decision to take the Robertson job was fairly easy. She is from Las Vegas, and a lot of her family not only lives in Las Vegas, but works for Las Vegas City Schools in some capacity. For Jaylee, her perspective was a little bit different. She played for Hope Christian for three years and was comfortable there. She was also highly productive for one of the best volleyball programs in the state, regardless of class. It was an adjustment in many ways, including having her mom as her coach.
"I was not excited about it," Jaylee Gonzales said. "I was kind of mad… I didn't want the girls to think that I was playing just because she's the coach."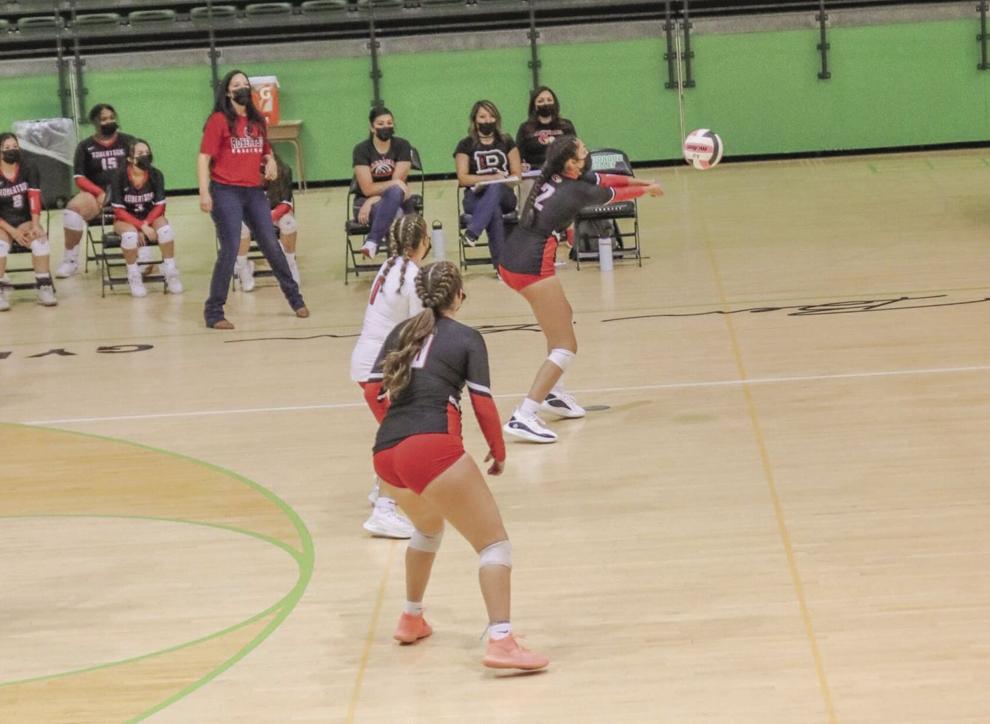 Jaylee has gotten over those initial feelings about being coached by mom and now views it as a positive. It turns out the relationship they have at home helps the relationship they have on the court, and it allows them to have an open communication before, during and after games. Jaylee believes that their in-game dialogue helps them adjust on the fly.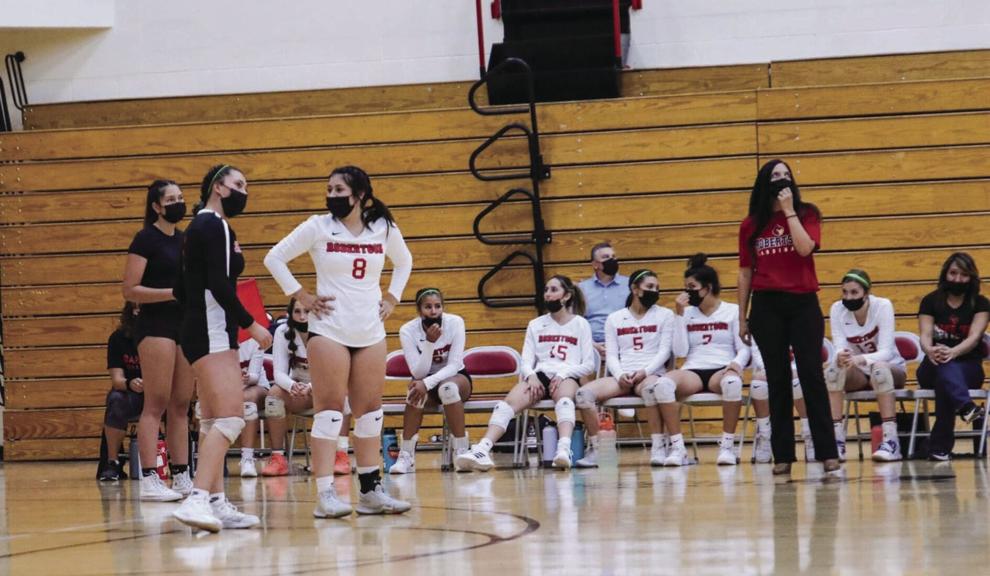 "I feel like I can talk to her about things during the game," Jaylee Gonzales said. "Maybe there are things that we can change, and it's open communication, not that I can tell her whatever I want, but I'm comfortable telling her exactly what I think."
Something that has eased the transition for both mother and daughter is the fact that Robertson is winning. There's an adage in sports that winning solves everything. For the Gonzales' to experience all this winning together has been a highlight for the duo thus far. This is a rare experience that they are getting to revel in. 
"It's something that has been a lot of fun and something I've been very grateful for," coach Gonzales said. "This is something that not a lot of parents are able to do and so I'm just grateful for the opportunity, and the timing all fell together."
One thing that coach Gonzales was looking forward to for Jaylee was the opportunity to play in a community. At Hope Christian in Albuquerque, they were basically in their own bubble, and few people outside of that bubble had any knowledge of who Jaylee Gonzales was. Here in Las Vegas, playing for Robertson, a lot of people knew who she was before she even stepped on the court for the Lady Cardinals. It was something Vanessa knew playing for West Las Vegas, and was excited for her daughter to experience.
"I've never been used to people actually being at my games," Jaylee Gonzales said. "So then when I see a bunch of people, and all of my family comes it's really cool… It hypes you up during the games, playing with all of that energy around you."
The attention has been something new for Jaylee, and it has been earned. She has been the dominant player on the court for the Lady Cardinals in most games they have played this season. She spearheads one of the fiercest front lines in New Mexico volleyball, and she's also one of the Cardinals best defensive specialist when she plays in the back row. 
"She stands on her own with the athlete that she is," coach Gonzales said. "She doesn't like attention, she doesn't like the focus on her, that's not what she wanted it to be about, so coming in I was worried about how she would react to me going from mom to coach, but I think an athlete is a good athlete regardless of who the coach is."
One thing that has eased the transition for the Gonzales duo was the team they walked into at Robertson.  Both expressed how grateful they are for how the team has embraced them. 
"I was nervous coming here at first," Jaylee Gonzales said. "But all the girls were really welcoming, and then we started playing well together, we started clicking on the court."
That team camaraderie has allowed the Lady Cardinals to get off to such a strong start and has them thinking big as they enter district play next week.
The goal for the Gonzales' and all of Robertson volleyball is simple: a state championship. Up to this point they have looked good, and the blue trophy looks like a very realistic possibility. There will be challenges and adversity along the way, but the Lady Cardinals, led by this mother-daughter duo, look like they're ready to take on all comers.