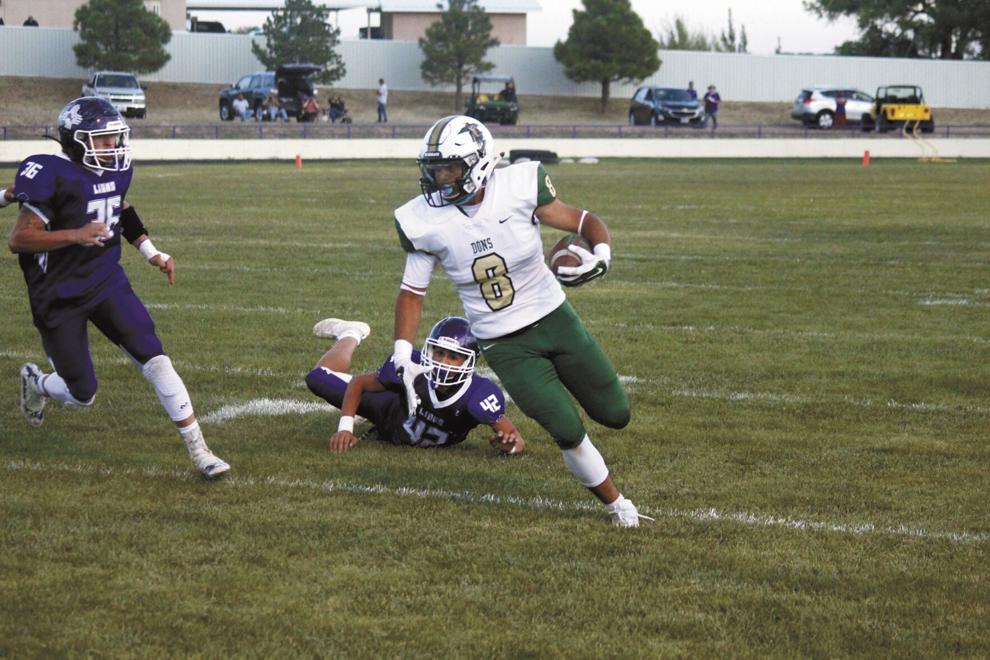 The West Las Vegas Dons football team is off to as good a start as they could hope for. Through three games they are 3-0, including a win last week over defending 4A state champion Portales. This year is supposed to be one of development for the Dons. A lot of their team is made up of players whose football experience prior to August was in middle school. One player, though, is a returning letterman and had proven they could produce at the varsity level: senior running back Damian Gallegos. While Gallegos played varsity football in 2019, his role in 2021 is vastly different. In 2019 Gallegos was a sophomore, and while he did total nearly 1,000 yards of offense in 12 games, he was just a contributor on a team that had several. In 2021 Gallegos is one of just a handful of seniors on the team and a quintessential leader for the unbeaten Dons.
"His work ethic has steadily improved to that of a leader from his freshman year until now," WLV head coach Adrian Gonzales said. "It's the maturation process that we've witnessed, he's done everything right, he's gone down the right path like leaders should."
For Gallegos this newfound role has taken some getting used to, as by nature he is not the most vocal person. His style is naturally more of a lead by example type of leadership, but part of his growth as not just a player, but as a leader on the team, is becoming more vocal in spurts when he sees that his team needs a little bit of a jolt. That change began in the summer for Gallegos during the 7-on-7 season, when his team was struggling a bit. After a while his coaches came up to him and let him know that he had to be the guy who set the tone with the team. It was a bit of a realization for Gallegos that now he was the guy people look up to.
"Coach came up to me, and he's like come on, you're the guy, these guys look up to you, pick up your energy and these guys will follow" Gallegos said. "So I picked it up and I saw these guys starting to fall into place and things really got going after that."
The newfound leadership of Gallegos was never more needed than last Friday when the team traveled to Portales. Gallegos and the Dons knew it would be their toughest test to date, but the game did not start off in an ideal way. Almost immediately the Dons fell behind 13-0 in the first quarter, and after having an almost adversity-free first two games of the season, the Dons were staring adversity right in the face. The team responded in a big way, coming back to actually take the lead by halftime and eventually win the game 46-38, and Gallegos was at the center of that turnaround. He totaled 227 yards of offense and four touchdowns on 27 touches. Gallegos was far from the only Don to step up their game in Portales, as freshman quarterback CJ Perea had his best game of the season, throwing for 330 yards and junior receiver Jaydin Vigil had his career high in receiving yards with 136, but the response the Dons had to the challenge was in large part due to Gallegos' leadership and poise.
"It was the first time we faced adversity this year, so it was good to see how we handled it and overcame adversity," Gallegos said.
For Gallegos, his role on the field is crucial, he's the workhorse running back and the middle linebacker. His production is necessary for the Dons to have success, and so far, he has been very productive, with 599 yards of offense and 12 touchdowns in just three games. What's been even more important for the team, though, is his development as a leader. Around him are a lot of players who did not have varsity football experience less than a month ago. In the backfield with him is a freshman quarterback in Perea, who has gotten better every game. On the outside is a group of largely new receivers that are getting more and more comfortable and productive. At the center of the offense, though, is Gallegos. He makes life easier for everyone around him not only because of his talent, but his knowledge of the offense, having been in the system since he was in middle school, he can help coach the offense in game. 
"He's essentially our coach that's on the field," coach Gonzales said. "I mean he helps us as much as he can out there. He's another coach out there."
While it has been a great start to the season for Gallegos and the Dons, he knows that it's just that - a great start. While 3-0 is the best you can be through three games, the Dons' goals are much higher than starting 3-0.
"Our main goal obviously is to win a state championship," Gallegos said. "This team just wants to win every week, so we just have to take it week by week and hopefully we can accomplish that."
Up next the Dons welcome Española Valley to Las Vegas for the homecoming game on Friday night as the Dons look to improve to 4-0 on the season, or if you ask Gallegos and coach Gonzales, 1-0 this week.