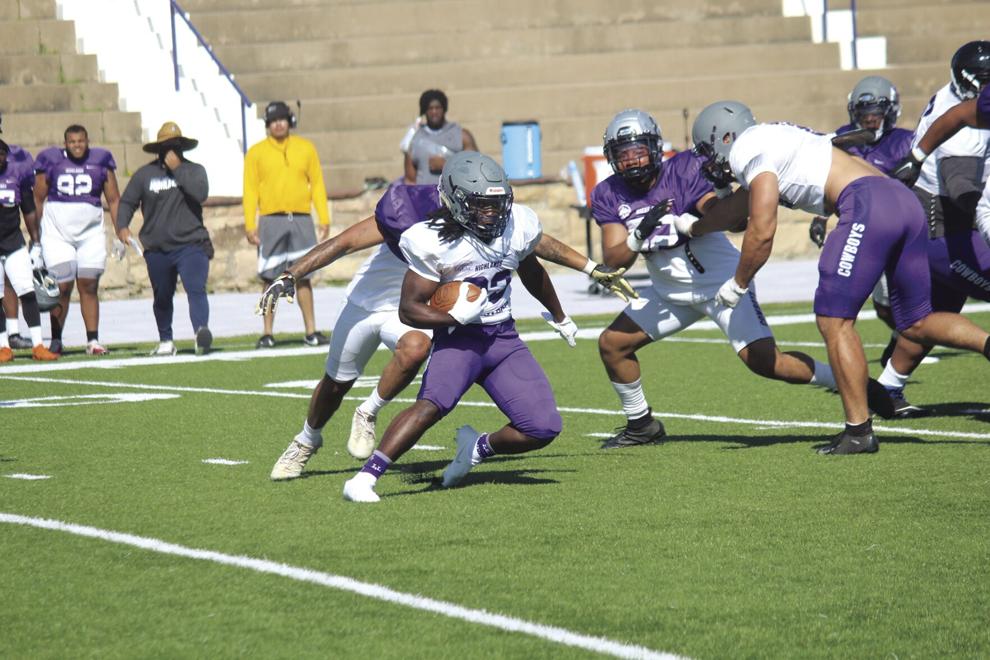 A few lucky people were granted a look at the NMHU football intrasquad scrimmage Saturday, Aug. 14. For the Cowboys it was the first time since their April 23 spring game against Fort Lewis that they competed in a game-like situation. It was important for the coaching staff to see how some of the younger players reacted when it was live action, and you got to see some players who were maybe down a little bit on the depth chart step up in real time. Saturday was the perfect opportunity for that because the first-string offense and defense saw limited action during the scrimmage, giving the second and third stringers a chance at an extended look.
"I thought it looked really good, it was good to see our two and three quarterbacks operate," NMHU Head Coach Josh Kirkland said. "They did some good things, that was really nice to see with them coming in, one JUCO and one freshman kid."
The thing that really stood out in the scrimmage was the wide receiver talent and the depth of it for the Cowboys. Kirkland and his coaching staff know that they have plenty of talent on the perimeter, but to see in action with the first, second and third string was pretty remarkable, especially given what the talent level has been around here in recent years. Third string wide receivers are making plays down the field, and some of the first and second stringers look like they have all-American type of potential. There will be no shortage of options on the outside this Fall, with wideouts CJ Sims, Courtland Brooks, Israel Wilson and Quadon Beckford all making big plays at various points on Saturday. Sims even returned a kick for a touchdown and was the star of the Spring game in April. 
"We have extreme talent at receiver, we know that," Kirkland said. "That's not anything I was trying to look at today, but they made some plays."
Saturday was not a day where the offense just dominated, despite how good the receivers looked. The defense made their fair share of plays as well. Cornerback Lebarron Jones made a diving catch for an interception and played the ball well when it was thrown his way. The defensive line did jump offsides four times, which was all defensive line coach Roy Asuega was focused on when the scrimmage concluded, but the first stringers did create pressure on the quarterback, which was a change in pace from what we saw Wednesday in practice. They also did a good job stopping the run, and Kirkland lauded the defensive front after the scrimmage.
"Our defensive line and our linebackers with the one's and two's are playing at a really high level," Kirkland said. "It's great to see them really kind of causing our offense fits."
You can never really know anything about a football team until the games actually start, when you're playing an opponent wearing a different colored jersey, but the Cowboys appear to be a very talented football team. Every position group has game-changing talent and should be able to overmatch a lot of teams in the RMAC physically. There is more ahead, the Cowboys still have two and a half weeks left of practice before their first game, but this team has a real chance to be one of the best we've seen at NMHU in a long time.