"I wish we had five more games because I think we haven't even peaked yet," RHS head coach Leroy Gonzalez said. "We didn't play last year and we're just finding our rhythm now."
That is what Leroy Gonzalez had to say moments after his Cardinals won the state championship in November. For as successful as last season was for the Cardinals Gonzalez believes that his team had yet to play their best football. Now, as the 2022 season begins, Gonzalez hopes that this year's team is able to pick up right where they left off in 2021.
"We started coming into our own last year at the end of the year and I think we're picking back up from where we left off," Leroy Gonzalez said. "We've got a few new guys in there and of course the older guys are helping them out."
The Cardinals lost just one starter on offense and only two on defense, this team is made up largely of the same players that lifted the blue trophy last year. With that success and experience comes confidence, the Cardinal players and coaching staff believe that this is going to be another successful season. Gonzalez has one goal when it comes to defining success in 2022, winning the final game of the season.
The one big change that this team makes from last year's is at quarterback. Last season's signal caller Mathew Gonzales is now graduated, and Ace Gonzalez will now take the reins under center. Replacing Mathew Gonzales is no easy task, he was the best player in 3A football last season, but the team and coaching staff are confident in what Ace can bring to the table. Being the coach's son means he knows the offense as well as anybody, he brings a physical element to the running game after playing both middle linebacker and center last season, and the coaches are confident in his arm allowing them to utilize their stable of pass catchers.
"He knows what we're trying to do, he's been in this locker room since he was four years old," Leroy Gonzalez said. "We got some weapons though, he doesn't have to do it by himself, he's got guys on the outside and guys that can run the ball."
Another reason the team is confident in Gonzalez is because of what is around him. When talking about what he's excited for this season, Gonzalez immediately mentioned one unit.
"Definitely our offensive line, our offensive line is incredible," Ace Gonzalez said. "We started a new season and they picked up everything so quickly and they've gotten going right away."
The offensive line is a unit that everyone in the program is excited about this season. It's no secret that under Leroy Gonzalez the Cardinals want to run the football right down your throat, and the team is confident that this year's offensive line will allow them to do that. The Cardinals return sophomore running back Jesse James Gonzales, who ran for over 800 yards in his freshman season, and figures to be a key part of the offense once again. Robertson has plenty of playmakers on the perimeter, led by Contreras at wide receiver, who burst onto the scene last Fall. Contreras leads an experienced and talented position group with senior Kenneth Montoya and sophomore Nathaniel Gonzales, who the coaching staff is excited about. Contreras Montoya and Gonzales all averaged over 14 yards per catch last season, and it's clear that the Cardinals want to utilize their deep threats in 2022.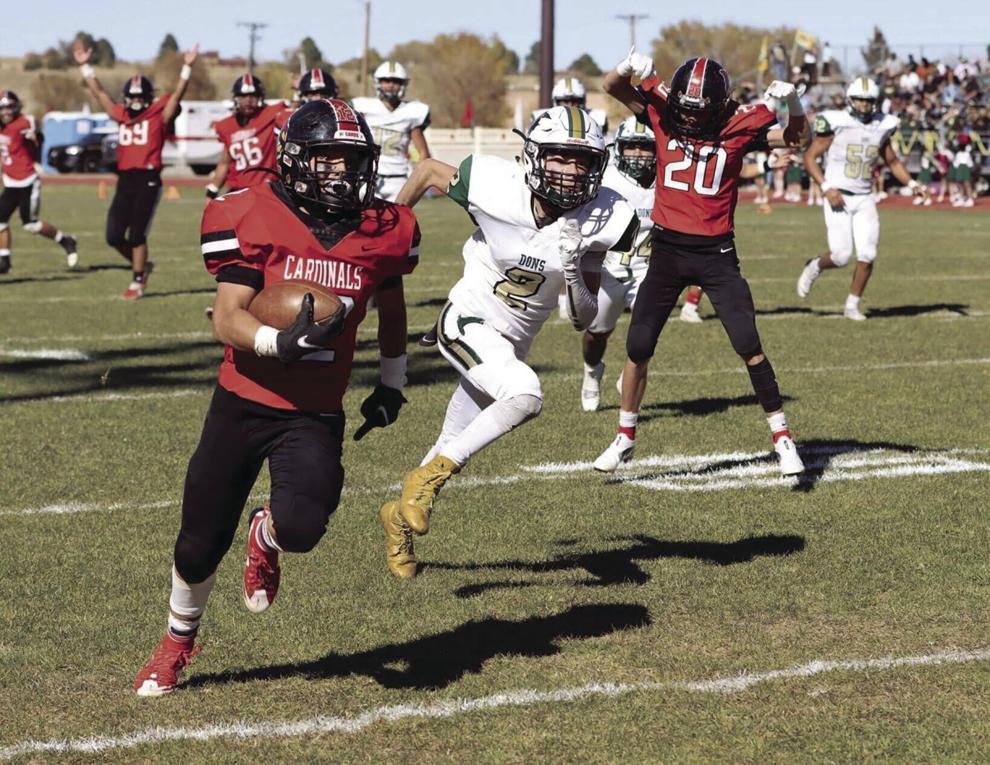 For as excited as the team is about their offense, Leroy Gonzalez is a defensive minded coach, and he believes that this defense is a good one. They return nine starters from a defense that allowed just 12.2 points per game last season, and now with all these players having a year of experience under their belt, this is a tough and athletic group of defenders.
"We were smothering in our scrimmage," Leroy Gonzalez said. "We're going to play our style of football, rallying to the football and being physical."
The defense brings back Ace Gonzalez who was the top tackler in 3A and senior Bodie Schlinger who was one of the top sack artist in 3A. Returning alongside them are all state players Contreras and senior Adrian Rivera to help make up a defense that sees themselves as a potentially dominant unit.
The Cardinals have a lot going for them, but that does not mean the season won't be without it's challenges. In week 1 the Cardinals welcome Eastmark high school from Mesa, Arizona. The Cardinals will also face Ruidoso at home in week four, a team that was a finalist in 4A last season. A state championship rematch at St. Michael's top open district play on Oct. 7 will be one of the biggest games in AAA this season. The final two games are against last season's District 2-AAA champion Raton and rival West Las Vegas on the road are no easy task. The Cardinals have the right to have lofty goals, but will be challenged week in and week out this season. 
Winning the last game of the season is the goal, and it's one the team believes they're capable of once again. They will get everybody's best shot as the defending champions and will take on one of AAA toughest schedules. If Ace Gonzalez proves to be a viable replacement for Mathew Gonzales, and the other units of the team are as advertised, then there is no reason the Cardinals won't be right in the mix for a district and state championship at season's end.