Improvement, that is the goal of West Las Vegas this week ahead of Saturday night's game against Raton. The Dons lost their district opener against St. Michael's 51-20, but WLV head coach Adrian Gonzales believes that there were positives to take away from that game. There were mistakes as well, and the hope is that things were corrected this week in practice and that can be displayed on the field Saturday night.
"We've watched film, we saw, pointed out and hopefully corrected our mistakes," Gonzales said. "We've got out on the practice field this week and started to physically correct them and now hopefully it carries over to Saturday."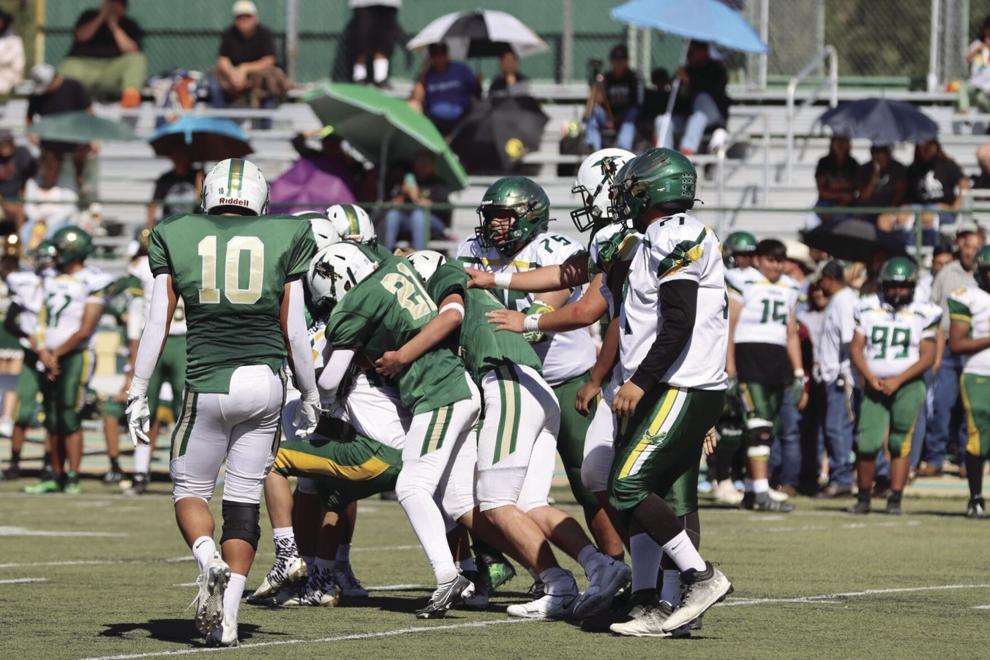 One thing the Dons can carry over from last week is their emphasis on stopping a great running back. This week against Raton, the Dons will face one of the best players in the entire state in the Tigers' senior Cayden Walton. Walton ran for 216 yards last season against the Dons in a 14-7 victory and ran for 113 yards as a freshman against WLV as a freshman in 2019. Walton is indisputably one of the best and most important players in the state, and the Dons will need to figure out a way to slow him down in order to win on Saturday. 
"I think (Walton) is a big threat, we might need to load the box a little bit more and come after him because we're going to need to gang tackle him," Gonzales said. "We had a couple of big plays against us in the second half last week, but all in all I was pleased with our run defense and it's going to have to be even better this week though."
While the Dons defense will be tasked with stopping Walton, the offense will be trying to get into a rhythm far sooner than they did a week ago. Last week the Dons ran just 18 plays in the first half and accounted for just 64 yards of offense. That slow start was largely attributed to the fact that the Dons did have their first possession until they were nearly nine minutes into the game. A fumble returned for a touchdown on the opening possession followed by a Horseman drive that lasted nearly seven minutes kept the Dons offense off the field and had them out of whack in the first half. Getting the offense going early is a point of emphasis this week.
In the second half last week the Dons showed that they could move the ball and score once things got rolling. Senior wide receiver Jaydin Vigil caught seven passes for 99 yards, sophomore running back Ethan Tafoya ran for 72 yards, and was consistent in his attack, going for 5.5 yards per carry. Gonzales likes his arsenal of weapons on offense and with sophomore quarterback CJ Perea at the helm they have proven to be explosive on offense.
"I like our athletes' chances against anyone else's athletes," Gonzales said. "We'll push the ball vertically, we're going to try to run the ball and I think now that we shored up both our offensive and defensive lines we're going to run the ball and have a nice balance going into Saturday."
One reason Gonzales is more confident in his team at the line of scrimmage now is due to the return of sophomore Jonathon Gonzales. The sophomore is one of the Dons' biggest and most talented players, but missed the first five games of the season with a knee injury. Gonzales' return to the offensive line was notable in the game against St. Michael's because once he entered the game on offense, the Dons found much more success with their ground game. Now that he is fully participating on both lines of scrimmage, alongside senior lineman Juan Montano who has been the Dons' anchor so far this season, WLV is at full strength as they head into their biggest portion of the season.
The Dons will travel to Raton Saturday night Oct. 8 in search of their first district win. Kickoff is set for 7 p.m. at Tiger Stadium.