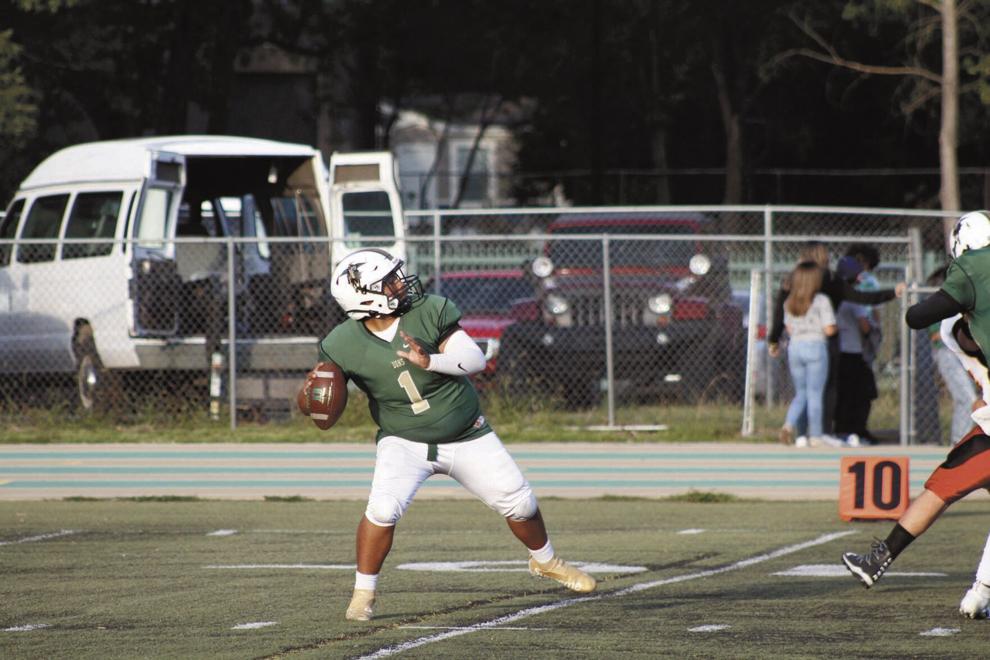 The West Las Vegas Dons football team continued their hot start to the season with a 64-14 win in their homecoming game over Española Valley on Friday night. It was a banner night for the Dons, as the game was stopped midway through the fourth quarter thanks to the mercy rule. They completely overmatched the Sundevils in all three phases of the game. On offense the Dons were scoring virtually at will. Defensively, their front seven spent a lot of time in the Sundevils' backfield, and even the special teams got in on the action, blocking a punt and having senior running back Damian Gallegos return a kickoff 80 yards for a touchdown, one of six on the day for him.
"I was a little worried coming into this one about playing down to our opponent's level," head coach Adrian Gonzales said. "I thought we did that a little bit in the first quarter, but once we settled down we were fine, you know homecoming is a lot of distractions and things like that but we have to try and limit those as best as we can and at the end of the day it's about getting a win and we accomplished that."
The evening was filled with plenty of activities pregame and at halftime, with not just homecoming, but it was the day before the 20-year anniversary of the tragic attacks on 9/11, and the Dons were dedicating the game to the 720th Transportation Company, who just returned home from the Middle East after nearly 10 months overseas. They were treated to quite the show, as the Dons won in overwhelming fashion.
For the Dons as a team, it was a good win, and for Gallegos individually it was a night he won't soon forget. He finished the game with six touchdowns, a career-high and was crowned homecoming king during the halftime ceremony. Gallegos had the 80-yard kick return touchdown in the third quarter, he had three rushing touchdowns on just seven carries and two of his three catches went for touchdowns as well. In his final homecoming game, Gallegos put on a show for all the Dons faithful, many of whom had not seen a game in person in multiple years.
"Everybody knows he's our guy, I mean our opponents know he's our guy," Gonzales said. "But at the end of the day you have to stop him and we scheme to get him the ball in open space and I mean we let him do what he does, that's our guy and it's no secret."
Gallegos was not the only star of the evening, as his backfield mate, freshman quarterback CJ Perea, threw four touchdown passes and ran for a fifth. To finish off the game Perea hit fellow freshman wide receiver Mark Balizan for a 17-yard touchdown, the first of his young career, capping the Dons dominant homecoming victory. 
"We wanted to get a lot of younger kids some reps and stuff like that because we're going to need them down the stretch," Gonzales said. "We wanted to practice some things offensively that we're going to need once we get into district and the state playoffs, so we wanted to get these kids reps and I thought we did a decent job of that tonight, and when you come out victorious that's always a plus."
For the Dons, next week will be their bye, and coach Gonzales believes that it's coming at the perfect time. They're four games into the football season, so that natural wear and tear is starting to happen, so this bye week is well placed on the schedule. The Dons are undefeated at 4-0, and it will stay that way for at least one more week before Los Alamos comes to Las Vegas on Sep. 24 and district play begins on Oct. 1.