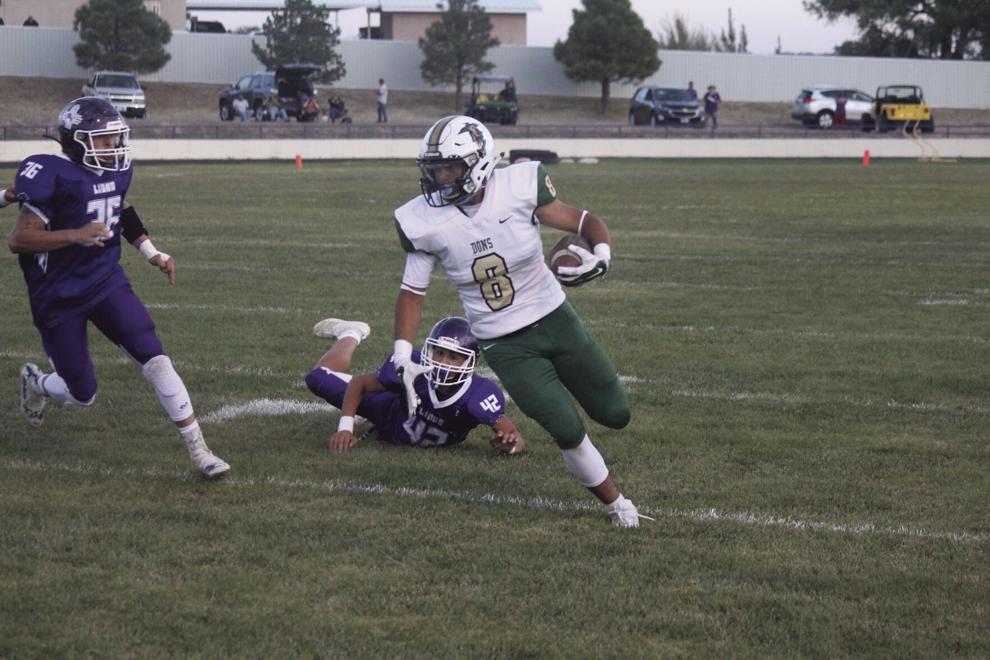 The West Las Vegas Dons are a young football team that is looking to get better every week. They're also 2-0 through the first two weeks of play, opening the season with a 34-8 victory over Highland High School, before winning in week two 46-27 at Santa Rosa High School. Those are performances that head coach Adrian Gonzales will tell you he is not totally pleased with, despite the margins of victory, but through two games you cannot be any better than 2-0. Now in week three they get ready for their toughest test of the young season, a road trip to Portales High School, the 2019 4A state champions.
"We better handle the challenge the same way we've come out and been physical the previous two, if not it's going to be a long night," Gonzales said. "Yea we're young and this and that, but when the next opponent is on your schedule you have to strap up and you have to play them."
If you ask coach Gonzales, the answer to just about any question regarding what the Dons need to do is be physical. He wants his team to be the most physical football team on the field regardless of who they are playing, that's the identity he wants his team to have. That is not an easy goal to accomplish when you're on the same field as Portales, but that's the expectation. Last week against Santa Rosa the Dons played well through three quarters, leading 40-7 heading into the fourth, before having a rough quarter, getting outscored 20-6 in the quarter before ultimately winning the contest. This week the message is finish four quarters, they can't afford a letdown at any point this week.
For the Dons it is no secret going into any game that the plan of attack runs through senior Damian Gallegos. In last week's contest Gallegos carried the ball 22 times for 151 yards and five touchdowns. He even had 65 yards receiving, in large part thanks to a 54-yard catch and run on a screen pass in the second quarter. Gallegos has 269 yards rushing and eight touchdowns through two games, and they're going to need similar production this week if they want to beat Portales. 
Perhaps no position better explains the Dons youth than quarterback, where they're starting freshman CJ Perea. We've seen good and bad from him in the first two weeks, just about what you would expect from a freshman in his first two varsity football games. Last week there was plenty of good from the young signal caller, going completing 12 of his 19 passing attempts for 232 yards and two touchdowns, with his top target being senior receiver Josh Gonzales, who had five catches for 89 yards and a touchdown. There was also some bad though, as he threw two interceptions, both were returned for touchdowns. The passing game is something that will continue to be developed throughout the season to help this offense run at full strength, and it's something that, if successful, makes life easier on the star tailback.
"The staple of our offense is Damian, people are going to game plan to stop him," Gonzales said. "We're going to need the receivers to step up and take some of that pressure off of him, we had some good production in the passing game last week and we need to get that again this week."
Friday's trip to Portales will be one of the tougher games the Dons will play this season. It will also be somewhat of a measuring stick for the team, something to figure just how close or far away they are from where they want to be.