The West Las Vegas Dons had their bye week perhaps perfectly placed last week, right as some of their players' nagging injuries were starting to build up. The Dons are currently undefeated at 4-0, and this Thursday's game against Los Alamos kicks off a tough four-game stretch for the Dons, which sees them take on top-five teams Raton and St. Michael's, while also playing Dexter in a non-district contest. A hot start has the Dons confident in themselves, as they're averaging 47.5 points per game this season, and there is going to be some familiarity this week as they play their third Thursday night game of the year.
"This has become the new norm for us I guess," coach Gonzales said. "Short week of practice, short week of preparation, but at least we had over a week to know that the game got rescheduled so we took the proper steps and proper measures to get this done."
The week-over-week improvement is not just a bonus, but it's necessary for the Dons from here on out as their schedule is daunting in the second half of the season. They're playing up against 5A Los Alamos on Thursday, and one thing that coach Gonzales sees right away is the size of their opponent. This is going to be the biggest team they have played to date. While the Hilltoppers results have been mixed to start the season, size is not something you can teach, and it's something the unbeaten Dons will have to deal with Thursday night.
"They have some big boys out there, they have a running back that's probably 6'1, 220 pounds that can go," Gonzales said, "They have some tough kids and on film sometimes they look like they play to the level of their competition, but they played St. Mike's really well so we're preparing for that team to come out and play us Thursday."
Gonzales is confident in his team's ability to get the job done, in large part because of the backfield with senior running back Damian Gallegos and freshman quarterback CJ Perea. The two have combined for 31 touchdowns in their first four games, three of which have been Perea throwing it to Gallegos out of the backfield. Any effort to slow down the Dons offense begins with those two, namely Gallegos, who in their last game scored six touchdowns on just 11 touches. That efficiency probably will not be replicated at any point this season, but it shows how dominant Gallegos can be out of the backfield and why he is the Dons number one option.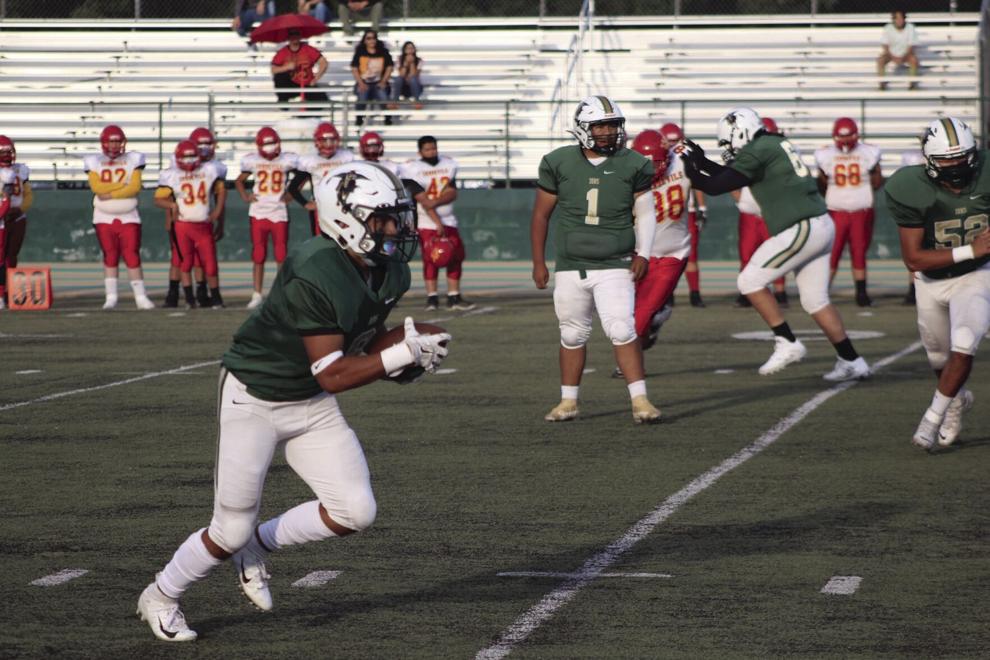 Something coach Gonzales talks about at practice is getting one week better. He believes that right now they are five weeks better than they were in week one and expects that level of improvement to be on display this week. For as good as his offense has been this season, at the end of Monday's practice Gonzales was raving about the performance of his defense. If their performance matches what the offense has done in the early part of the season going forward, then the Dons will be as tough to beat as anyone in the second half of the season.
"We really just want to execute in all three phases of the game," coach Gonzales said. "We took last week to tighten some stuff up and I hope we show it on Thursday… We just want to get back on the field."
The bye week was nice for the Dons to have, but after a week of recovery and conditioning the Dons are ready to get back on the field and compete once again. The coaching staff is excited to get back out there as well, but just wants to see execution from the Dons in their return to the gridiron. According to coach Gonzales as long as the team comes out, plays hard and executes on both sides of the ball then he's confident they'll walk off the field Thursday night a winner.