Competitive. That's the word that West Las Vegas head basketball coach David Bustos used to describe his team. The Dons enter the 2021-22 season seeing themselves as competitive. Last season, in a condensed year which saw the playoff field reduced to just eight teams, the Dons just missed out on the postseason, being one of the first teams left out of the field. Now, with things being closer to normal, and the playoff field going back to 16 teams, the Dons are now not so worried about just making the postseason but positioning themselves throughout the season to make a run once the tournament begins in March. 
"I think we're going to be an interesting and very exciting team to watch," Bustos said. "We have a lot of speed, that is a strength of ours."
This year's Dons appear to be not only a fast team, but a versatile one as well. They have a lot of similarly sized athletes who can all play and defend multiple positions on the floor. While they do not have a true big man, several players are around six feet tall and are good athletes like seniors Roy Pacheco and Josh Gonzales. This gives the Dons versatility, especially on defense, and that's how Bustos envisions this team being at its best, with a strong defense led by the good athletes he has at his disposal.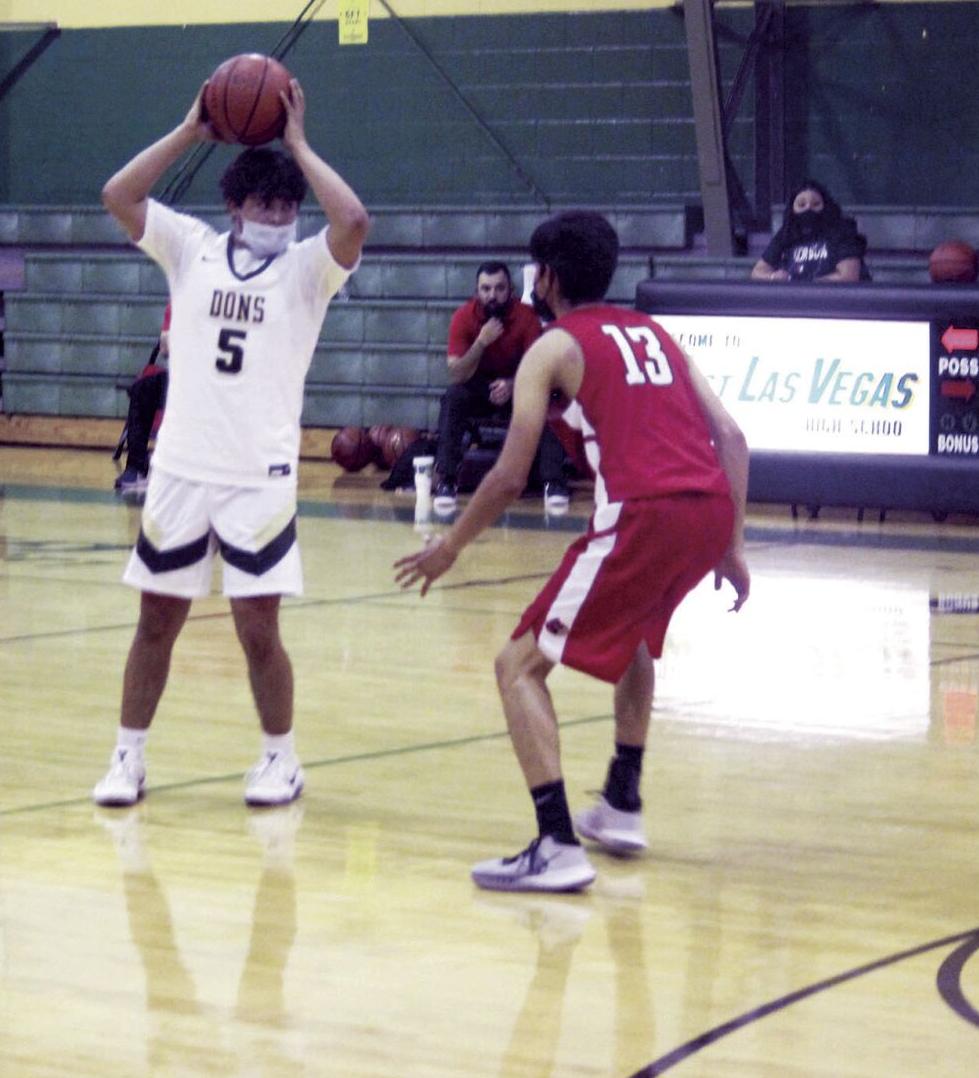 "We do have kids that can play multiple spots and we're going to need them to play multiple spots," Bustos said. "Overall I think it's going to be an exciting team."
The Dons did lose their leading scorer from last season, DJ Byron, but they do return several other key contributors from last season, including Pacheco, Gonzales, senior guard Damian Gallegos and sophomore post Pablo Montano. There likely is not one guy who's going to score 20 points per game on this year's team, but there are several players who are capable of scoring, including junior guard Enrique Gonzales, who, after getting his feet wet in 11 varsity games last season, will be the point guard this season. At their best the Dons will be a balanced attack this season, not relying on one player but a collective to put points on the board.
"That's a good start," Bustos said. "Having five people come back with a little bit of varsity experience."
It's no secret that coach Bustos wants to play fast. That's the way he knows how to coach. This team, with its versatility and athleticism, is one suited to play at a high pace and has the tools to execute the pressing, up-tempo style that Bustos wants. The best version of the Dons will be an unselfish one that pressures their opponent relentlessly and moves the ball without an individual agenda on offense. If the Dons are to be successful and competitive in a tough District 2-3A it will likely be because they play in a way where the team as a whole is better than the sum of the individual parts. The pieces are there for the Dons, they just need to be put together over the course of the season.
The Dons will be playing a tough schedule this season. Some of that is just the reality of their district, but this season they have some tough non-district competition. Both 3A finalists from last season will be on the schedule as runners-up Sandia Prep will come to Las Vegas on Jan. 4 and defending champions Hot Springs is the Dons' first round opponent in a tournament at Hope Christian on Jan. 13. 4A Ruidoso is on the schedule, and the annual Stu Clark Tournament features 4A teams Bernalillo, Belen and Taos, along with Santa Fe Capital from 5A. The Dons will be battle tested by the time district play begins on Jan. 19 against Raton. Their two games against Robertson will be on Jan. 25 at Robertson and on Feb. 19 at home. 
The Dons want to compete in 2021-22. That's the tone coach Bustos has going into this season. The Dons do have some youth, as there will be quite a few new names that will be playing roles this season, but they do have quite a bit of experience as well, with three starters from last season's team returning. Last season the Dons progressed immensely over the course of 11 games before narrowly missing the postseason. Now they will have a full season to find themselves and a normal postseason which should not leave them outside of the tournament. Play fast, play hard and play physical, that's going to be what you see from this year's West Las Vegas Dons.