West Las Vegas got back to their winning ways in week five against Rio Grande. Week five saw the Dons sophomore quarterback CJ Perea return from a concussion, and along with him their passing game. After not being able to threaten their opponent down the field in week four, the Dons saw their downfield passing game return, hitting long passing plays of 55 and 42 yards in their 34-8 win over the Ravens on Sept. 15. This week the Dons will welcome in Thoreau for their homecoming game, one where head coach Adrian Gonzales hopes his team avoid the distractions of homecoming week and plays a crisp game on the field.
"This is a week that creates a lot of distractions, and it can easily tear your focus away from the task at hand," Gonzales said. "We need to focus on playing and winning this football game."
Along with winning the game, Gonzales wants to see his team build on their win from last week. After a sloppy first half saw the Dons lead just 7-0 going into halftime, they took control of the game in the third quarter before putting it away for good in the fourth quarter, leaving Milne Stadium with a 34-8 victory. Among the highlights was a 55 yard connection from Perea to senior wide receiver Jaydin Vigil, which could spark one of AAA's most explosive duo's once again after being kept quiet for a couple of weeks. The Dons also saw sophomore running back Ethan Tafoya have perhaps his best game of the season, rushing for 84 yards on just 11 carries and finding the endzone. With another week under their belts, Gonzales hopes that the Dons look another week better on Saturday.
"We're just building, the only thing we do is look back on how we can improve," Gonzales said. "We just want to continue to improve game by game, we were fortunate enough to come out with a win last week and hopefully we're going to be better this week."
Gonzales hopes that this week mirrors their week two performance against Dexter in a sense. In week one the Dons won 34-13, as a sloppy first half led to a strong second half that carried into their contest the following week. The game against Rio Grande played out very similar to the week one game against Escalante, now the Dons hope that their game against Thoreau can be the fifth quarter of last week's game, similar to the first half of the Dexter game, which saw the Dons take a 28-0 lead into the locker room. 
"Our quarterback didn't play the week before so maybe we can attribute that to us coming out a little bit sluggish," Gonzales said. "It took a while for us to find our rhythm but we kind of found that in the second half, so hopefully we can go back to quarter five on Saturday."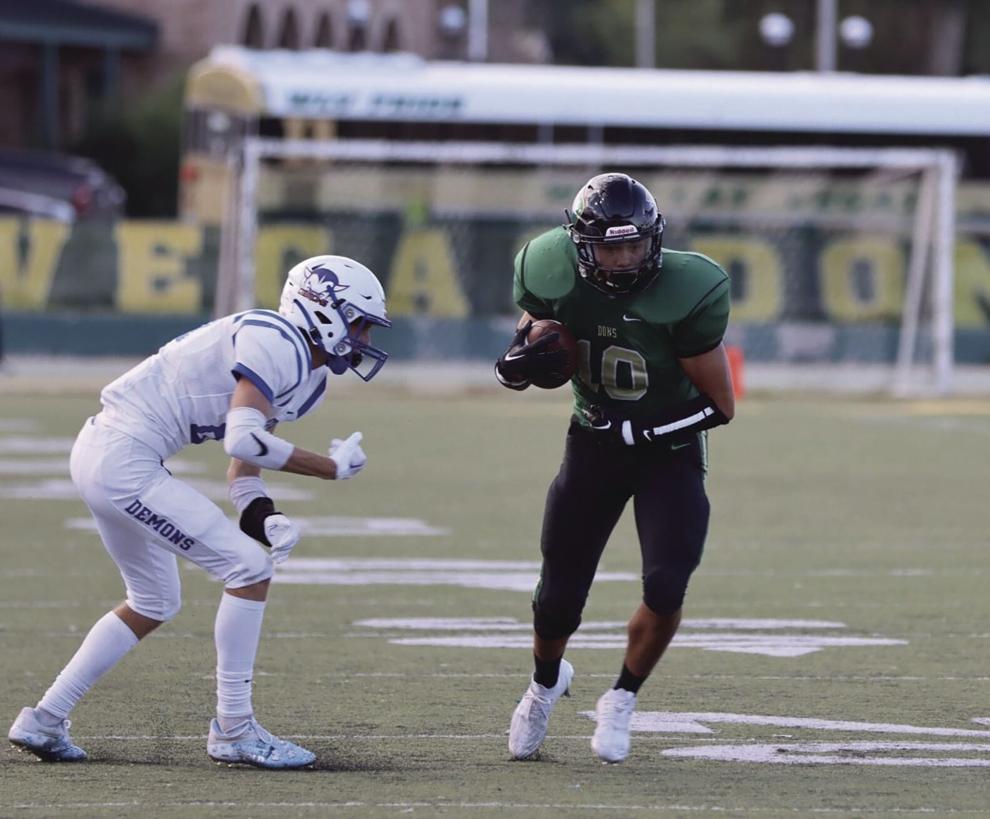 To make the first quarter of Thoreau the fifth quarter of the Rio Grande you'd like to see the Dons continue to rediscover their passing game. Perea was one of the top passers in the state statistically prior to his concussion against Portales. Perea and his receivers had their moments against Rio Grande, but are aiming to find consistency against Thoreau. One player to look out for that's not among the usual suspects could be freshman Andres Sena. Sena had two catches for 52 yards, including a 42 yarder against the Ravens. Sena is someone that Gonzales was excited about coming into the season, and now has the potential to be a legitimate playmaker for the Dons moving forward.
"It's what we expect from him, he did that all Summer," Gonzales said. "He needs to continue to translate that on the field and now he was able to haul in a couple of passes and now we want him to keep building from here and he can be another weapon in our arsenal."
Kick off for the Dons against Thoreau is set for Saturday Sept. 24 at 2pm at the Frank Herrera Complex. The Dons will look to move to 4-2 in their final non district contest of the season.