When the West Las Vegas Dons football team has won this season it's typically been in dominant fashion. In their six wins their average margin of victory has been by 25.5 points, with only one of those teams being able to keep the Dons within one score. Unfortunately for the Dons, they have also lost two games this season, to the two top ranked teams in 3A by a combined 8 points, including a heartbreaking 13-12 loss to St. Michael's on Saturday afternoon in Santa Fe.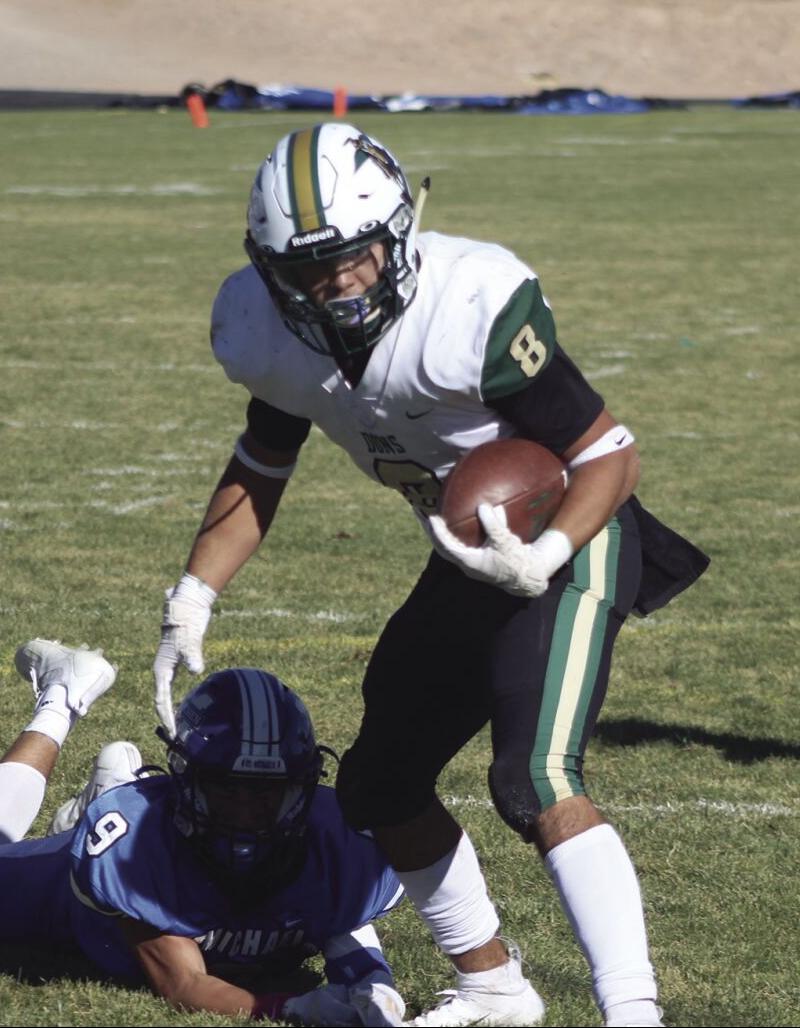 "It was what we expected, a dogfight," West Las Vegas head coach Adrian Gonzales said. "Saturday afternoons can be hard to get adjusted to when you've played on Thursday and Friday night's the whole season, but it's a good test because that's what the playoffs are and we expected a dogfight and that's exactly what we got."
It was a game of missed opportunities for the Dons; they had their chances to take the win but were ultimately unable to make the one or two plays necessary that would've changed the result on the scoreboard. 
While the Dons are typically a very explosive offense, they were largely held in check by the Horsemen defense. The Dons longest play of the game was a 25-yard run by senior running back Damian Gallegos. That was the Dons' only play of more than 20 yards, which meant that any time they wanted to move the ball they needed to do so methodically, picking up first down after first down to go the length of the field. 
"It's tough coming away from a game like that feeling that you outplayed them and that you should have won," Gonzales said. "I told the boys that this is not our end result and that's not all you're playing for."
The case could be made that the Dons outplayed the Horsemen Saturday afternoon. Their offense sustained more drives, their defense made a big interception in the third quarter which changed momentum and the Dons were just more consistent in their play. What the Horsemen did get, though, were two big plays that ultimately won them the game. Both of the Horsemen scoring plays were made by senior wide receiver Devin Flores. The first was a 55-yard punt return in the first quarter. The second was a 35-yard touchdown catch on a fourth-down play to put the Horsemen ahead 13-6. Outside of those two plays the Horsemen were not able to get much going offensively, rarely sustaining any drive or threatening to put points on the board, but those two big plays were all they needed.
"I felt that defensively we played a really good game and offensively we moved the ball," Gonzales said. "We killed them on time of possession and we almost doubled their yards, but we got a lot of untimely penalties that forced us into a first and 20 or second and 20 and there's not much in the playbook that you can call for something like that."
For the Dons there is some encouragement, knowing that they can play with a team like St. Michael's, a perennial contender. There is also frustration, as they feel it is a game that they should have won, because there were some missed opportunities. The most obvious one is not completing the two-point conversion that would have put them ahead with 5:06 left in the game. Another big one came at the end of the first half, the Dons were driving down the field, got inside the Horsemen 30-yard line, but on first down they got flagged for a holding penalty which set them back 10 yards and stalled the drive. If the Dons had been able to score on that possession to end the half, then it's likely a different ball game. 
"Those are huge to come back from," Gonzales said. "It just kills everything from momentum, to confidence of the kids taking them back another 10 yards, but unfortunately that's just part of the game." 
Up next the Dons will be looking to right the ship and pick up their first district win of the season when Santa Fe Indian School comes to Las Vegas on Friday night.