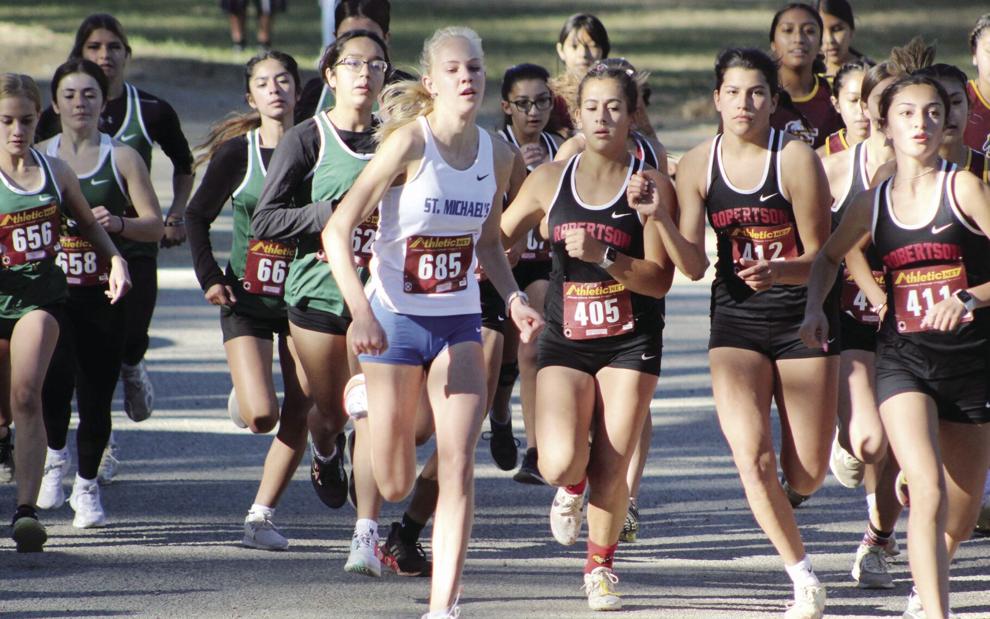 Robertson sophomore Lovely Allemand's 7th place finish in Saturday's 3A District 2 cross-country meet helped the Lady Cardinals qualify for the state meet.
West Las Vegas sophomore Zaylee Hernandez was the only one to qualify for the Lady Dons during the meet at Pendaries Golf Course in Rociada. Hernandez finished eighth overall, two seconds behind Allemand. 
Robertson junior Eduardo Mello also qualified for state with his 14th-place finish.
In addition to Allemamd, Lady Cardinals running in this Saturday's 1:25 p.m. meet at Albuquerque Academy include juniors Liana Fernandez and Misti Roybal; freshmen Taylor Quintana, Alexis Pacheco, Kayla Lopez; and eighth-grader Lauren Lopez.
"I'm extremely proud of her," Cardinals Coach Kevin Villanueva said about Allemand. "She came a long way this season and she performed really well."
Allemand completed the three-mile course in 23:29; freshman Raylee Hunt from St. Michael's placed first with a time of 20:16.
Also for the Lady Cardinals, Quintana finished 11th, 24:36; Roybal, 12th, 24:48; Pacheco, 13th, 24:41; Kayla Lopez 16th, 25:27; Fernandez 17th, 25:39; and Lauren Lopez 24th, 27:57
Santa Fe Prep, Santa Fe Indian School and Robertson girls qualified after taking first, second and third, respectively. West Las Vegas finished in fourth.
WLV Coach Victor Ulibarri was excited for Hernandez.
"She has a great chance to do something for herself," Ulibarri said.
Hernandez completed the course in 23:31. Lady Dons rounding out the field included senior Elysia Lopez 15th, 25:26; sophomore Kaylee Martinez 19th, 26:59; senior Haylie Romero 20th, 27:33; eighth-grader Zeanndra Hernandez 21st, 27:39; Maddie Griego 25th, 28:23; and sophomore Alanna Pina-Jaramillo 28th, 29:56.
Mello completed the course in 21:11 to qualify for state. 
"I'm very proud of Mr. Mello," Villanueva said. "He's been our top runner the majority of the season and has been pretty consistent."
Villanueva noted the three-mile Pendaries course includes two miles of uphill running, including an incline for the finish. This should help runners prepare for the state meet.
 "All teams will benefit from running this tough of a course this (past) weekend," Villanueva said.
West freshman Santiago Encinas led the Dons with a 31st-place finish in 23:37.