2021 is the return season for all New Mexico Highlands University fall sports, and for volleyball it is also the return of volleyball head coach Tom Duke. 
In Duke's first tenure as the NMHU head coach from 2002-2007, he led the Cowgirls to some of the best seasons in program history, including a 19-7 mark in 2005. 
In 2019, the team finished with a 1-25 record. Through nine games this season, eight of them in tournaments, they are 2-7 with three losses going five sets. 
Now, after spending the first two weeks of the season away from Las Vegas, the Cowgirls finally get to have their home opener on Saturday when Chadron State University comes to town.
"The girls have been looking forward to this for a year and a half," Duke said. "We have a nice, new floor that we're excited to play on, and this is a dream for us. We've worked so hard for the last year and a half to keep the team together, keeping them interested, and we did it… We're fired up to play at home now after all of these road games."
For most of the players, it has been a year and a half since they've gotten a chance to compete on the floor, and for Duke it has been much longer. It was 13 years between leaving NMHU in 2007 to taking the job once again in 2020, and every day he thought about what it would be like to coach once again.
"I was a special education teacher over in Taos and I dreamed about coaching every day," coach Duke said, "So I'm just taking this opportunity, I'm so happy to be back and I've been thinking about how I've wanted to do it for the last 13 years to, so I've had really high expectations."
Duke describes his team as fighters. They have scheduled tough non- conference matchups, and Duke has appreciated the resolve his team has shown in the face of some high-level competition in Durant, Oklahoma, for the Southeastern Classic and Aberdeen, South Dakota for the Northern State Invitational. They opened RMAC play earlier this week, as they took on Fort Lewis College on Tuesday night in Durango, Colorado and lost a heartbreaker in five sets after serving twice for the win. That game showed a level of improvement from the Cowgirls that Duke is excited about early this season.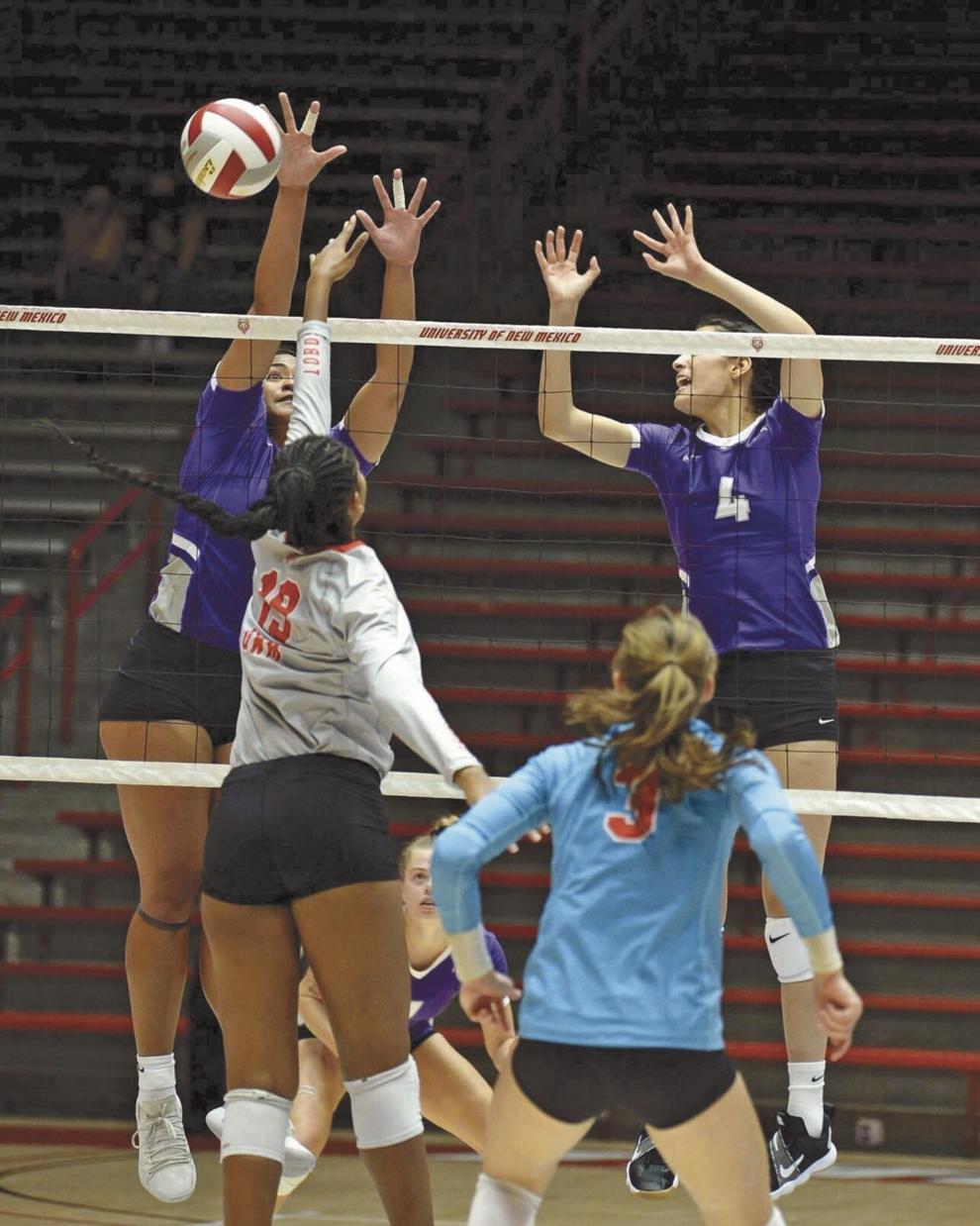 "I felt like we played pretty darn good, just a heartbreaking loss though," Duke said. "The team's having a hard time, though, because we've lost three games in the fifth set against really good teams so it's a little frustrating… we want to be rewarded with the win coming up here."
It's natural to build anything up when you've been thinking about it for so long. Duke was out of the game for 13 years, so he has a good idea of what he wants his team to look like. It may not be that way immediately, but there are a lot of positives Duke has seen.
"Right now, I'm trying to keep the team positive, I really believe in positive coaching," Duke said. "We're trying not to bring in the blame or any of that stuff, I try to stress to the girls that we've got to be proud of what we've done."
A bright spot for the team so far is junior setter Soleil Gandara, who had 158 assists across four games in the Northern State Invitational. Gandara made the all-tournament team in both weekend tournaments the Cowgirls have played, and her continued production will be crucial to the Cowgirls success going forward. Gandara's most common target for her assists is junior outside hitter Lisi Langi, who made the all-tournament team in the Northern State Invitational as well. The Cowgirls attack will likely be run through Gandara and Langi this season.
After a game was cancelled Sept. 7, the Cowgirls will finally play their home opener Saturday at 6 p.m. at the Wilson Complex. It will be the first home game for the Cowgirls since Oct. 26, 2019, and the first home game for Duke since Oct. 24, 2007.