Conference play did not get started the way NMHU basketball coach Mike Dominguez would have hoped. The Cowboys had a solid start to the season in non-conference play, winning six in a row before their first RMAC game of the season against Adams State on Dec. 3. It looked like the Cowboys were on their way to seven in a row, leading Adams State by eight with just 6:55 to go, then the wheels fell off. An 11-2 run by the Grizzlies gave them the lead 3:48 left, and after the teams exchanged buckets for the next two minutes, a jumper with 1:21 left gave the Grizzlies the lead for good in an 85-81 defeat of NMHU. 
Unfortunately for the Cowboys their second conference game played out similarly to the first, being up by as many as eight in the second half before CSU Pueblo came back to win the game 68-65. The game against Pueblo being a slower paced game eats at Dominguez because he wants his team to play fast, and felt they allowed the ThunderWolves to dictate the tempo of the game. 
The good news for the Cowboys is that there are 22 games in conference play, so there is plenty of time to make up for last weekend's results on the road. The bad news is they are 0-2 so far in conference play, losing two games they knew were winnable.
"This last road trip… I just don't think we played hard and played together for the whole 40 minutes," Dominguez said. "We did it in spurts, but especially in this conference with how good it is and how tough it is, on the road you can't play it in spurts, it's got to be for 40."
All of that makes Saturday's home contest against Regis more important. The Rangers are 7-1 and riding a seven-game win streak, including two conference wins last week. In practice this week Dominguez has talked about the potential snowball effect actions can have and is hoping that a good performance and win on Saturday in their conference home opener will snowball into more success as conference play continues. What burns the team the most, though, is that both conference games so far were ones that they could win but didn't. Now Dominguez just wants to see the team play at their highest level going forward.
"I just want us to play hard and play together," Dominguez said. "I think we're a pretty talented group, and I think if we play hard and play together and you have talent you're going to win a lot of games."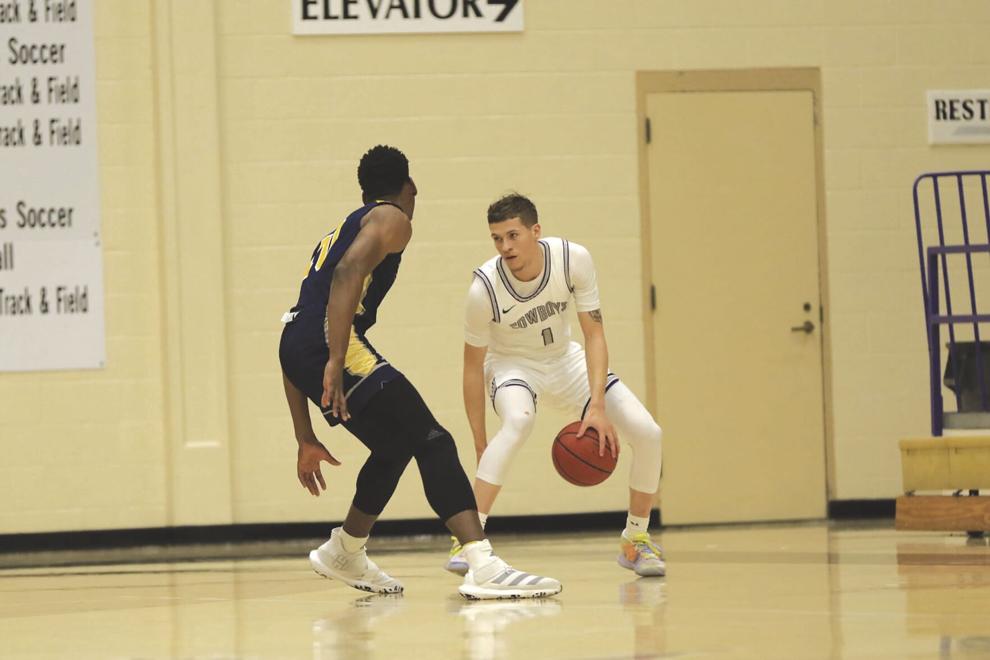 The Cowboys did not play in 2020-21, but in 2019-20 they went 18-10 overall and 13-9 in RMAC play, good enough to finish fifth in the conference. Now back in action, they're trying to get back to and even exceed the level they reached as a team in 2020. Dominguez believes in his team's talent and that they can be really good if they reach the level they're capable of. The Cowboys have four players currently averaging double figures with senior guard Desmond Carpenter averaging 17 points per game, fellow senior Marcus Brown averaging 14.8 points per game, graduate student Ja' Vary Christmas averaging 14.5 and senior guard Sammy Barnes-Thompkins averaging 10.6 per game. The Cowboys are a guard heavy team, with a lot of their talent and scoring existing in their backcourt. Dominguez wants to play fast and wants to press, but most importantly wants his team to be a team. If that happens Dominguez believes there isn't anything that will hold the Cowboys back this season.
"We can be as good as we want to be," Dominguez said. "I don't think it has to do with anything outside of us… if we play the way we're capable of and play hard, together and do the little things, we're going to be pretty good."
It is a long season, one that has 20 more games on the conference schedule, but Dominguez wants to see his team improve now, and start to become the team he envisions.
"It's a long season, and we don't want to be playing our best basketball right now, but we want to keep improving," Dominguez said. "Whether that's one percent every day or ten, we have to keep striving to get there, but we're not a team that does that all the time yet… the great teams, the ones that win championships and make runs in March and in the tournament are getting better every day, that's what we have to improve on."
Every game is a big one, but Saturday against Regis is their conference home opener. The Cowboys want to go 11-0 at home in RMAC play, and that starts Saturday. It's also an opportunity to right the ship, a win gets them on track, and will have them feeling good in the week leading up to their next road trip. The Cowboys and Rangers take the floor Saturday at 7 p.m. at the John A. Wilson Complex.