NMHU head coach Josh Kirkland has a saying about him and his coaching staff, 'we're mediocre football coaches so we have to be great recruiters.' What he means by that is that he and his staff need to get the best players to win football games. In his first season leading the team the talent Kirkland brought in was obvious, but no player was more electric than junior wide receiver CJ Sims, who was named RMAC offensive player of the year, finishing the season with 64 catches for 1,045 yards and 12 touchdowns. Sims also returned two kicks for touchdowns and ran for another in his fantastic debut season for the Cowboys.
"There's not another kid in Division II football like him," Kirkland said. "He's just so dynamic… he's just different and he's just a special kid."
Prior to the season Kirkland compared Sims to Kansas City Chiefs wide receiver Tyreek Hill because of his speed. It was a comparison that raised some eyebrows but turned out to be fair given Sims' impact on the field. Sims' speed would be elite at the NFL level, so in Division II college football his speed can be almost unfair, and when the Cowboys offense was at its best this season it was usually because of Sims and fellow first team all-conference quarterback Ramone Atkins.
Atkins' story is a little different than Sims, who made his way to Las Vegas after time spent at Butler Community College in Kansas and arrived with Kirkland in an effort to bolster the talent on the roster. Atkins was the starting quarterback in 2019, before Kirkland arrived, and Kirkland didn't necessarily expect Atkins to start for him at quarterback. Atkins bought into what Kirkland and the staff were doing, and anytime a transfer quarterback arrived on campus, Atkins beat them out. Atkins wouldn't allow anyone to take over the starting job, and once the games started it was clear why. Atkins accounted for over 3,000 yards of total offense this season and had 34 total touchdowns. All of that was good enough to merit a first team all-conference selection for the senior.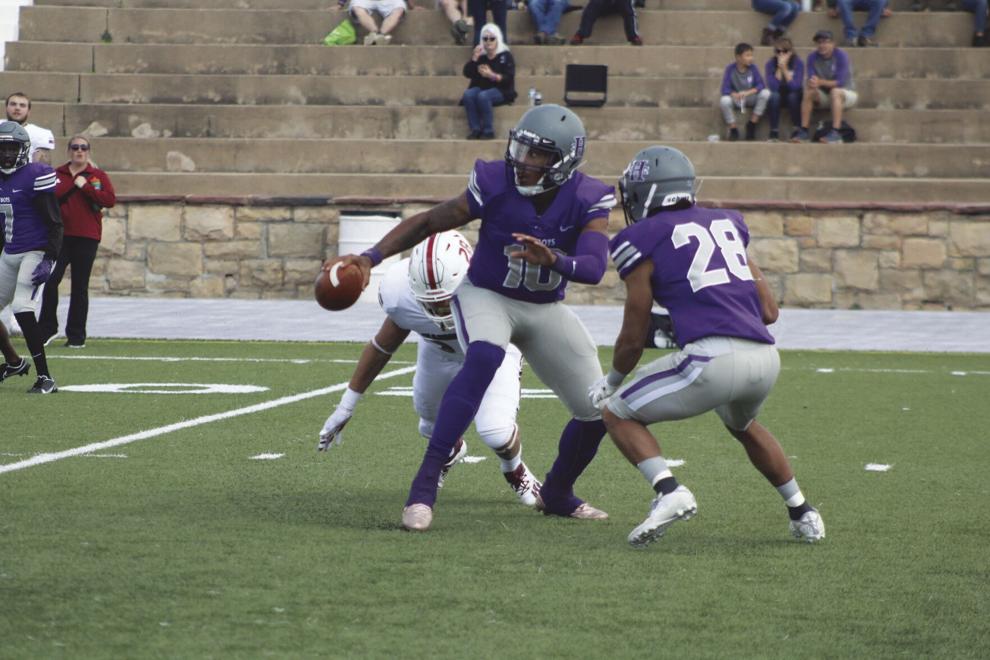 "We brought kids who tried to take the job over from him, but just couldn't," Kirkland said. "He bought into what we were doing… I'm so happy for that kid, that may be the biggest transformation of any kid I've ever seen in my life."
Senior safety Malik Brown, who led the Cowboys in tackles with 58, and interceptions with five, was the Cowboys third first team all-conference selection. Sophomore wide receiver Quavon Beckford and junior defensive tackle Trejen Lawrence were second team all-conference selections, along with Sims who was the second team kickoff return man. The six all-conference selections is a part of the influx in talent Kirkland wanted to bring to NMHU when he took the job back in February 2020 and it's largely what fueled a late season surge from the Cowboys.
The Cowboys won four of their last five games to close out the season, including a win over rival Western New Mexico in the La Batalla Bowl to bring home the Warrior's helmet. This season also featured a Cowboy victory over CSU Pueblo, the first victory over the Thunderwolves since 1981. Overall, the Cowboys finished 5-6, the most wins the program has had since 2012.
"I'm really pleased with where we are," Kirkland said. "To be 2-8 in 2019 and to be sitting here we are right now, to have the player recognition that was had… I'm really, really happy with where the kids are and the way they competed."
Ending the season by winning four out of five and with a victory on a last second field goal against a rival is big for the Cowboys. It's big in terms of building a program.
"It's really the way we won that was even more important," Kirkland said. "To see the team battle the way they did and continue to fight, we got down in that game, had to come back, and to see them do that was a step forward in the program that I think we really, really needed… when you talk about trying to win a conference championship, even though you have all of this talent it takes a mindset and some grit that I believe is learned, and I don't think we were there yet. But to win a game coming back the way we did… is just huge for us moving into the offseason."
For a team that has not won in a while, learning how to win is necessary. To close out the season the Cowboys were able to win, they even beat a team they hadn't beat in 40 years. It helps build things for next season, when the Cowboys could return a lot of their talent and Kirkland would have a more normal offseason of working with his team. 2021 was the first step for NMHU football down a path that they hope leads to RMAC title contention going forward.