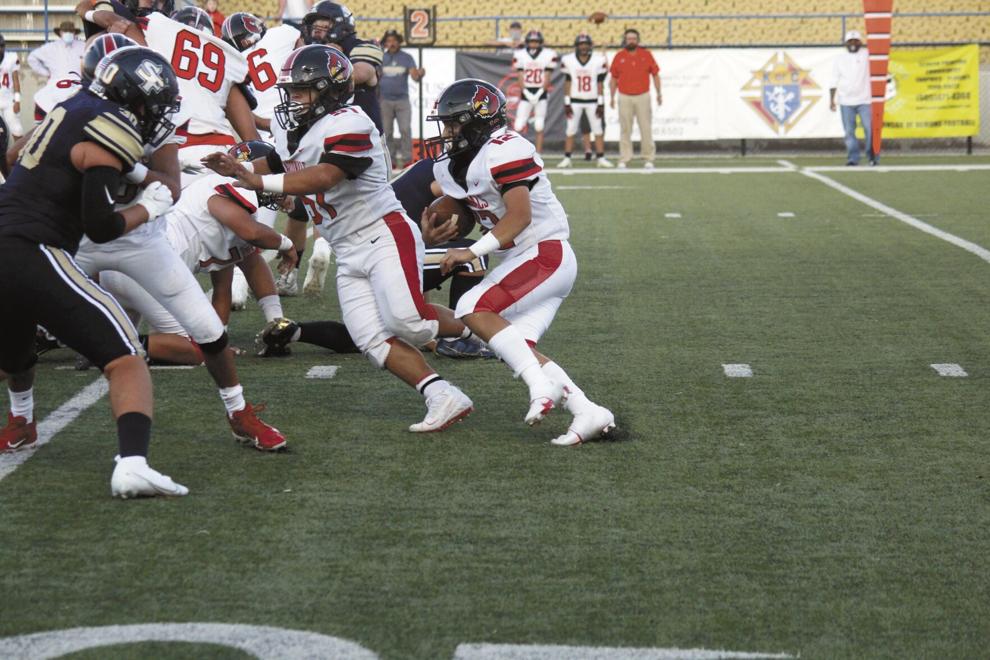 It was not the start to the season that the Robertson Cardinals expected in week one. It's not a start that many who follow New Mexico high school football expected. Even though Santa Fe high school is a 6A school, and even though they did have a pretty obvious size advantage on the Cardinals, a 34-8 loss was something that few, if any, expected. The Cardinals perhaps had a few reasons for this perceived letdown, lack of experience, missing one of their better linemen and head coach Leroy Gonzalez unable to coach from the sideline. Now going into week two against a tough Cobre team, the Cardinals know that they must turn things around quickly.
"Friday night looked worse than it really was," offensive coordinator Lucas Sanchez said. "We put ourselves in great situations, and everything we did is fixable. We want to put more points on the board and we need to clean up some things in execution… and the rust showed for us having not played football in almost two years."
One thing that will be changing right away is having coach Gonzalez back on the sideline. He was in the coaches' box last Friday night, but he was not able to be in practice at during the week leading up to the game. This week he is back on the practice field as well, and it is hard to quantify what the impact of having the experienced head coach back is. Another thing that Gonzalez and all of the assistant coaches have suggested will make a big difference during the week is film study. For young players to see their mistakes in action could make it easier to correct on the practice field, and then ultimately on the gridiron Friday nights.
One thing about young teams is that they have the potential to improve drastically in a very short period of time. You don't know when the proverbial light bulb will turn on for a lot of these younger kids who are still figuring out the varsity level. While Robertson does have a senior quarterback with a season's worth of experience, virtually the entire rest of the offense is brand new. Even one of the few returning players, junior Ace Gonzalez has transitioned from tight end to center this season. There is a learning curve for just about every starter on that side of the ball.
"Our youth showed, our inexperienced showed, but we're one week better now and it's going to show," Sanchez said. "It will show every single week as we improve, but it is frustrating compared to how we usually perform, but we'll get there."
The most shocking thing of all in week one for many was the fact that Robertson looked outmatched physically. Robertson is not used to having the size advantage, but they're typically able to win the battle of physicality with their hard hitting brand of football. Against Santa Fe it did not matter how hard they got hit on occasion or what Robertson did on either side of the ball. They were able to win the battle at the line of scrimmage and do whatever it is they wanted to do. They had quarterback Mathew Gonzales running for his life on offense, and the Demons senior running back Martell Mora was running to the end zone on the other side. The Cardinals are getting junior offensive tackle and defensive end Bodie Schlinger back which will help with size and should help with physicality up front.
There will be changes ahead of Friday night's game against Cobre for the Cardinals, their home opener. The coaching staff is not overly concerned with last Friday's result because of the step up in level from 3A to 6A and the fact that for many of these kids it was their first varsity game. However, there is still a standard at Robertson, and the coaches and players expect that to be upheld in the coming weeks. Upholding that standard starts Friday night at 6 p.m. when Cobre comes to Las Vegas.