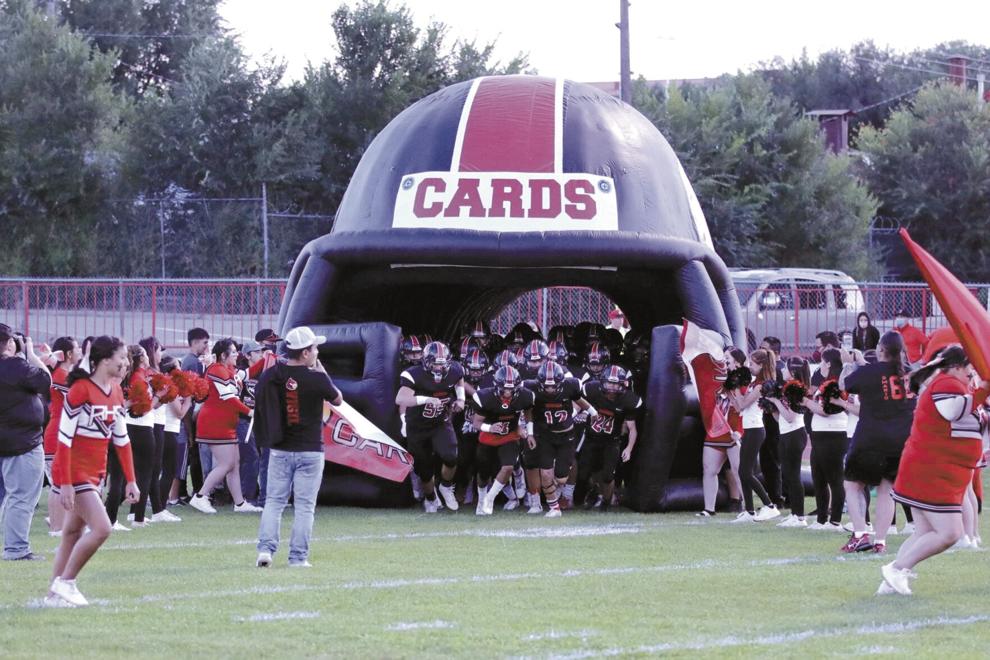 In athletics, the saying is that the biggest game of the season is always the next one. For Robertson football, the next one is their biggest to date, and certainly their most challenging game since week one, as they travel to Raton to take on the 3A No. 2 Tigers in a massive district contest. For the Cardinals, the goals are always district and state championships. That is the standard they have created, and now they're playing a team that stands directly in their path for not just one, but likely both of their goals for the season.
"With Raton I see a physical team, a really physical team up front," head coach Leroy Gonzalez said. "I always say the game is won in the trenches, and they look really good. They look quick… they're another team in our district that's going to have guys in the right position, and they have some athletes."
Raton showed their mettle last week in a 14-7 victory over West Las Vegas, who was undefeated until that contest. One takeaway from that game is that their defense is one of the best in 3A and the Cardinals have quite the task ahead of them if they want to take down the unbeaten Tigers. Coach Gonzalez believes that the Cardinals line play is the most improved unit on the team from the start of the season, and on Friday night that unit will get a chance to answer what will be a legitimate challenge.
Raton's defense and running game are the strengths of their team, but for Robertson that is the case as well. With the Gonzales brothers, senior quarterback Mathew and freshman running back Jesse leading the attack, they have run for 230 yards per game as a team. That could be a hard number to replicate against Raton, but if they are able to accomplish that it bodes well for the Cardinals. This game will likely come down to defense, and the Cardinals have a good one. Since week one, the Cardinals have allowed just 20 total points in six games. That stretch includes a win over 4A No. 7 Ruidoso, where they allowed just seven points. Raton's defense is for real, but Robertson's defense certainly is as well, and for how physical Raton is, one thing Gonzalez always wants to hang his hat on is the physicality of his own team. He expects them to be the most physical team when they take the field, and Friday night will be no different.
"What we do is grunt work, and we have to be physical," Gonzalez said. "If we're not physical, if we're soft we're not going to win on the line of scrimmage, and I think when we get nasty we're a pretty good team in the trenches."
The biggest challenge for that Robertson defense will be the Tigers junior running back Cayden Walton. Walton is currently the leading rusher in the state of New Mexico with 1,136 yards and has 14 total touchdowns so far this season. He was forced to carry the offense last week against the Dons and did so to the tune of 35 carries for 216 yards and a touchdown. For the Cardinals to shut down the Tigers, it starts and probably ends with shutting down Walton.
"Cayden Walton is really darn good," coach Gonzalez said. "He's one of the reasons I can't sleep at night, thinking about how to stop him. They're going to be tough, and it's going to be a knock down, drag out fight."
Coach Gonzalez preaches to his team that it's a state championship week every week, and this week it probably resonates a little bit more as they will be taking on an opponent that appears capable of winning the state championship. The Cardinals take on the Tigers in Raton at 7 p.m. Friday night in a battle of two of the top four teams in 3A football.