No team has an easy path for the state championship, everybody must overcome serious challenges on the way to becoming a state champion. The Robertson Cardinals have goals of getting back to the state championship game, a place they found themselves in a season ago before a 2-1 loss to Sandia Prep ended their dreams of state championships in back to back seasons. This year the Cardinals are back in the state tournament, they enter as the No. 4 seed and have perhaps the toughest path to a state championship both on and off the field.
"Wherever you're at you have to win three games, whether we're at the top or bottom, we have to win three games," RHS head coach Leroy Gonzalez said. "That's the end game, so it doesn't matter if we're playing East Mountain or whoever."
Off the field the Cardinals are dealing with the ongoing Calf Canyon Wildfire, which has left the team unable to play or practice together for over a week now. It's something that every team in Las Vegas and Mora will be dealing with going into this week. It's affected everybody, the Cardinal baseball team included, but coach Gonzalez believes that one of his team's greatest strengths is the ability to fight through adversity. He believes that it's part of what makes them great and why they're equipped to handle what's in front of them. 
"I think these guys know what's at stake, another blue trophy," Gonzalez said. "I think these Vegas kids like that kind of adversity, our guys like it, they take pride in that, we're gritty and we're a tough group."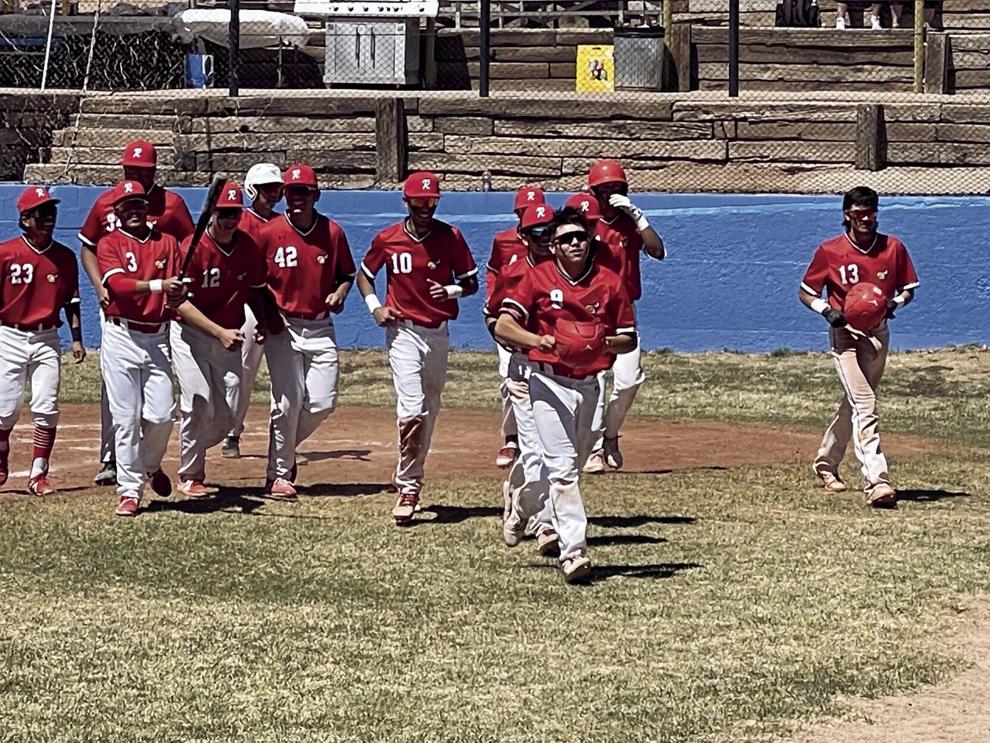 The Cardinals have not played a game since April 26 when they lost 14-8 to St. Michael's in what was the de facto District 2-3A title game. At that time we knew the game between the Cardinals and the Horsemen would play a big role in seeding for the state tournament. The Horsemen are now the top seed, while the Cardinals are the No. 4 seed, the highest of any team that did not win their district title. The Cardinals had their final two regular season games, a doubleheader with no. 7 seed Raton canceled because of the wildfire, and have been off the field ever since. On Thursday the Cardinals will be facing a familiar opponent in the quarterfinals when they play East Mountain. Earlier this season the Cardinals defeated the Timberwolves in the second round of the West Las Vegas tournament on their way to a tournament championship. In the state semifinals last season the Cardinals beat the Timberwolves to advance to the state championship.
"We had to come back to win that game against them earlier in the season," Gonzalez said. "They've gotten better, but I believe that we have gotten better, now we know where our team is at and who needs to play where… it was just mixing and matching things back then."
There is a confidence that comes naturally when you've beaten an opponent earlier in the season. The first matchup between the two teams was on March 25, it will be May 12 when they play each other again and both teams are much different than the ones that played each other seven weeks prior. In late March the Cardinals were still very much figuring out who they were. A lot of that was trying to work out which players would play what position. At that time it was still unclear, junior Ace Gonzalez was playing third base at that time, not shortstop where he is the everyday starter now. There had not been an everyday second baseman established yet, and new starters like junior center fielder Nathan Lucero and freshman infielder Brian Lucero were still finding themselves, they are full fledged starters now, and key members of this state contending team.
Winning is not easy, under any circumstance it is difficult. This season it will be more difficult than imagined because of the lack of time on the field prior to the most important game of the season. This team is filled with winner's though, most of the team played for the Cardinals' state championship football team, Ace Gonzalez, Brian Lucero and senior outfielder Mathew Gonzales played for the state championship basketball team as well and junior pitcher Adrian Rivera was a state champion wrestler. This team is filled with athletes who are used to winning, their championship mettle will be put to the test once again this weekend, starting with East Mountain, a team who will be looking to avenge last year's season ending loss at the hands of the Cardinals.