Play with urgency, if there is one thing that head coach James Branch wants to see from his team over their final games of the season it's that. By just about any metric the Cardinals had a good season in 2022-23. They enter the postseason with a record of 23-5, finishing second in district and earned the no. 3 seed in AAA. The Cardinals do have championship aspirations, but will need to raise their level of play in order to attain those lofty goals. 
"We have a really good record and it's been a really good season, but we have those instances where we get real lackadaisical," Branch said. "We don't always value each possession the way you need to value it and in the state tournament every possessional is vital, you have to be ready for everything."
Valuing each possession means taking care of the ball and not turning it over. In four of their five losses the Cardinals have had at least 14 turnovers. When the Cardinals take care of the ball they win, they win a lot. It starts in the backcourt with senior Ken Montoya and sophomore Jesse James Gonzales. The two are largely interchangeable, with each player being able to handle playing as the point guard and playing off the ball. Gonzales is the microwave for the Cardinals, being able to get hot quickly from behind the arc. When he and Montoya are on top of their game Robertson becomes difficult to play against.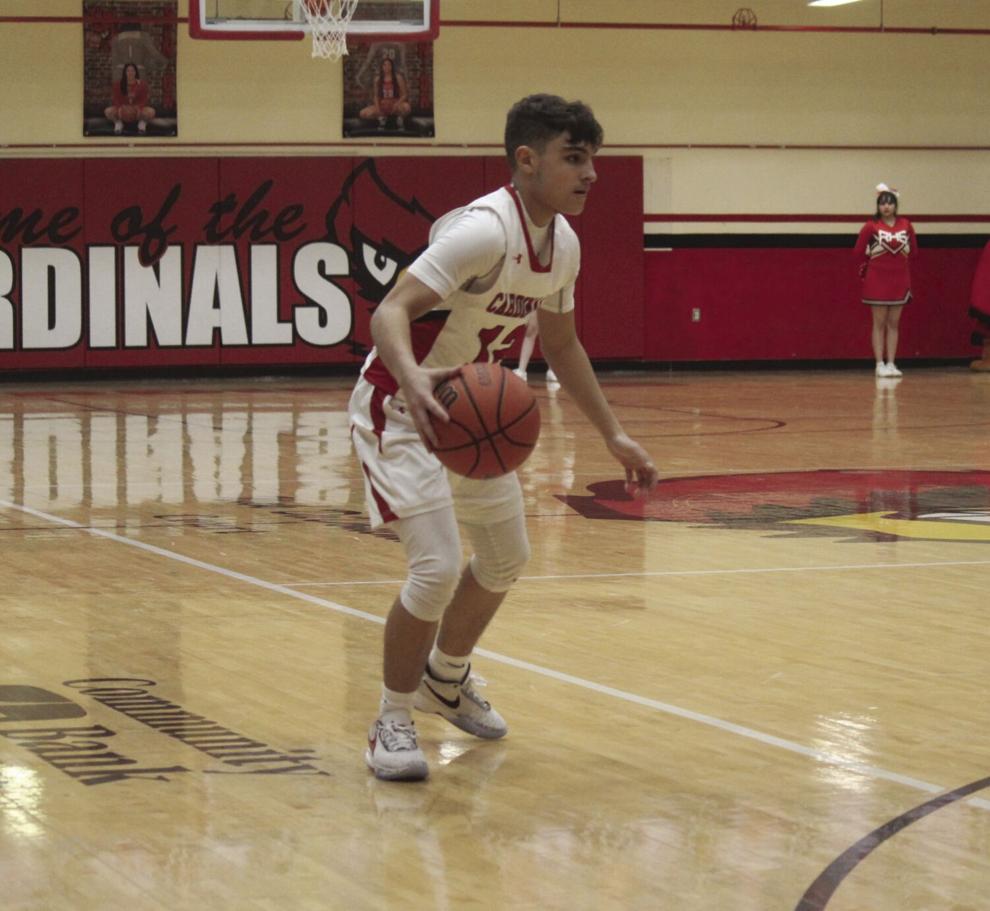 On the interior it has been about senior center Bodie Schlinger. Schlinger has been the constant in this Cardinal team, averaging a double double and being the prominent interior presence in AAA basketball. When at his best Schlinger provides a security blanket for his teammates, not just as an outlet or as someone who can catch and finish opportunities around the rim, but as a rebounder. Schlinger's ability on the offensive glass gives the Cardinal guards room for error, if they miss Schlinger will most likely be there for the rebound and putback opportunity. Schlinger also clears the defensive glass and gets Robertson out into their transition offense; when he plays well, Robertson typically plays well.
The x-factor for the Cardinals in this postseason could very well be junior forward Mateo Contreras. Contreras returned to varsity action in February, following a leg injury suffered during the football season that kept him sidelined for the majority of the season. In the last two games against St. Michael's and Santa Fe Indian School Contreras has begun to look like the player who played a big part in Robertson's 2022 title run, scoring in double figures in the two district tournament games, including 18 points against Santa Fe Indian School. Contreras brings a different element on offense to the Cardinals, and if he continues to improve game to game then it could make the Cardinals all the more dangerous in the postseason.
"He's showing signs of coming back and anything that Mateo can give us is a plus," Branch said. "He can shoot the ball and he has a green light to shoot the ball and I don't give many guys the green light."
Before the Cardinals' extended run begins they must win their first round game against Santa Fe Prep on Saturday. The Cardinals have played the Blue Griffins three times this season and have won all three meetings. Despite being just a 14 seed, the Blue Griffins are not just a pushover team at the bottom of the bracket. The Blue Griffins boast big perimeter players and against Cardinal guards that are smaller in stature they can give Robertson problems. In their most recent matchup on Feb. 4 the Blue Griffins did make things close in a 69-67 Cardinal victory, but the Cardinals were without two starters in Jesse James Gonzales and Nathaniel Gonzales, both of whom will be playing Saturday.
If the Cardinals defeat the Blue Griffins their path will include a familiar opponent as they face the winner of no. 6 Bosque and no. 11 Ruidoso. The Cardinals beat Ruidoso in their season opener, but lost to Bosque on Jan. 10. If chalk holds and the higher seeds advance the Cardinals would be facing no. 2 Navajo Prep in the semifinals, that quadrant of the bracket also features no. 7 Santa Fe Indian School, who made a run to the semifinals last season as an 11 seed.
Regardless of the path Branch just wants to see his team play with urgency, and if they do that he likes their chances regardless of how the bracket works out. 
"I think when we play with urgency and we have that attitude of being relentless and playing with energy we're pretty darn good," Branch said. "If we get that I'm confident about our chances as far as moving on in the tournament."
The Cardinals playoff run begins on March 4 at home against Santa Fe Prep, tipoff is set for 6pm.