The Robertson Cardinals football team are now halfway through their regular season schedule, following a 54-0 drubbing of Española Valley in their homecoming game Friday night. 
For the Cardinals on Friday night, it was more of the same, a team that has been steadily getting better since their lone defeat in week one. In their last four games the Cardinals have allowed just 14 points, including two shutouts, becoming one of, if not the, best defense in Class 3A football. It's the kind of development head coach Leroy Gonzalez expects from his team, but this rapid improvement that has taken place over the last month has the Cardinals perhaps ahead of schedule.
"We kind of set a plan of gelling and doing what we're supposed to be doing starting with district," Gonzalez said. "We're a little ahead of schedule, but there's always improvement."
Defense has been the calling card for the Cardinals in Gonzalez's tenure as head coach, but this year the offense is not devoid of talent and playmakers. Senior quarterback Mathew Gonzales is one of the top signal callers in the state, with 13 touchdowns on the season to just one interception. Friday night was a big night for Gonzales as it was his last homecoming game, and during halftime he was named homecoming king.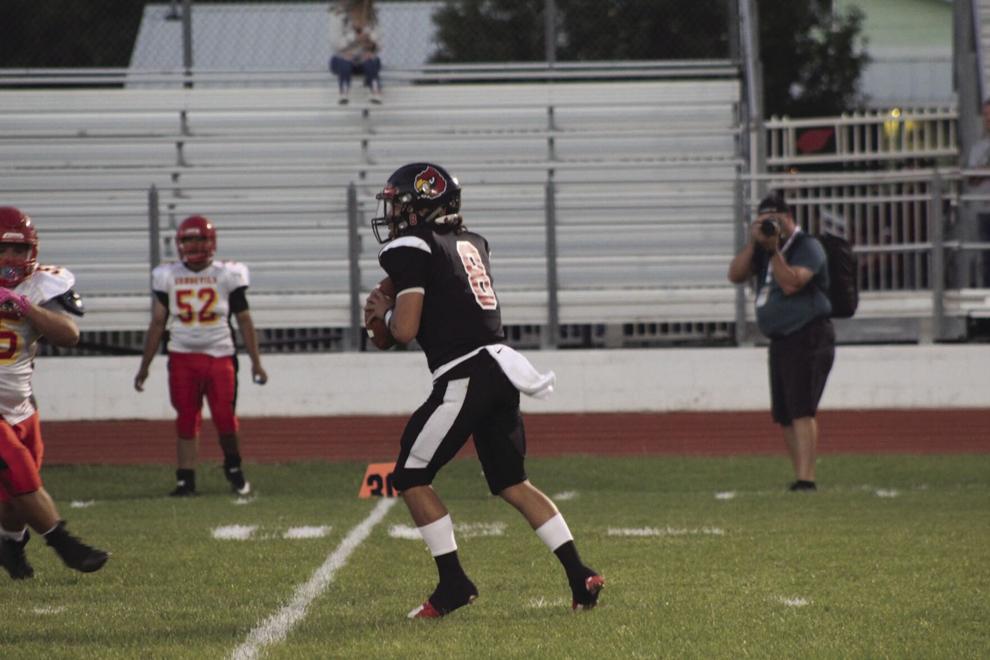 His night started in a big way, as he threw a 62-yard touchdown pass on the Cardinals first offensive play. He finished the night with three touchdowns, one of them being a 58-yard run. His dual threat ability is a big part of what makes the Cardinals offense dangerous. Alongside him in the backfield is his younger brother Jesse James Gonzales, who is second on the team in rushing yards with 366 behind only his big brother. Unsurprisingly the brothers complement each other well, with Jesse James being the more traditional, between-the-tackles runner, while Mathew likes to scramble and get to the outside. 
"We're able to spread the ball around and not just have one guy get all the carries," coach Gonzalez said. "There's been improvement every week, and that's all I ask… hopefully we can keep that train going."
What is really starting to stand out about the Cardinals is the fact that they don't have an obvious weakness. At every position group they have talented players who are capable of making plays and playing consistently at a high level. That balance throughout the roster gives the Cardinals multiple ways to win, making them a tough opponent. They have several pass catching options, led by sophomore wide receiver Mateo Contreras, and the rushing attack is led by the Gonzales brothers. Coach Gonzalez has raved about his team's line play since junior offensive tackle and defensive end Bodie Schlinger returned to the team in week two. Junior linebacker Ace Gonzalez has been a tackling machine at linebacker, with 60 tackles in five games, and the secondary has four interceptions in their last four games. 
"I think defensively we played really well," coach Gonzalez said. "I was a  little afraid because they have scored on everybody, they scored on Soccoro, they scored on West, so we were just trying to hold the fort down, and it's always good when you get a shutout."
The Cardinals first half of the season is done, but district play is right around the corner, and that is when the real season begins. Up next the Cardinals will host Tucumcari on Thursday night, a game that was originally supposed to be in Tucumcari Friday night. It will be the Cardinals last non-district game of the regular season, and they will look to keep their four game winning streak alive.