Grit, scrappiness and toughness are characteristics that head coach Adrian Gonzales wanted to see from his team this season, and it was necessary in their 34-13 win on Friday night in Escalante. Two touchdowns each from sophomore quarterback CJ Perea and senior wide receiver Jaydin Vigil, along with two interceptions from senior safety Enrique Gonzales helped power the Dons Friday night.
"We won, we'll always take that any day of the week," Gonzales said. "We had a lot of growing pains, but we showed improvement in the second half so that's something to build on."
If there was one area where the Dons will need to get better heading into next week it is ball security. In the first quarter alone the Dons threw an interception and fumbled the ball at the one yard line, which certainly took points off of the board. The Dons have a fairly young team and are playing many freshmen and sophomores, but that ball security is something that Gonzales hopes his team fixes quickly.
In the second half the Dons did not turn the ball over, and taking care of the ball along with cutting down on the penalties led to them being able to move the ball with relative ease. The second half also saw the emergence of the duo that will likely define the WLV offense in Perea and Vigil. Perea and Vigil did each have one rushing touchdown in the second quarter, helping the Dons take a 14-6 lead into the locker room at halftime.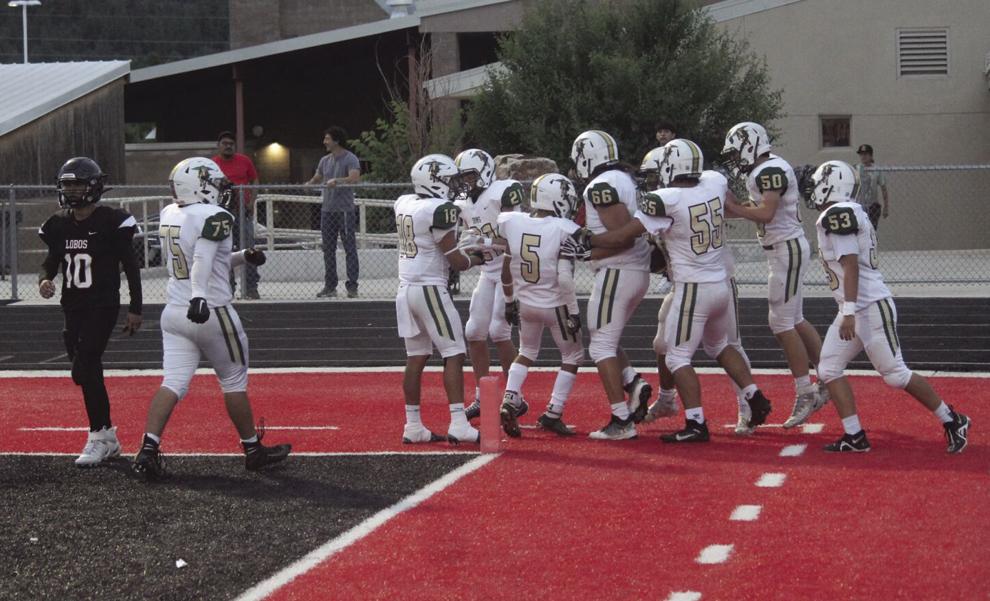 The Dons did take a 21-6 lead into the fourth quarter thanks to a 71 yard touchdown connection from Perea to Vigil. Getting the ball to Vigil was much of the difference in the second half. In the first half Vigil was quiet, hardly seeing the ball outside of his seven yard touchdown run. In the second half it was a point of emphasis to get him the ball and let him make things happen.
"We were out of rhythm offensively, we couldn't find our groove and we had to find that dude that is going to be our playmaker," Gonzales said. "Once we got him the ball we started rolling."
It's also not a coincidence that once Vigil started getting targeted deep down the field more often, and Perea was able to connect with him, that the running game for West Las Vegas opened up. Both sophomore running backs Ethan Tafoya and Patrick Rodriguez ran for touchdowns in the fourth quarter to help seal the game. 
The Dons played nearly a perfect fourth quarter, outside of the last minute where the Lobos were able to hit a couple of big plays and find the endzone in the waning moments of the game. Up next the Dons will be welcoming Dexter to Las Vegas for their home opener on Thursday Aug. 25. Kickoff is set for 6pm at the Frank Herrera complex.