"There is nothing to say, there is no magical words that you could tell them," RHS head coach Estevan Baca said. 
Heading into the final meet of the season the Cardinals are not making things complicated. It's the same approach now as it has been all season. The Cardinals go by the words of one of history's great wrestlers Dan Gable, 'I shoot I score, he shoots I score.' The Cardinals won the district duals earlier this month by making sure that they scored and they pinned people. They are aggressive in their approach and there is no reason to change that this weekend. 
"We just have to focus on going out there to wrestle," Baca said. "It doesn't matter who they put in front of you, just doing our best and giving everything you got is what it comes down to."
The Cardinals do have three returning state champions from last season, Adrian Rivera, James Montoya and Esequiel Mascarenas. The three of them will be returning to the Rio Rancho Events Center looking to become back to back state champions. For Rivera he will take the mat for the final time in his high school wrestling career this weekend. Coach Baca has mentioned the senior leadership being a big key for the success of this year's Cardinal team and they will be taking four seniors to the state meet, Rivera, Isaac Probst, Noah Ortiz and Branden Martinez. 
For Rivera it will be his first time back at the RREC since his state championship match which was won on a last second pin. He admits that it feels a little bit different now and with a step up in classification there will be new challenges if he wants to repeat as champion this time around.
"It definitely is different, I feel like I have a lot of pressure," Rivera said. "I definitely want to go out there and win again, that's my goal."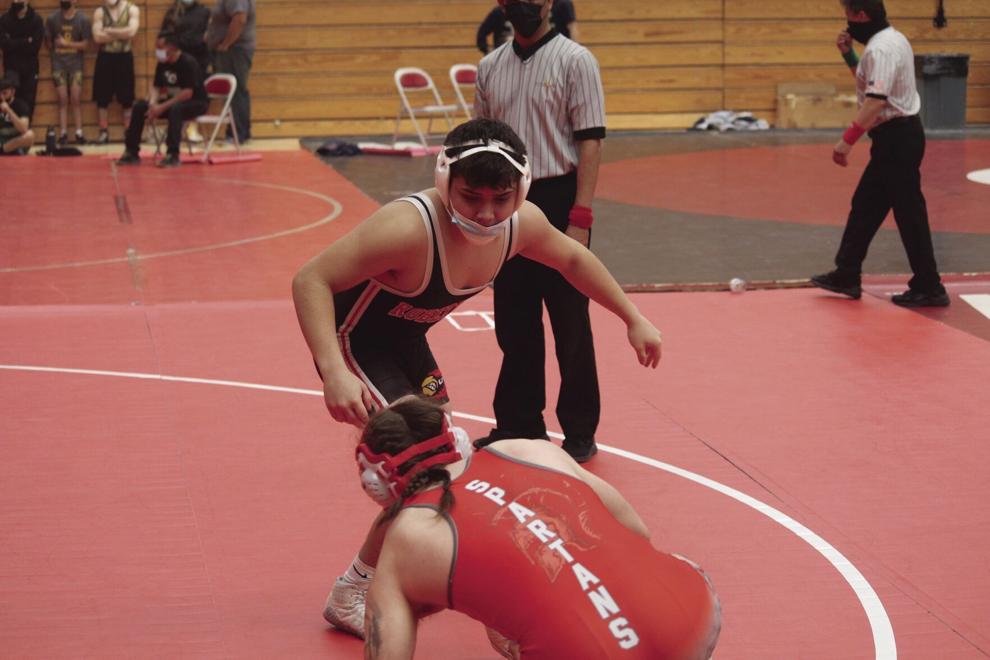 Rivera was one of three Cardinals to finish in second place at the regionals, James Montoya and Branden Martinez also reached the championship matches before ultimately failing to get their hand raised. Montoya and Rivera already have state championships under their belt while Martinez will be looking to pick up individual blue for the first time in his high school career. After solid weekend's that didn't end the way they had hoped, coach Baca is confident that this group knows what they need to do ahead of the biggest meet of the year.
"These guys are focused and they've been here before, maybe not in this classification but they've been here before," Baca said. "There isn't much to say, they know what they have to do and what it takes to get there."
The Cardinals are taking seven boys to the state championships and one girl, 138lb Liana Fernandez. Fernandez is 28-2 on the season and has been a dominant force throughout the Winter. In the last couple of weeks Fernandez has had some time off to prepare for the state. Fernandez was on such a roll that Baca would've liked for her to keep wrestling, but the time off has allowed for some decompression, and she's spent the last two weeks working with the boys ahead of their regional and then state championship meets. If Fernandez continues her dominance in Rio Rancho she would become the first female wrestling state champion in Las Vegas, an opportunity that is not lost on her or Robertson.
"I've talked to her about that, and it's exciting of course, but we don't want to count our chickens before they hatch," Baca said. "We want to take it one match at a time and if we get there and history is made that'll be awesome, but if not we're excited with the season that's had."
Baca is only in his first season as the head coach of the wrestling program, but for a lot of these kids he's had the chance to watch them grow up in their high school years. Baca coached many of the seniors in this group when they played middle school, and watched them grow in football and on the mat for the past several years, before finally reuniting with them this season. This Cardinals season has been a successful one, winning the district championship and finishing fourth at the regionals, now they want to finish their story out right, with a strong showing in Rio Rancho.