A foundational year. If there is one way to describe the 2022 NMHU football season under first year head coach Ron Hudson it would be that. When coach Hudson took this job in January it was with the goal of trying to build something, and the 2022 season is a big part of that. The Cowboys have over 60 new players on the roster, but they do bring back some key contributors from last year's roster that went 5-6, the program's best record since 2012. With the influx of some new blood, along with some talented returners, Hudson hopes to see a disciplined football team on the field this season. 
"I'd like to see our kids play a disciplined style of football," Hudson said. "One of the things I felt taking over was that we had talent last year, but I didn't think we played a disciplined brand of football, I want to see us play a selfless, team oriented style of football." 
No returner for the Cowboys is bigger than senior wide receiver CJ Sims. Sims was the RMAC offensive player of the year in 2021 and will be a big part of the offense once again in 2022. Sims had over 1,000 yards receiving last season and 12 touchdown receptions; his breakaway speed makes him a nightmare matchup for every defense the Cowboys will come up against.
"CJ could have left last year, he could have gone out and there were a number of people out there that would have said hey play in the arena league or play in the CFL, there were people who reached out and were looking," Hudson said. "He came to me and said, 'Coach, I want to come back to college and I want to come back to Highlands and get my college degree,' and that fired me up because that showed me who he was."
This season Sims will have a new quarterback to work with, as two year starter Ramone Atkins departs, in comes junior Palomar College transfer Ezekiel Payne. Payne was the winner of a hotly contested three man quarterback battle, and Hudson is confident that Payne will be able to lead the offense in 2022.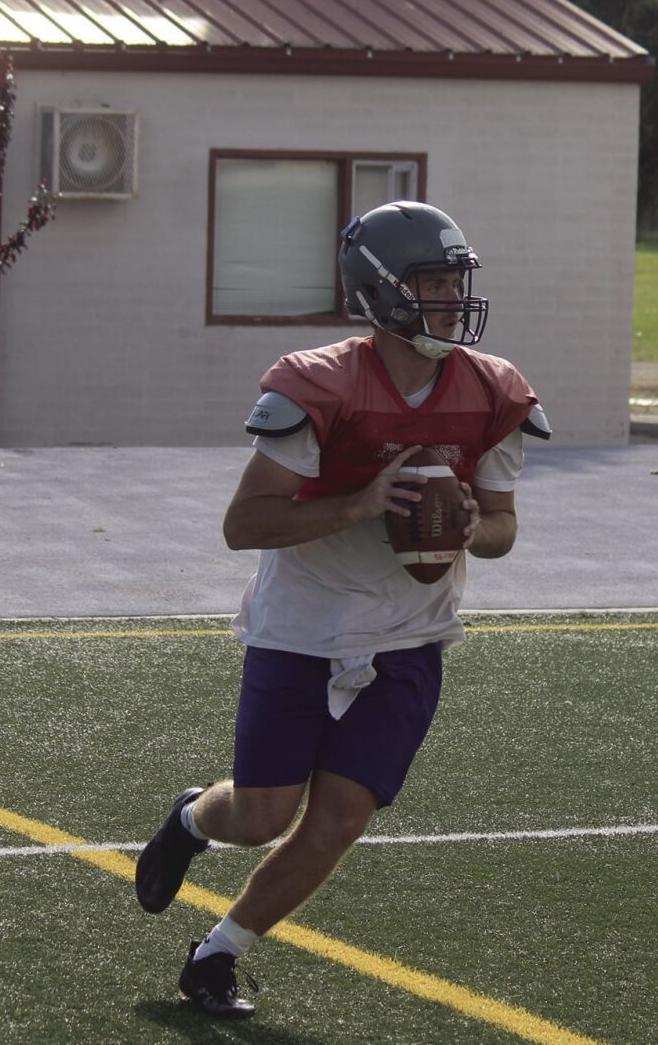 "He's got a good arm, he's a good athlete and he's a good leader, but the thing that's impressive about him are the off the field things," Hudson said. "The things in the locker room, the way he carries himself off the field, the things he does in our community really makes him someone that our team wants to follow."
One of the things that stood out most about Payne in practice was his ability to make decisions and get the ball out of his hands quickly. His leadership and decision making ability is ultimately what set him apart and won him the job. Payne will command a balanced offensive attack, Hudson wants to be able to run and throw the football on their terms. Payne and Sims will lead the passing attack, but the running game is where the Cowboys have some room for improvement. In 2021 the Cowboys averaged just 4.2 yards per game and had only 10 touchdowns on the ground in 11 games. That is something that Hudson will look to improve through the offensive line and their running backs.
Hudson wants his team to be a physical bunch, and that starts at the line of scrimmage with his offensive line on that side of the ball. On the entire Cowboy roster, no two players may be more physically impressive than the left side of their offensive line, which features senior left tackle Josh Cooper and junior left guard Travis Eitel. That talented and experienced left side of the line will lead the trenches, opening holes for a committee of running backs that will see carries in 2022. 
The running back room is one that Hudson has great confidence in heading into the 2022 season. The group is led by seniors Shawntay Mills and James Budgett, who each return from last season. The Cowboys also welcome in CSU-Pueblo transfer John Mumphrey, who figures to factor into the running back rotation this season. Hudson also mentioned freshman Joseph Reza from Deming, NM as a potential player to watch in the back field this season. 
"They've shown physicality, they've shown an understanding of the offense, they've shown that they can protect the quarterback, so we've got a pretty deep running back room," Hudson said. "I've had a number of running backs over the years that are 1,000 yard plus backs, and I think we have a running back room that's as good as most of the places I've been and we're looking forward to seeing these guys play."
The position group that has impressed the most in training camp has been the defensive line. That group returns quite a bit of talent from last year's team, and that starts with a second team all-RMAC selection from last season in senior defensive lineman Trejen Lawrence. Lawrence is joined on the defensive front by fellow returning seniors Rashuan Williams, Jacobe Mills and Joseph Gutirrez. The returners are joined by three talented newcomers in junior Mark Simon and sophomore Franklin Banks, who each join the team from City College of San Francisco and junior Isaiah Johnson. The Cowboys believe they have a deep and talented defensive line that will be able to keep themselves fresh throughout games this season, and cause havoc for opposing offenses.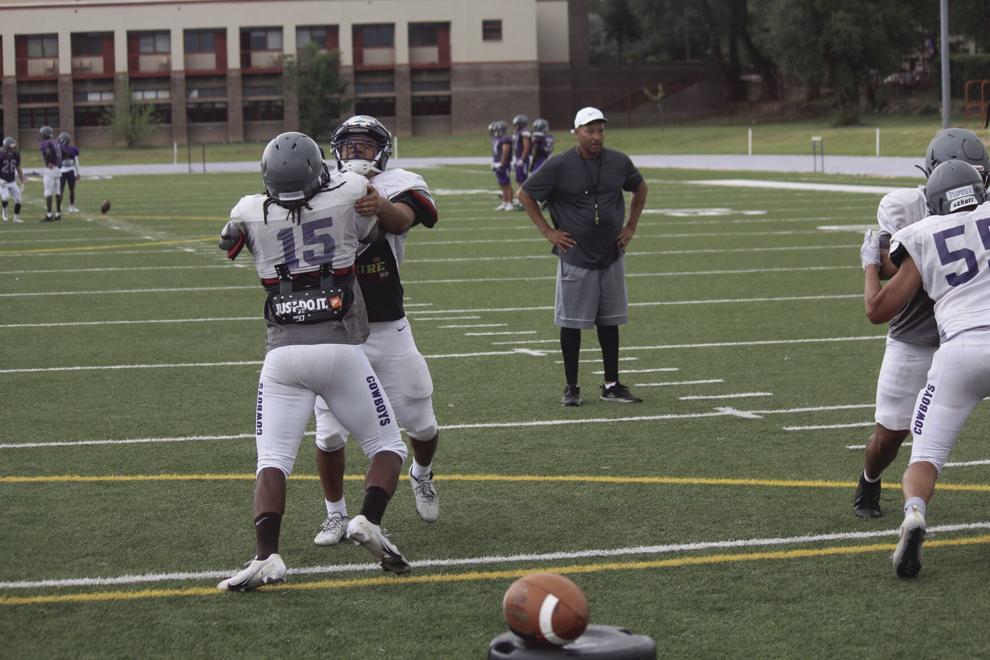 "Our defensive line is probably the strength of our team," Hudson said. "We've got six guys that we think can play anywhere, we think these guys are dudes, they're physical, they're tough guys, we go six or seven deep in our three man front that we think are physical and tough playmakers, they give our offensive line everything they can handle in practice."
A stout defensive line means that the players playing behind them will be given plenty of opportunities to make plays. One player that could be hearing his named called quite often over the PA system is senior linebacker Roderick Woods. Woods was fifth on the team in tackles in 2021 with 42, and now as a senior he will be one of the leaders of the defense and is someone that Hudson believes is an improved player from last season.
"Woods is an outside linebacker for us that can be a special player," Hudson said. "He's got a lot of twitch, he's a real explosive guy, he's dropped some weight and is running really well and we couldn't be happier with him."
Woods is not the only linebacker that Hudson is excited to see behind that defensive line. Sophomore Nigil Thomas returns, and after playing sparingly as a freshman, Thomas is ready to make a big impact in his sophomore campaign. The Cowboys also brought in junior Chris Calhoun from Palomar College, who figures to play a big part in the Cowboys defense.
Returning defensive backs Ben Sutton, Brendon Luper  and Lofton Hicks return to a back end of the defense that is loaded with upper classmen. After playing behind some talented defensive backs last season, the three returners who combined for four interceptions last season will be key figures in the last line of defense for the 2022 Cowboys.
"I'm looking forward to Sept. 1 to see the fruits of our labor," Hudson said. "We've put a lot of work into this and those young men have put a lot of work into this, so I'm looking forward to seeing these guys compete, play and have fun."
The Cowboys will open the Division II college football season Thursday, Sept. 1, when in-state rival Eastern New Mexico comes to Las Vegas. The Cowboys will then have an off week in week two followed by nine consecutive weeks of RMAC football as they look to build upon last season's 5-6 record. For Hudson though, this season will be one that is defined by how they can establish themselves as a program and how they can implement and build their culture. Winning is the goal, but Hudson is more concerned with his group doing things the right way, and he believes that if they can do that, then winning will be a byproduct of their culture.