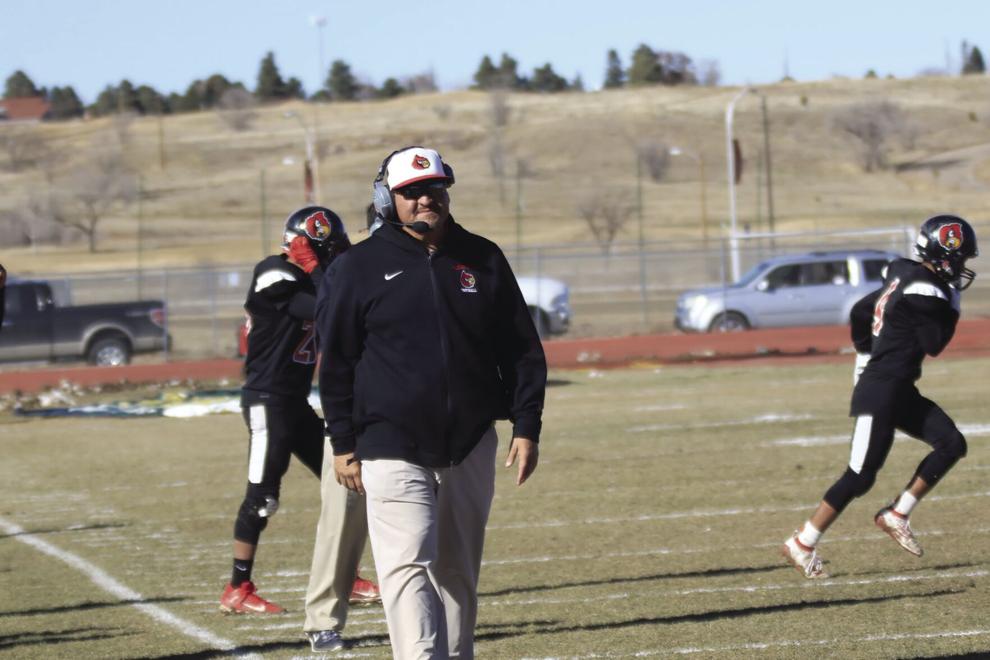 Over the course of December, we at the Optic will be announcing 2021 sports superlatives. We will be recognizing the top male athlete, female athlete, male newcomer, female newcomer, coach of the year, team of the year and game of the year. After a pandemic pause, starting in March 2020 sports came back in full force in New Mexico and we had some great athletes, teams, coaches and games to choose from in 2021. None of these choices were easy, but we had to make a choice in every category. Now we will be recognizing the 2021 coach of the year, Robertson's Leroy Gonzalez.
Leroy Gonzalez had a banner year as a head coach in both football and baseball in 2021. His Cardinals baseball team ended up one win away from a state championship, losing 2-1 in the state title game. His Cardinal football team won the blue trophy in dominant fashion, winning each playoff game by multiple scores, and punctuating the season with a 28-7 victory over St. Michael's. It is said that teams take on the personality of their head coach, and with Gonzalez's baseball and football team there was one obvious common trait, resilience. 
Gonzalez has to be resilient; he is in an ongoing battle with diabetes and must get dialysis treatments three times a week. Through that he is still coaching, and not just coaching, but winning. In no game did the Cardinals have to show more resilience this season than the baseball team's first round playoff game against St. Michael's. That game had a unique dynamic to it, as just six days earlier the Cardinals lost to the Horsemen 2-1 on a walk-off, losing not only the game, but the chance at the district title as well. Six days after that heartbreaking defeat the Cardinals were back on the same field they lost the district title on, and were just three outs away from having their season ended at the hands of the Horsemen. Trailing 5-4, the Cardinals had their best half inning of the season, scoring seven runs with their season on the line. The Cardinals held on in the bottom of the seventh for an 11-7 victory, and after a win the following day against East Mountain the Cardinals headed to the state title game.
In many conversations with Gonzalez this season a common theme of his was making sure his team peaked at the right time. In both baseball and football his team began to play their best right as the playoffs began, making runs to the state championship game. He coached two very different teams in 2021, his Cardinal baseball team was one that had quite a bit of experience, boasting ten seniors, and had nine returners from the 2019 state championship team. They were expected to make a state championship run and were right there when the season ended. Gonzalez's football team was a little bit different.
The 2021 Cardinals football team was very inexperienced when the season began. After not playing in 2020, few players had taken a varsity snap prior to the Cardinals' first game against Santa Fe High School. The Cardinals lost their first game, then proceeded to win six in a row. They dropped a 28-26 contest to Raton, but they never dropped another game. Winning five in a row, all against teams ranked top six in the state, on their way to a state championship. The Cardinals final four football games were almost a summary of their season, slow starts to every game, allowing their opponent to stay in it, even trailing at times before blowing them away in the second half. 
2021 was special for Gonzalez not only because of the success he had coaching on the diamond and the gridiron, but because he got to have this success alongside his son Ace Gonzalez. Ace was the District 2-3A defensive player of the year in baseball, and led all of New Mexico in tackles on the football field. Very few coaches get to experience the success that Gonzalez did in 2021 in any year, and even fewer get to do it alongside their child. 
We've been blessed with some good coaches in Las Vegas, but none of them were the head coach of multiple teams that played in their sport's final game. That is a distinction for few across the country, and Gonzalez is in that category. The 2021 Optic Coach of the year is Robertson's Leroy Gonzalez.