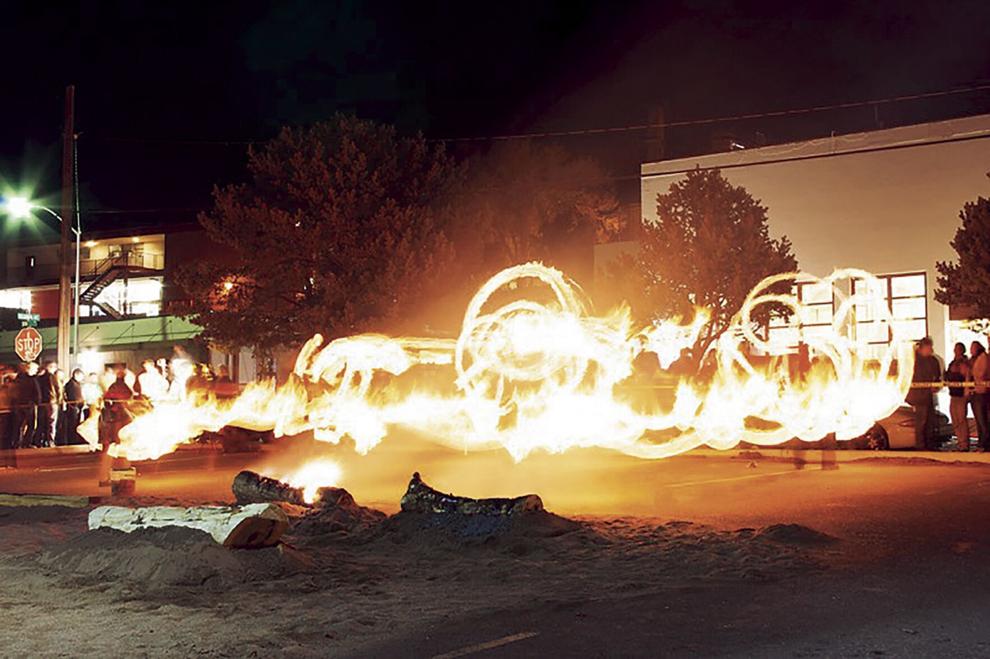 The biannual Iron Tribe Exhibition and Gathering kicked off on Monday, Feb. 6, with the opening of the art exhibition featuring a range of work by metal casting artists from across the United States. The exhibition can be viewed at the Burris Hall Gallery, 903 National Ave., from 8:00 a.m. to 5:00 p.m. on weekdays. A closing reception will be held on March 3 from 3:00-5:00 p.m.  
The Iron Tribe performance will take place on March 2 in the parking lot on Douglas Ave. across the street from Charlie's Bakery, from 7-9 p.m. Diala Al-Daghlise, a Palestinian visual and installation artist, will be featured at Iron Tribe as Highlands' Ballen Scholar, and in addition to participating in the performance, she will be giving a keynote talk on Friday, March 3 at 2 p.m. at Ilfeld Auditorium. The iron pour will occur on March 4, between 10 a.m. and 6 p.m. at the Art Foundry, 914 11th Street. 
David Lobdell, professor of fine arts at Highlands University, has been organizing the Iron Tribe Exhibition for more than twenty years. During a sabbatical Lobdell took in 2000, he traveled to Scotland, Alabama, and numerous other places to learn more about metal work from other educators, artists, and students. This culminated in the first Iron Tribe exhibition, held in 2001, which featured forty American and international artists.  
"Something I learned early in teaching is that you need to create an equal experience on campus so that way students who can't go and experience things in other places can participate in the equivalent experience here," said Lobdell.  
Now, Iron Tribe not only features an exhibition but a performance and a public iron pour. The performance on March 2 will include several cultural practices from around the world, including Poi dancing, which originated in Scotland and involves spinning fire on batons, and a Chinese fireworks tradition called Da Shuhua, which started with farmers who couldn't afford fireworks, so they threw molten metal against a stone wall.  
The production pour will take place at the NMHU foundry where there are two furnaces, one that can melt 300 pounds of metal and one that can melt 120 pounds. When the metal is melted, it is then poured into molds to make sculptures or other objects.  
Lobdell said the biannual Iron Tribe gatherings at NMHU led to the creation of The Western Cast Iron Alliance, a nonprofit that holds an annual conference where metal workers can convene and learn from one another.