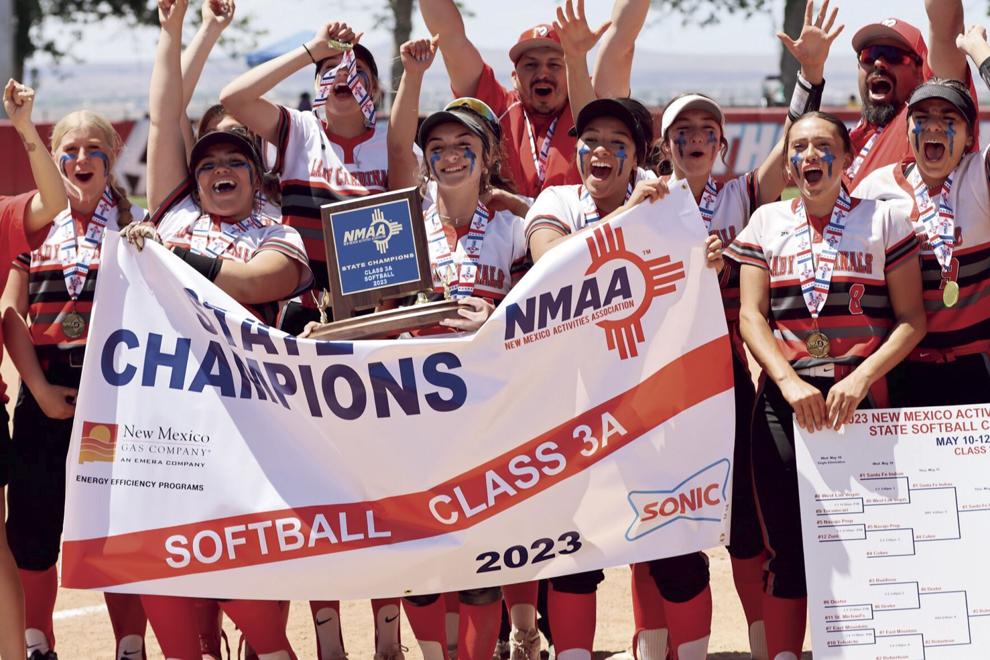 The Robertson High School softball team re-affirmed its place at the top of 3A last weekend, claiming its second consecutive state championship with a 10-4 win against top-seeded district rival Santa Fe Indian School. 
The Lady Cardinals dominated the double-elimination style tournament, winning all four of their games en route to the blue trophy. 
Robertson defeated East Mountain 16-0 in the first round, followed by a 20-2 win against Dexter in the semifinals and a pair of wins over Santa Fe Indian School to secure the championship. 
Robertson sophomore Ariana Sanchez was a standout on the mound for the Lady Cardinals, winning two days in a row against the Lady Braves, with whom the Cardinals had been battling for supremacy in district play and Class 3A all season long. 
Last season, Robertson won the state championship by defeating Santa Fe Indian School in the state championship game. The Lady Braves came back even stronger this year, handing Robertson two of its five losses in the regular season and claiming the No. 1 seed in the state championship tournament, while Robertson took the No. 2 seed. 
Regular season success meant little once the state tournament started, however, as Robertson looked like the team to beat throughout the week, scoring 56 runs throughout the tournament and stifling opposing offenses with their outstanding pitching. 
Youth was on Robertson's side in this matchup, and bodes well for their future. In addition to Sanchez's dominance on the mound as a sophomore, juniors Leigha Lucero and Anissa Sanchez, and sophomore Alexis Pacheco all picked up multiple hits in the state championship game, and all of them will be back next year looking to win their third championship in a row.